The steam input and condensate removal system is integral to the efficient and effective operation of your Yankee dryer. Its care and upkeep is truly a "hot" topic. Even with a good condensate removal system good performance is not a guarantee. A system audit by Valmet will show the level at which your system is currently operating and provide potentially system saving recommendations.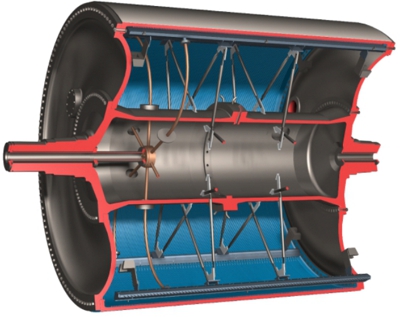 Condensate header arrangement of a modern Yankee dryer
Benefits
Better productivity with limited investment
Lower cost per ton produced
More systematic way to develop operations, processes and equipment
Better expert network with Valmet
Long-term support by a reliable machinery and process supplier
Quick specialist assistance as needed
Case study - Yankee dryer optimization
A system audit by Valmet uncovered that a mill's Yankee steam system was wasting $160,000/year due to the system's unreliability and inconsistent performance. Valmet recommended a system rebuild for energy savings and operational improvements which included changing the condensate removal system to "velocity control". The condensate removal and dryer pressure control were updated to modern performance, resulting in reliable and consistent system operation. ROI was 2-2.5 years based only on the energy savings.
Identify and optimize potential
Valmet's Air Systems Division technical specialists in the Process Engineering department provide evaluation services on paper machine dryer section steam and condensate systems, dust systems and mill ventilation. These surveys can be limited to one narrow area such as the steam and condensate system, or can be very extensive and include all paper machine air systems, depending on the particular needs of the mill.
Measured data is compiled at the mill site and preliminary major conclusions are drawn. The data and conclusions are reviewed with operating management. Mill preferences for upgrading or resolving problems are obtained. The data are further analyzed at the Valmet Steam Systems office.
A report is prepared and submitted, which includes conclusions, short- and long-term recommendations, maintenance suggestions, cost/benefit analysis of any major recommendations and a suggested implementation sequence.
For more information on improving your Yankee dryer performance, contact your Valmet representative.