Aktul started their first Valmet machine in 2011 and the second in 2016. Today their third Advantage DCT machine is on its way. But already in 2015, they reached their first production record on TM1, of 74,000 tons in one year. 2021 it was time to beat their own record for daily production with a conventional dry crepe machine. In total they made 75,276 tons but even more impressive is the record of 290 tons sellable paper on daily basis. And once again it is the TM1 who is the shining star.
The secret behind
"We have a very dedicated team who has worked together for 8-10 years. We know each other and we know the technology very well. When we agreed to go for the production record everybody put their soul into it. Compared with the old record we are today running at lower gsm but at slightly higher speed" says Eren Ercan, Production manager at Aktul Kagit.
Aktül was the first tissue producer in Turkey to install the Advantage ViscoNip press which has contributed to their achievements. The flexible pressing conditions made it possible to improve softness, bulk, tensile strength and reduce fiber and energy consumption. After an upgrade of the ViscoNip press both dryness efficiency and speed has increased which of course also is a contributed to the high production capacity.
"After the upgrade we could see an increased dryness of 1,5% and a speed increase of 100 m/min. That contributes to the result too, of course. We use the maximum load for napkin and kitchen towels to get more tensile strength and save a lot of drying energy. For bulky products like premium-quality tissue, some facial tissue and paper handkerchiefs, we use a minimum load to get more softness, bulk and water absorption."
Aiming even higher
The capacity record was reached on the TM1 machine. As an average the grammage produced is 22,8- 23.8 and they make both bath tissue and towel during the day. With some additional finetuning they are convinced that can stretch the numbers even further.
"Yes, we believe that with some optimization and running towel grades we could reach 300 tons per day" says Mr. Ercan
Blind test of bulk
In Turkey the softness in toilet paper is very important and Aktül is striving to get as close to premium quality as possible. The softness is often at levels of 86-92 TSA. For towel products tensile strength and absorption is the clue. To preserve the bulk and softness achieved in the tissue machine they are using the electromechanical Valmet Focus Rewinder. That gives a better nip control compared to conventional hydraulic rewinders and makes it possible to adjust the nip throughout the reel.
"Our customers appreciate the bulk and the even rolls they get from the electromechanical rewinder. They can actually notice the difference in bulk and roll height compared to paper winded on conventional hydraulic rewinders. Also the machine design is very good, it is easy to maintain without compromising the safety" Ercan continues.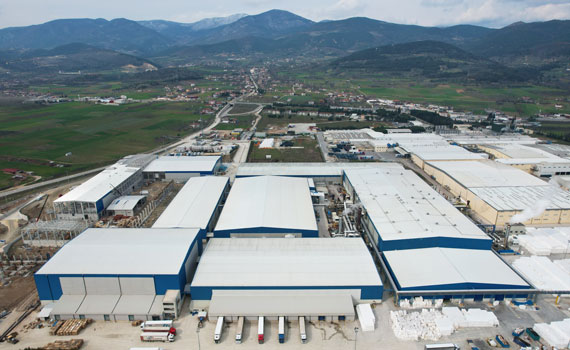 Tough team to handle tough times
During the time Aktül was running for the production record the pandemic hit the world. The demand for tissue products skyrocketed and the pressure on tissue producers were high. At the same time they, as many other companies in the world, were struggling with sick leaves, quarantine and restrictions from the authorities.
"In the beginning we were of course worried and didn't know what to expect. But as I mentioned before we are an extraordinary team here. The operators refused to let the virus stop the production. Sometimes they were even sleeping at the mill to avoid jeopardizing the production. And when people eventually got ill or had to leave for quarantine, others stepped in to take over their place no matter if they were shift leaders, process engineers or production manager, we all served as operators during this period" says Ercan.
In the near future the third Valmet Advantage DCT tissue machine will be started, equipped with the latest technology for high dryness, low energy consumption and high-quality tissue production. With three machines in the fleet, they will have even more opportunities to optimize their production of bath tissue, towel, handkerchiefs, and napkins to reach new heights.