Aug 10, 2021
APP Group in China has successfully started up the first two of their 18 Valmet IntelliTissue 1600 machines at the Rudong Mill in Jiangsu. Thanks to successful cooperation in the past, (with former PMP Group, now part of Valmet), APP decided to select Valmet as supplier for all the 18 IntelliTissue 1600 machines to the paper mill.
The start-up of both machines was done partly remotely and thanks to the great teamwork between APP and Valmet teams the first reel of tissue was produced. This was celebrated on June 26th, 2021, when the "Green symbiosis, smart future" start-up ceremony of TM#1 APP Rudong was grandly held. One month later, July 26, TM#2 was brought on stream, bringing pride and satisfaction to all involved. The first two tissue machines will increase the capacity of 60,000 tones for APP Rudong.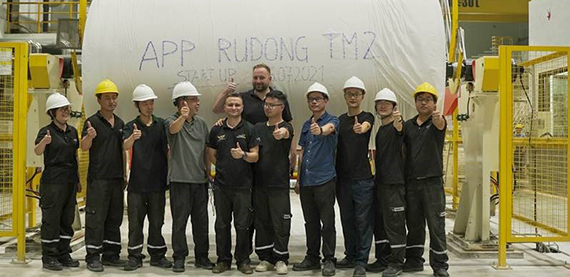 "We selected Valmet as the supplier of our 18 tissue machines based on deep trust, and actually we made the right choice! The smooth start-up of TM1 was a good start. Valmet collaborated to make a detailed start-up plan, and everything went on steadily as planned. We believe that the rest of the more than ten tissue machines can also be successfully started up!" according to Bi Yubin, Vice-General Manager of APP Rudong
"APP is focusing on green and sustainable development, and Valmet IntelliTissue platform is exactly in alliance with that. After the first tissue machine came on stream, it reached good running status, and achieved high efficiency and low media consumption, thus will inject lasting power to the sustainable development of APP in tissue business!" says Harrison Zhang,Vice General manager of Valmet Changzhou Factory.
"Where there is success, there is a lot of work before. Both companies celebrated the triumph today. Valmet commitment of delivering high-class tissue installations and the client's professionalism resulted in a mutual success. A powerful part of this achievement was also the impeccable cooperation that continues and will bear fruit for many years to come." says Przemysław Pietrzyk, Sales Expert, Small and Medium Size Machinery, Valmet.
Summary:
Location APP Rudong mill. China
Solution IntelliTissue 1600
Result IntelliTissue 1600 line utilizes many cutting-edge technologies to achieve a perfect combination of "first-class tissue quality" and " -low operating energy consumption". Moreover, it has a wealth of operating references in the Asian market, covering leading papermaking enterprises.
About APP
APP (China) is synonymous with Sinar Mas Paper (China) Investment Co., Ltd and the group of companies under its direct investment in China. By focusing on operations in the Yangtze River and Pearl River deltas since 1992, APP-China has made significant investments in establishing several state-of-the-art large pulp and paper enterprises successively, including Gold East, Ningbo Zhonghua, Ningbo Asia, Gold Huasheng, Gold Hongye, Hainan Jinhai, and Guangxi Jingui, as well as large-scale modern fast-growing forest.
For further information, please contact:
Harrison Zhang,Vice General manager of Valmet Changzhou Factory., tel. +86 13776874280
Przemysław Pietrzyk, Sales Expert, Small and Medium Size Machinery, Valmet, tel. +48 694 445 263