May 14, 2021
A new Valmet BFB Boiler – the largest in Russia – is enabling Mondi Syktyvkar to reduce its CO2 footprint by more than 200,000 tonnes per year. It is supporting the entire Mondi Group's transition to a low-carbon economy.
The Mondi Syktyvkar mill in the Republic of Komi is a leading pulp and paper industry player in Russia. Its annual output exceeds 1.2 million tonnes of competitive high-quality products, including office, offset and newsprint paper, containerboard, and market pulp.
To further improve the mill's energy and environmental performance, replace obsolete equipment, reduce greenhouse gas emissions, and increase steam and heat production capacity, Mondi recently modernized its power plant. The approximately EUR 135 million investment included a new bark boiler and a new steam turbine, as well as an upgrade of the power distribution network.
The power plant is not only a key part of the mill infrastructure, but also provides more than 15 percent of the Republic of Komi's electricity demand and is the single heating source for the Ezhva district, which has a population of 60,000 people. Reliable heat and electricity production is a must – temperatures sink below -40 °C during the coldest winter months.
Before the latest modernization, Mondi Syktyvkar successfully operated an old recovery boiler that Valmet converted into a bubbling fluidized bed (BFB) boiler in 2012.
Fuel flexibility, high reliability and low emissions
Mondi Syktyvkar chose Valmet as the boiler supplier for the project. Valmet's boiler solution utilizing BFB combustion technology, the Valmet BFB Boiler, features extensive fuel flexibility, high combustion efficiency and reliability, excellent controllability, and low emissions, fulfilling all the requirements the mill sets.
The new BFB boiler, with a nominal steam capacity of 184 MWth, has been designed for a wet (60% moisture) mixture of bark and mill sludge. The boiler is equipped with four modern Valmet Low-NOx natural gas load burners that can be operated alone and in co-firing situations simultaneously with solid fuel.
The delivery also included a Valmet electrostatic precipitator for efficient particulate removal from flue gases. Some parts of the delivery were manufactured in Russia by Valmet's local partners.
Valmet also provided site services. Despite the Covid-19 pandemic, the boiler plant was successfully and safely commissioned in May 2020. "The cooperation between Mondi and Valmet was very constructive and solution-oriented throughout the project, especially during the final commissioning phase, which coincided with the first wave of the pandemic in Russia. Valmet's specialists stayed on site with us until the new boiler was up and running. This behavior shows how important it is to have the right and committed people involved in these projects. It's usually people who make the difference," says Harm Bergmann-Kramer, Technical Director, Uncoated Fine Paper, Mondi Group.
There were other challenges too. Before the new boiler's installation, a lot of work had to be carried out inside the power plant while it was in operation. For example, an old boiler and turbines were dismantled. In parallel with the installation, the building was extended, resulting in very complicated and demanding work order planning. "The boiler installation supervised by Valmet went smoothly. In particular, the boiler start-up and the stabilization phase, which concluded with performance tests to verify the capacity and emissions, proceeded according to plan," Bergmann-Kramer adds.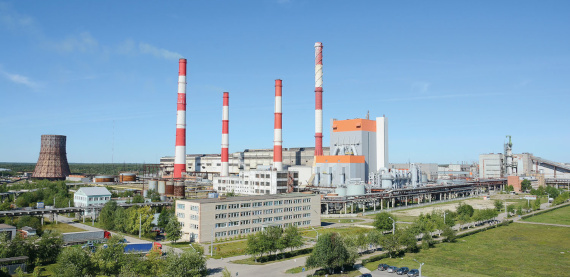 A four percent CO2 reduction for the entire Mondi Group
With the new bark boiler now in continuous operation, Mondi has taken an important step in its power plant's modernization at the Mondi Syktyvkar mill. "We've significantly reduced our environmental footprint, enhanced energy self-sufficiency and become less dependent on fossil fuels," Bergmann-Kramer points out.
It has been calculated that the introduction of BFB technology at the mill will result in a CO2 reduction of about 4 percent for the entire Mondi Group.
"Through significant investment and the efforts of a highly professional team, we've installed a state-of-the-art power plant which will ensure stable generation of heat and electricity for the mill and the surrounding region, and reduce the mill's overall environmental footprint as we move to a low-carbon economy," says Klaus Peller, Managing Director of Mondi Syktyvkar.
Text Marjaana Lehtinen