Jun 23, 2020
Climate change, carbon neutrality and low-emission energy production are on top of all environmentally-conscious energy producers' agenda. Key to this lies in phasing out coal as a fuel and replacing it with biofuels.
A decade ago, Ørsted (formerly DONG, Danish Oil and Natural Gas) was one of the most fossil-fuel-intensive energy companies in Europe. Today, it ranks as the most sustainable company in the world in the Corporate Knights 2020 Global 100 Most Sustainable Corporations Index.
Ørsted's Asnaes power plant in Kalundborg is one of Denmark's largest energy producers. By converting electricity and heat production from coal to sustainable biomass at the plant, Ørsted has taken an important step in reducing its CO2 emissions. The company's goal is to become coal-free by 2023.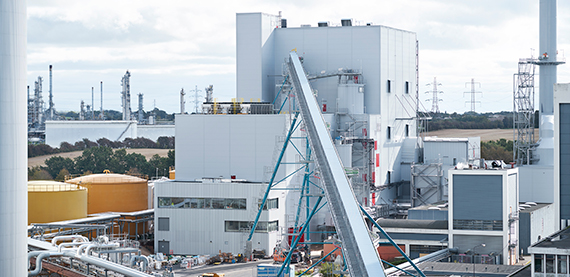 Valmet BFB Boiler key to successful coal phase-out
A key role in this successful coal phase-out is played by a 128 MWth biomass-fired Valmet BFB Boiler.
The new Asnaes 6 plant has an electrical capacity of 25 MW and a thermal capacity of 129 MW including 28 MWth generated by a flue gas condensing plant supplied by Valmet. District heat and process steam production was started in August 2019, followed by the connection to the grid and the start of green electricity production in November 2019.
The conversion from coal to wood chips at Asnaes has made it possible to decommission the remaining operable coal-fired units at the site. It has been estimated that the conversion provides a CO2 reduction corresponding to the annual emissions from approximately 400,000 cars.
The process is controlled by a Valmet DNA automation system that covers the whole plant and includes information management and safety related systems. Flue gas treatment consisting of a baghouse filter, combustion air humidification, flue gas condensing, condensate treatment and a stack as well the power plant buildings above the ground, electrification and instrumentation were supplied by Valmet, too.
"The project was carried out in good cooperation with the customer. Although the site layout and timetable were challenging, and the work took over 500,000 hours to complete, there were no injuries at the site," points out Valto Harju, Project Manager, Valmet.