Oct 4, 2022
Lounavoima's new waste-to-energy plant produces district heat and electricity from waste in an environmentally friendly and cost-effective way in Salo, Finland. Valmet's modern automation technology together with advanced monitoring and reporting solutions ensure smooth processes.
The visitor center at the Lounavoima waste-to-energy plant welcomes local residents, school groups and other visitors to increase their knowledge about recycling, the circular economy and the waste management ecosystem – and raises their awareness to act in a more sustainable way. It also visualizes how non-recyclable municipal solid waste is converted into district heat and electricity.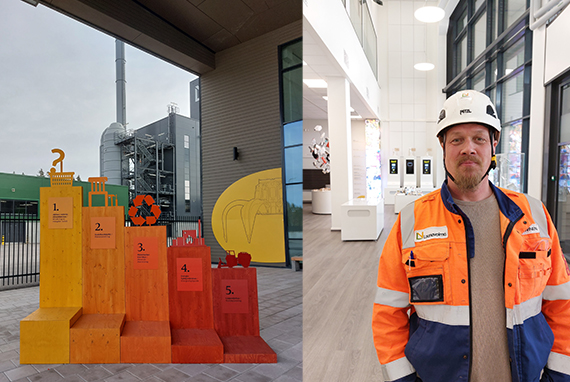 Lounavoima's Production Manager Janne Huovinen in the visitor center of the waste-to-energy power plant

The Lounavoima waste-to-energy plant started its commercial operation in April 2021. It accounts for approximately 90% of the district heat distributed in the city of Salo, the home to some 52,000 residents. Additionally, the plant supplies electricity to the national grid.
"There was a definite need for such plant in southwestern Finland. The garbage bags of about 417,000 residents were either taken abroad or to another plant in Finland for energy recovery. We all know that it does not make sense to transport waste over a long distance," says Lounavoima's Production Manager Janne Huovinen.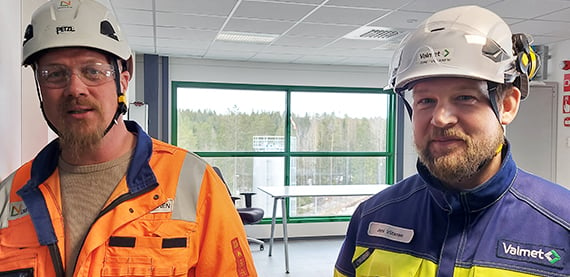 Lounavoima's Janne Huovinen on the left and Valmet's Joni Viitanen on the right

Having a local facility has now lowered CO2 emissions from the waste transport. Also, replacing fossil fuels and peat with waste fuel has cut the CO2 emissions in half from the district heat production in Salo.
Lounavoima is owned by the local municipal waste management company Lounais-Suomen Jätehuolto Oy (LSJH) and the local municipal district heat company Salon Kaukolämpö Oy. Waste is collected from LSJH's 18 owner municipalities.


Plant management tools optimize and automate reporting
The single-line plant has an annual production capacity of 180–190 GWh of district heat and 72 GWh of electricity. It was supplied by Steinmüller Babcock Environment GmbH (now known as Hitachi Zosen Inova Steinmüller), which chose Valmet DNA as the process automation technology for the third time in a row to automate its waste-to-energy projects.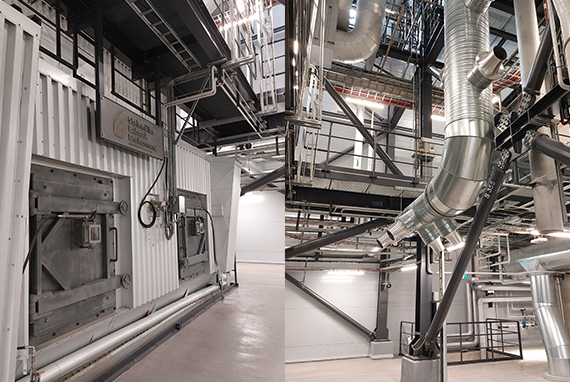 Valmet's delivery included a Valmet DNA Automation System, a Valmet DNA Information Management System, a Valmet DNA WI Emission Monitoring System, a Himax Safety Automation System as well as engineering and project execution. Additionally, Valmet provided control room equipment and instrumentation loop engineering for the boiler supplier.
"The delivery schedule was tight, and the COVID-19 pandemic affected our work from the factory acceptance tests until the end of the site phase. However, Valmet's experience in waste-to-energy automation systems and extensive knowledge of Finnish energy production played a key role in helping the plant start production at the beginning of April 2021," says Joni Viitanen, who acted as Valmet's Project Manager during the project.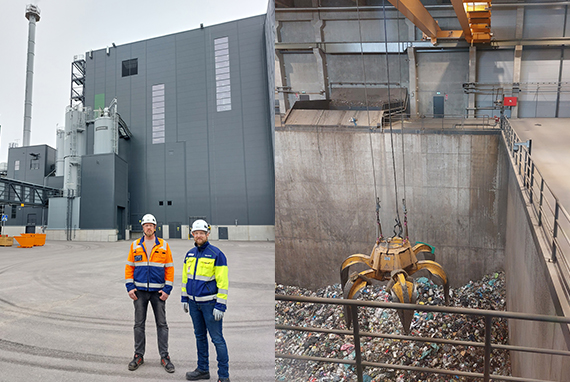 Lounavoima's Janne Huovinen looks back at the automation project with satisfaction. "Cooperation with Valmet people was good, as they are all professionals in their field. The COVID-19 pandemic with its travel restrictions caused some hassle in the factory acceptance test phase, but we were able to cope with it," he remarks. "Our operators have accepted Valmet's automation system well. I personally have known and used the system from time to time for about 25 years in my previous jobs. In my present position as the production manager, I use it all the time to check the process status as well as key figures and production reports on a daily, weekly and monthly basis. I have been very happy with the system."
Valmet DNA Plant Management Applications have proved to be useful in all areas of power plant operation, from management to production and maintenance. They optimize and automate plant reporting routines as well as improve performance and availability, among other benefits.
In the control room – the nerve center of the plant – Operator Jussi Kantonen keeps an eye on the steam flow from the large process displays. "I was familiar with Valmet's automation system and its graphics from my previous workplace, just like many other operators here. It is easy to use," he points out.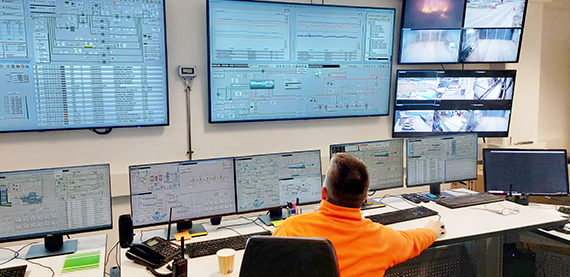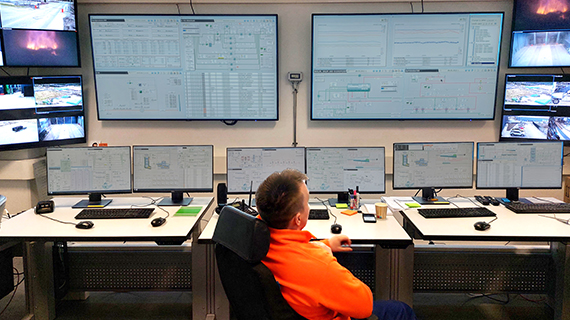 His colleague, Operator Taisto Heinonen, appreciates the clear graphic displays that contain a lot of information in an easy-to-understand format. "The trend tool is great. It enables us to see what has happened in the process and trace the root cause," he says. "For example, we recently noticed a sudden rise in the main condensate oxygen level and were able to find out what had caused it thanks to the trend tool."
If any questions arise with the automation system, Lounavoima can turn to the Valmet service center nearby in Naantali or consult automation experts at Valmet Performance Center in Tampere who have a remote connection to the plant.


Emissions monitored 24/7
The emissions from the plant are well below the limits set by its environmental permit. To ensure this, the Valmet DNA WI Emission Monitoring solution monitors nine different components online in the flue gases that are emitted from the 70-meter-high stack.
WI Emission Monitoring is ideal for effective authority reporting but also serves the plant as an operative tool. Integrated with the process control, it enables real-time and even proactive emission management. It makes the emission data more usable and reliable as well as enables long-term reporting and follow-up of trends. "The monitoring system sets off an alarm if emissions rise close to their limit values, thus enabling a quick reaction and efficient analysis during disturbance situations," Huovinen adds.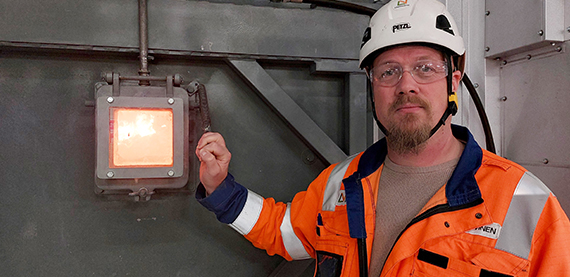 Fine-tuning to continue
Although the waste-to-energy plant is now successfully up and running, there is still work to do. As Huovinen puts it: "We will continue to fine-tune and optimize the plant. Our target is to produce clean energy for the city of Salo and the national grid."
Additionally, there is a new project underway on the plant premises. Lounavoima has drilled a 1.6-kilometer-deep hole in the ground and is studying the possibilities to store the excess heat created during the summertime in a deep geothermal heat storage system. The stored heat would be used during the peak load periods in the winter.
For more information, please contact:
Joni Viitanen, Project Manager, Valmet
joni.viitanen(at)valmet.com