Nov 22, 2019
The annual five day innovation festival InnoEvent brings together students and businesses. The companies share their challenges and multidisciplinary teams produce new ideas and solutions.
"This seemed like an excellent way to get new viewpoints and fresh out-of-the-box thinking, and I was really inspired by the students' can-do attitude," Eevi Smolander, Manager of Product Sales at Valmet, is beaming after her team participated a five day student innovation festival InnoEvent Tampere in early November.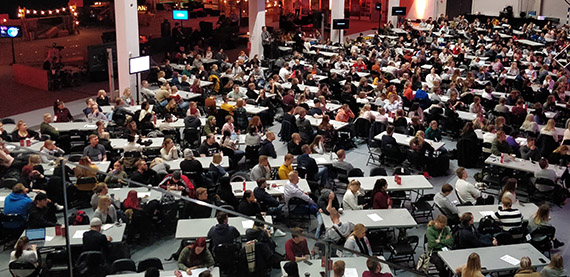 Challenge topics often revolve around technology, but Smolander asked the student teams to bring in new ideas related to team work, thriving together and boosting inner motivation. More than fifty individuals can be working on a Recovery Boiler sales project in Valmet's Pulp and Energy business. They are all strong professionals in their field of expertise and the sales team consists of multidisciplinary experts. Members of the sales teams can be from different geographical locations and teams from different time zones might work together for the same case. The sales team is not their primary team and they do not share a direct manager. Valmet wants to see the sales teams thrive, and four teams of students at InnoEvent were asked to give the Generation Z viewpoint on achieving high-performing teams.

Valmet hires young talent for fresh perspectives
Half of Valmet Pulp and Energy employees have worked for the company for over 11 years. Seniority brings expertise, but fresh perspectives are needed as well. Therefore Valmet constantly hires recent graduates and it is possible that some of the students at InnoEvent were looking at their future employer.
"We are an engineering house with a strong focus on operations and quite a homogenous crowd. I wanted to shake things up and get new ideas on how to boost engagement, motivation, inspiration, excitement, commitment, positive team spirit and willingness to go an extra mile for the benefit of the whole team." Smolander says of the reasons why she wanted her team to participate in InnoEvent.
Young graduates have a lot to give to companies like Valmet. In addition to their recent learnings from school they bring a new way of thinking and trends. They are global citizens by default and also bring much-needed diversity to established enterprises.
For their part, Valmet offers a global, inspiring working environment. It is a large company that keeps growing in a sustainable, responsible way. Valmet is also known as a reliable employer who truly lives by their values, customers, renewal, excellence and people. This year Valmet was chosen as the second most attractive employer by the engineering professionals in Finland.

Participation and great teamwork were keys to success
Valmet's case required some special attention, as it wasn't a concrete problem, but open-ended challenge to look for new ideas. Smolander and her three colleagues made InnoEvent a priority and were at the student's disposal for three days. The students made the work, but it was nevertheless a collaboration, where Valmet's presence was important. Valmet wanted to enable the participating four teams of students to give their best.
The students were active and seemed motivated and eager to get things done, Smolander praises. During the first two days the preliminary solutions were mainly tactical and quite narrow. The professionals from Valmet as well as InnoEvent's own coaches sparred with the students and by the third day brilliant ideas started to emerge. Quick team formation and result-oriented collaboration proved to be a challenge.
"Differences in team dynamics were visible from the start. In some teams, one could see the cooperation being well balanced, all team members had their voice heard and could contribute. It was evident that the best-functioning teams provided the best solutions," Smolander explains.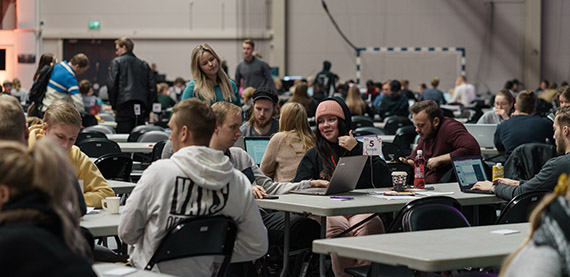 Several new ideas will be implemented at Valmet
When the last day of the event arrived and the final pitches were presented, all teams' presentations were a pleasure to follow. Especially two teams stood out for Smolander.
"The best teams seemed to have the best understanding of our challenge and our global working environment. They had also been able to kill their darlings and had found new perspectives based on our feedback during the week. The change that had happened between Tuesday and Friday was just stunning," Smolander says.
The winning team presented ideas on meeting practices, workshops and enabling casual encounters that could result in better team-building. Meeting people and working together were at the center of the solutions. Smolander is glad that the ideas are implementable and planned with a long-term perspective.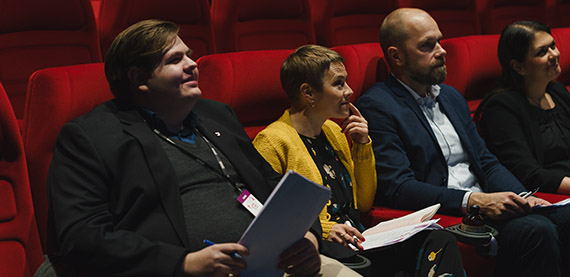 "I believe it is exactly this type of practices enabling team-building that will raise performance, engagement and drive, "Smolander concludes.
Other teams also had implementable ideas. One was sending a stylish invitation to each new sales project team member, making the selected employees feel like the important key players that they are. Another related to giving feedback, something that can almost always be improved. The common thread in all teams' solutions were choosing the right tools, using artificial intelligence and sharing knowledge openly.
"Implementing new tools in large companies is always a challenge. The younger generation is used to keeping in touch on various applications. They asked if we are seriously still using email to communicate," Smolander says laughing.
Now it's Smolander's turn to get to work implementing these ideas. She is already planning to invite the teams for a follow-up session in six months to see how their ideas have been implemented, maybe even give a helping hand with the implementation. All in all, Smolander is happy with InnoEvent's takeaways and is already promoting it to her colleagues so that another team could use the opportunity next year.