Calendering represents the final chance in papermaking to improve the quality of paper before it is rolled up and soft calender roll covers play an important role in this regard. Valmet offers a broad range of roll covers for different calendering processes and conditions, and we are now expanding this range with a new member, Valmet Calender Roll Cover CJ-S composite cover*. It's modern manufacturing and materials technology targets simultaneously both paper quality and cover durability.
Requirements for calender roll covers
Calendering, in general, seeks an increase in paper gloss and a decrease in surface roughness, a decrease in ink absorption, and a high-quality printing result. The calendering effect, i.e. what happens to the sheet between two rolls, depends on a large number of variables.
For coated paper, part of calendering is copying the roll surfaces to the paper, so roll surface quality must be excellent, not only on thermo rolls but also on soft-covered rolls. Contact between the sheet and rolls is optimized through nip loading and cover deformation. High temperatures increase the deformability of the roll coating and paper, thus making it easier to get the desired calendering effect. Calender covers must therefore be homogeneous and durable under various loads, speeds and temperatures, while at the same time deformable.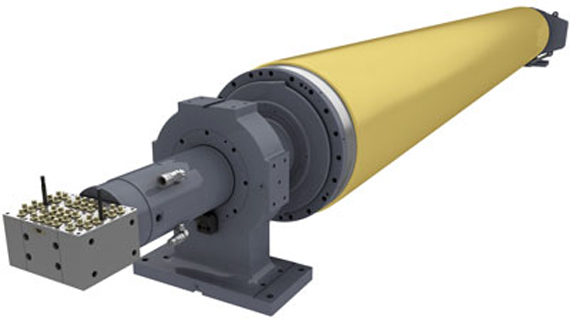 Based on nanotechnology and new materials
In Calender Roll Cover CJ-S, Valmet brings on the market a cover directed specifically at coated grades. At a hardness of 91 ShD, the cover is less stiff than other covers of the same hardness. But the durability of the cover has not suffered, making this the ideal cover for modern multi-nip calendering conditions. In fact, the cover's resistance against impact has increased by 40%, rendering Calender Roll Cover CJ-S more durable under the abuse of the calendering process, including web break related impact. Moreover, the nanotechnology and new materials employed help to enhance it's surface quality. New manufacturing technology makes the cover more homogeneous, which results in more uniform surface properties.
For better paper quality and economy
The benefits of Valmet Calender Roll Cover CJ-S for the papermaker are thus twofold. The optimization of the cover for the calendering of coated grades makes it easier to reach or exceed certain quality targets and may allow increases in production output while maintaining the same quality level. The increase in cover durability lengthens cover lifetimes, thereby reducing maintenance costs.
Valmet Calender Roll Cover CJ-S is available from Service Centers all around the globe, which ensures quick delivery and service.
*earlier known as CalJaguar
Article published in Results customer magazine 1/2010.