Left to right: Ramón Muñoz of MMS, with Luis Miguel Garcia, David Plou, Federico Asensio, and Pedro Jariod of Saica.
Based on several years of successful outsourced maintenance at its Zaragoza mills, Saica has contracted Metso Mill Service (MMS)* to be the sole provider of maintenance services, from the recovered paper conveyors to the new reel warehouse, at its new 400,000 tpy Partington, UK mill, near Manchester. The concept focuses on a machine performance and productivity model which has been partially tested in Spain. Reductions in technical lost time and a safer working environment have been achieved.
When Saica Paper's new Partington, UK recycled furnish containerboard mill started up on January 15, 2012, the entire mill is now maintained by Metso Mill Service (MMS), the maintenance arm of Metso. This is a strong vote of confidence in the concept of outsourcing and in the cooperation which has contributed to improving maintenance management at Saica over the past few years.
MMS will take over responsibility for maintenance operations and the management of improvement programs for the OCC stock preparation system, the board production line, power generation plants and the wastewater treatment plant. Saica had previously selected Metso as the main machinery and automation supplier for the 8.2-meter-wide, 400,000 tonnes per year production line, numbered PM 11.
| | |
| --- | --- |
| | The PM 10 machine at the El Burgo mill is one of five Saica machines in Spain covered by the MMS maintenance agreement. |
Federico Asensio Balet, Deputy Managing Director of Saica Paper based in Zaragoza, Spain explains why this agreement is the ideal solution for the mill: "Our agreement with Metso at our new Partington mill combines all aspects of corrective, preventive and predictive maintenance, and is a win-win situation. It adds value to our maintenance activities to have an experienced paper machinery manufacturing company as our partner. This agreement gives us the best quality service, low costs, low downtime and the productivity we need to be successful. And furthermore, it covers the complete production line from the raw material conveyors to stock preparation to the new paper warehouse. The drivers of this agreement are very tightly connected to the mill's overall production," he says.
This comprehensive whole-mill agreement was carefully considered by Saica as it had to be based on shared common goals, mutual trust and the proven good working relationships developed between Saica and Metso. The business model for performance-based maintenance by MMS has its roots within Saica's Spanish organization centered in Zaragoza, where it has been developing and maturing since 2005.
Performance-based maintenance
Saica has two containerboard mills in the Zaragoza area: the Zaragoza city mill with two paper machines, and the El Burgo de Ebro mill, about 25 km away, with three paper machines. The combined production of the mills is 1.8 million tonnes per year.
Before Saica formed an agreement with MMS, the mill service was done mainly by four outside contractors. But Saica managers realized that maintenance must have a value-added component above and beyond just paying for the labor costs. Costs of work and spare parts should be managed and predictable, of course, but the maintenance activities should be more focused on reducing technical downtime and actually improving the paper making operation. Ensuring a safe working environment was also at the top of the list, as advocated by Saica's motto: "If it's not safe, it's not Saica."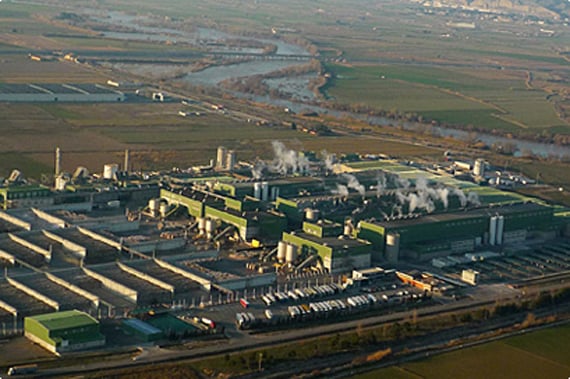 Asensio highlights the reasons for forming the initial performance-based maintenance partnership with Metso. "We needed a partner like Metso that would improve our knowledge of how to service our processes, so our maintenance procedures would be top-quality. Metso would bring this depth of paper machinery knowledge, their skills, diagnostic procedures and service methods, to add value. We would not be just buying hours of maintenance time. The end result would be good performance for our papermaking equipment."
In 2005, Saica and MMS formed a partnership that would address maintenance from a performance point of view. Both companies invested money in the new organization. The staff of four previous contractors was merged into one. To improve the level of skills and methods of service, Saica and MMS developed an extensive training plan which continues today. In the period from 2006 to 2009 about EUR 300,000 were invested in training, and the budget for 2010 was EUR 70,000.
The current 180 maintenance specialists are located in three maintenance facilities: a roll maintenance shop and an electrical maintenance shop close to the El Burgo mill site, and a general mechanical maintenance shop located near Zaragoza. The mechanical maintenance and roll maintenance shops are set up as profit centers, and actively solicit and accept repair projects from other paper mills in the Iberian Peninsula and other parts of Europe, too. Other industries are served as well.
*Valmet as of January 1, 2014
Read the entire article: A vote of confidence in performance-based mill maintenance