Filter fabrics and services for filtration in mechanical pulping
Enhanced filter capacity
The filtration challenges that the modern wood-processing industry is facing require sophisticated solutions. With state-of-the-art materials, advanced sustainable production methods and thorough quality control, Valmet is committed to helping its customers to find those solutions.
An absolutely perfect fit for disc filters
All Valmet Disc Filter Bags – regardless of the material – are designed and made to fit perfectly in demanding applications. To ensure absolute precision we use a computer-controlled laser cutter with coded dimensions. In addition to tight and hardwearing stitches, the fabric edges are non-fraying. These fabrics incorporate everything from a perfect fit to the best materials and a long lifetime – everything you need in a disc filter bag to increase filter capacity.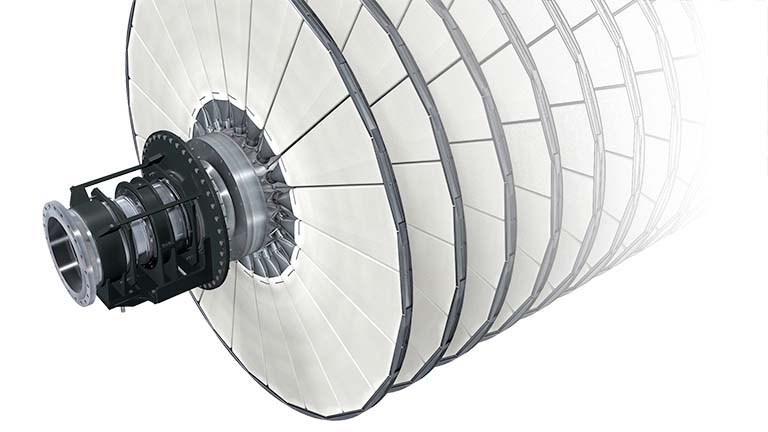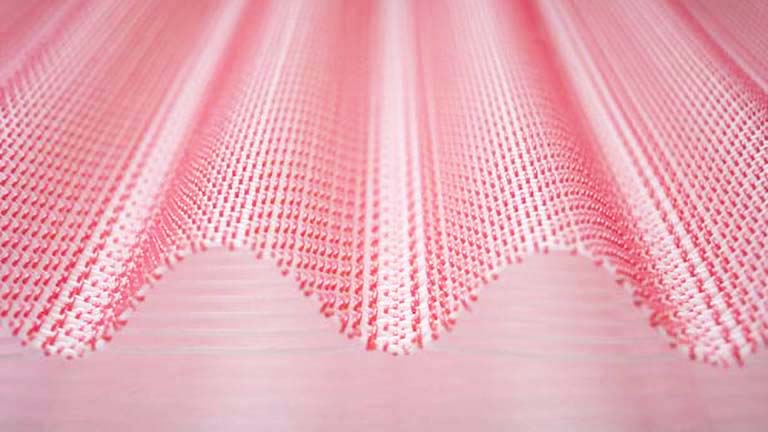 Corrugated Valmet Disc Filter Bag
The bag developed for all kinds of disc filter sectors. The secret lies in its unique fabric corrugation. This solution increases the sector surface area by 29%, enhancing capacity by 10 to 25%. The corrugation also facilitates filter cake removal.
Key benefits
high capacity
high pulp discharge consistency
improved filtrate quality
cost effective retrofit
easy maintenance and service
Corrugated Valmet Disc Filter Bag is suitable for new filters and upgrading. It suits all filter sectors on the market. Either a single segment or several segments can be combined with conventional flat-surface segments in a disc filter, depending on the desired capacity increase.
Sectors
We offer several styles of sectors and components with different characteristics to best meet your specific filtration needs.
Dewatering wires for various applications
Valmet Pulp Press Fabric is a product family of high-quality monofilament wires for pulp dewatering. The extensive product range includes various applications such as:
Dewatering of stocks from hard and softwood, mechanical or chemical pulp, bleached or unbleached
Dewatering of waste paper
Municipal sewage and industrial waste water treatment
The fabric features:
Trouble-free start-up
Long life: excellent stability, wear-resistant designs, extremely strong edge treatment
Optimum drainage
Operational reliability
Shrink fabrics for drum filters
Valmet Shrink Fabric SL is a single-layer shrink fabric designed for drum filters used in chemical and mechanical pulping as well as for recycled fiber. In addition to boosting production, its key benefits are:
Excellent drainage -> high dry content
Shrinking starts at low temperatures
Extremely high shrinkage force -> long lifetime
Unique woven seam structure -> low profile and high strength
Metal-like structure -> stays clean and runs longer
No shrinking in axial direction -> easy to install
No need for welding -> quick installation
Mill site filtration services in North America
Our over 50 years of experience in the fabrication and installation of filtration products makes us uniquely capable of helping you solve your toughest filtration challenges. From disc filter optimization to leaf testing, our team of experienced technicians can help you get the most of your filtration equipment.
We can assist you during scheduled shutdowns and are available for emergency service as well. Whatever your filtration challenges are, we are ready to help.
Some of the key services we offer include:
Field service technicians & supervision
Filter media and wire cloth installation services
On-site & Off-site disc sector recovery
Mechanical maintenance services
These are just some of the ways we can help you improve your filtration processes.
Contact us for further information.