Containerboard has a bright future
Containerboard has a world-wide stable long-term growth that is supported by e-commerce, globalization and a growing middle class. There is also an increased environmental awareness and a strong demand for fiber based renewable materials replacing plastics.
Valmet is your natural containerboard partner, providing complete production lines from wood raw material to finished containerboard. Our offering covers machinery, process technology, automation and services. For the pulp line we can provide you with a complete delivery from cooking to screened and washed pulp with full guarantees covering the whole fiberline.
Taking linerboard to the highest level
Containerboard consists of two main parts: linerboard and corrugated medium. Linerboard made of virgin pulp, kraftliner, is usually produced using softwoods, which have the longest fibers, and give the strongest containerboard. The fiberline for kraftliner production has the same basic front-end as that for kraft pulp aimed for bleaching. Softwood chips are cooked to a kappa number of about 75-100 or higher and complete defibration is achieved by refining in either a disc refiner or a conical refiner. Valmet is at the absolute forefront, providing kraft pulping solutions and expertise taking linerboard to the highest level.
Fluting according to your requirements
The corrugated medium, the center layer in corrugated cardboard, contributes to the required mechanical properties of the finished product. Primarily the demand on fluting pulp fibers is to provide high stiffness and good crush resistance. NSSC pulping (neutral sulfite semi-chemical pulping) is perfectly suited for fluting. Valmet is the market leader in this field and helps you to make fluting according to your requirements, offering better protection with less material. Valmet's NSSC pulping process is odor-free and the pulp yield is in the range of 70-80%.
Pulp at different yields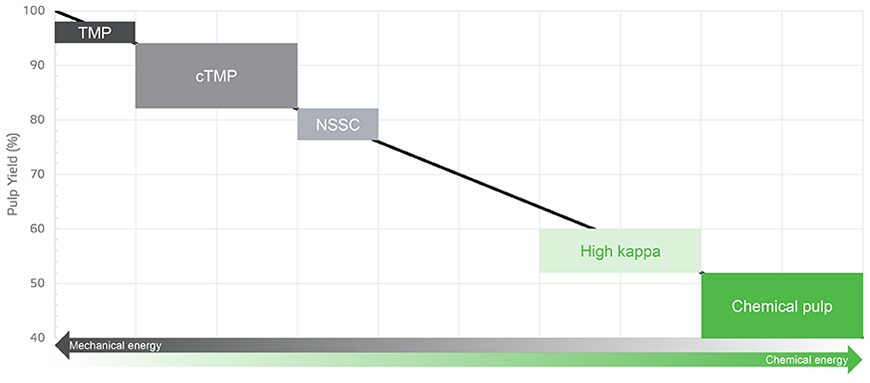 Liquid board with minimal environmental footprint
The growing demand for liquid board is driven by population growth, increased standard of living, demands for extended shelflife and the need for increased sustainability. Liquid board is made of several layers with unbleached kraft pulp of high cleanliness in the base and middle layers and bleached pulp in the top layers. For improved bulk of the liquid board, the middle layer is often av mixture of unbleached kraft pulp and CTMP (chemical thermo mechanical pulp).
Valmet has long experience of assisting customers to produce taste and odor neutral packaging with minimal environmental footprint. We give you the perfect starting point for producing the liquid board of the future.
Pulp for sack paper
Sack paper is a strong and porous kraft paper used for sacks for various bulk products such as flour, cement and animal feed. The kraft pulp is made from softwood chips, which are cooked to a kappa number of about 45-70. Valmet's flexible and versatile machinery enables the production of kraft pulp suitable for high-quality sack paper with high tensile energy absorption, stretch and air permeability.
Valmet's state-of-the-art machinery
Valmet Continuous Cooking is a corner stone when Valmet delivers new fiberlines, enabling excellent pulp quality and maximum pulp yield, as well as low steam and power consumption.

Valmet ImpBin gives superior impregnation resulting in more homogeneous cooking conditions and a narrower kappa number distribution, which means increased pulp yield.

OptiFiner Conflo is our first choice for sack paper and kraftliner with kappa number up to around 90.

EVO refiners are used for both kraftliner and fluting, more specifically in blowline refining and hot stock refining when the kappa number is around 90 and higher.Optimal blowline refining, hot stock refining, deshive refining and reject refining are key factors to achieve successful end products. Valmet chooses the refiners that are best suited for each application and customer. The acquisition of GL&V has made us even stronger when it comes to refining.

RGP refiners are ideal for fluting and enables fluting makers to reach targeted paper quality.

Valmet's Delta screens are characterized by their high shive removal efficiency and outstanding runnability.

Valmet's TwinRoll wash presses have excellent washing efficiency. Owing to the liquor displacement and high output consistency, the carry-over of dissolved substance from the pulp mill to the paper machine is minimized.