NOx reduction
To help boiler plants reduce nitrogen oxides (NOx) generated through combustion, Valmet offers two efficient solutions:
the Selective Non-Catalytic Reduction (SNCR) method
the Selective Catalytic Reduction (SCR) method.
Both solutions for secondary NOx reduction are tailored according to your specific needs – the fuel composition and required emission limits at your boiler plant.
SNCR – economical, yet efficient
The SNCR method is an ammonia or urea injection system that reduces NOx emissions. NOx reduction achieved with this method depends on the boiler design and load. Typical reduction varies from 20% to 70%.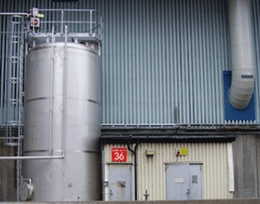 In SNCR, ammonia or urea is injected straight into the furnace or cyclone inlet and mixed with the hot flue gas. Ammonia reacts with nitrogen oxides to produce water and nitrogen.
In addition to good reduction efficiency, the benefits of SNCR include a low investment cost. The system can be installed in new boilers or retrofitted into existing boilers. Valmet has dozens of successful references around the world ranging from 10 to 550 MWth.
SCR features maximized efficiency
SCR stands for selective catalytic reduction of NOx. It is the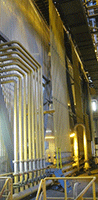 most effective NOx reduction method in which nitrogen oxides are reduced to water and molecular nitrogen in a SCR reactor. The purpose of the catalyst is to speed up the reaction.
The benefits of SCR include maximized reduction efficiency – over 90% reduction of NOx with minimum operating costs.
During the past 20 years, Valmet has supplied SCR systems to numerous new and retrofit boilers.
NOx scrubber for recovery boilers
To reach very low NOx emission in recovery boilers Valmet developed the solution based on scrubbers as SCR and SNCR have not yet proven to be technically and financially viable solutions in recovery boiler conditions. Valmet has long experience and plenty of references in boiler scrubbers for removing sulfur oxides (SOx) and dust, as well as for heat recovery from flue gas.
It is possible to use either chlorine dioxide (ClO2) or ozone (O3) as NOx oxidizing agent in the flue gases. The selection can be done based on the access and process requirements at the mill.