Valmet is the global market leader in board, paper and tissue machinery. Of the world's paper and board, approx. 40% is made by Valmet machines. Valmet's Paper business line had exceptionally strong performance last year, and Valmet's short-term market outlook for the first half-year of 2018 for tissue, board and paper is good*.
In 2017, Paper business line's orders received increased 44% and exceeded EUR 1 billion. Of this, 43% came from board, 21% from paper and 35% from tissue. Geographically, China was the biggest market (with 38% of Paper business line's orders received), followed by EMEA and North America (with 31% and 27% respectively).
Demand for board is driven by the increasing e-commerce, and a shift towards renewable and recyclable packaging. The global e-commerce is forecasted to grow as much as 140% from year 2016 to 2021. Still today, the share of plastics of the total packaging market is 40%, so there is a lot of growth potential for fiber-based products. Board producers are also looking for more lightweight board, i.e. lighter packages with the same strength properties. Other trends in the paper and board market include grade conversions and increased demand for food wrapping papers and labelling.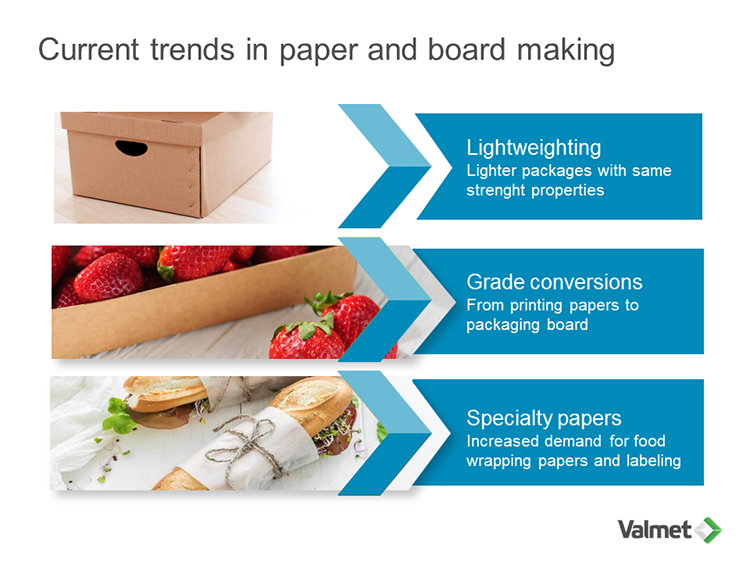 In March 2018, Valmet organized a site visit for institutional investors and analysts to the main site of Valmet's board and paper business, Rautpohja in Jyväskylä, Finland. In 2017, the Board and Paper Mills business unit constituted ca. 1/5 of Valmet's total orders received. Roughly half of the business comes from new machines, while the other half comes from rebuilds and single machine sections. With 1,400 employees, the Rautpohja site is the single biggest Valmet site, as well as the biggest industrial employer in the region. Industrial operations in Rautpohja started already in 1930s, with artillery production.
Today, the site hosts engineering, sales, project management, manufacturing, procurement and logistics functions for Valmet's board and paper operations. Technology Centers for Paper and Services are located in Rautpohja, as well as a foundry. In the Paper technology center, Valmet has two pilot paper machines and a lab for own and joint development, customer trials and training. Yearly, up to 70 trials can be organized in the center, typically lasting for four days.
In addition, the Rautpohja site houses Valmet's Performance Center for board and paper. The Performance Centers are a key element in Valmet's Industrial Internet offering. There, Valmet's experts remotely monitor customers' machinery and processes, analyze the data, and provide preventive maintenance and on-demand support in cooperation with the customers' personnel on site.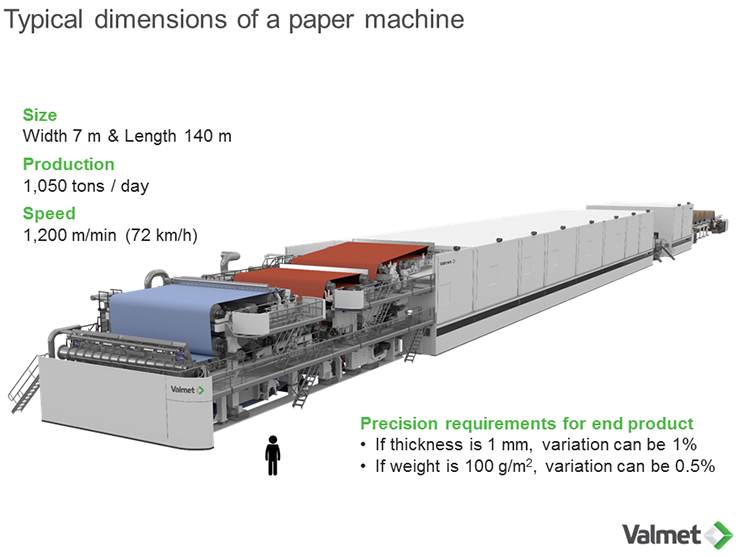 Valmet has centered the manufacturing of key components for board and paper equipment to Rautpohja. Despite the simple end product, paper making is a very sensitive process, which places high requirements on the equipment. Valmet is the technological forerunner with a leading market position, and is thus well placed to capture the growing demand.
* The scale Valmet uses in its short-term market outlook is weak-satisfactory-good.
Watch the highlights video of the site visit and read the presentation material.