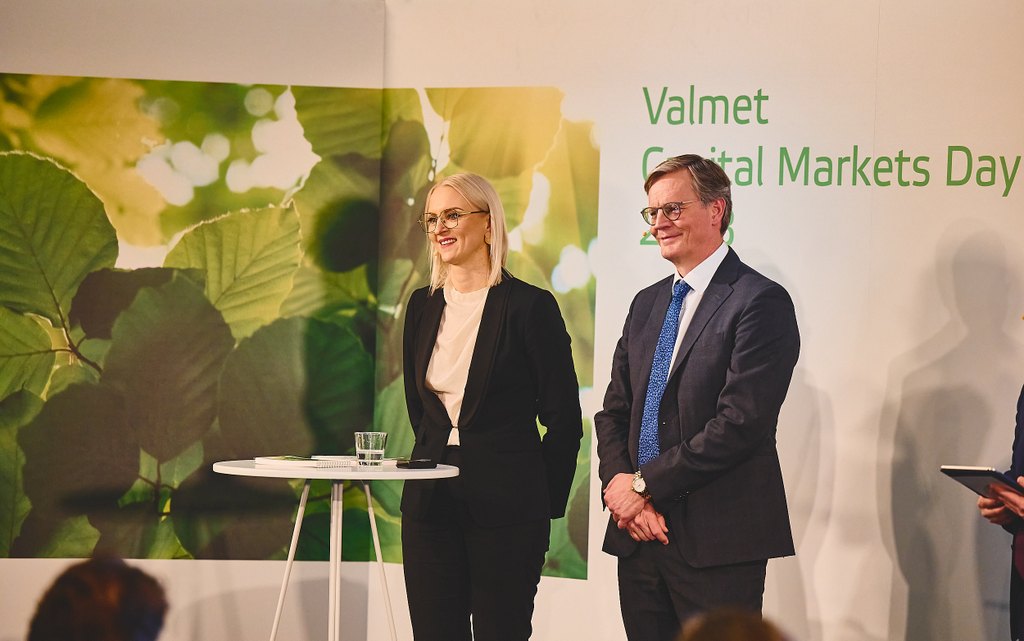 After the summer holidays, it is a good time to recapitulate the main messages of Valmet's Capital Markets Day 2023. Six months after the event, the content is still very up to date. Valmet's CMD took place on March 8, 2023, and was well attended: 40 guests filled the room at the venue and more than 400 people attended via webcast. In a previous blog post, we discussed the main messages of Valmet's five business line presidents in their CMD presentations. Let's now recap the presentations of the President and CEO, and the CFO.
In his opening remarks, President and CEO Pasi Laine went through the firm foundation of Valmet's investment case. Valmet has a sound financial track record from the nine calendar years as an independent company. Net sales in 2022, EUR 5 billion, were almost double the net sales in 2013, and comparable EBITA almost tenfold. Valmet's margin has improved from 2.1% in 2013 to 10.5% in 2022. Today, Valmet has a balanced net sales split, both from the segment perspective and geographically. Of 2022 net sales, 32% came from Services, 20% from Automation and 48% from Process Technologies.
According to Pasi, sustainability has been integrated in Valmet's management system since the beginning. Valmet's Sustainability 360 agenda covers the entire value chain, with programs and initiatives in all areas of ESG. The rating agencies have given Valmet recognition for its sustainability efforts. Pasi also presented Valmet's climate program and targets, through which Valmet is committed to cut CO2 emissions in all parts of its value chain and provide a carbon neutral production process for its customers by 2030.
Sustainability is a major focus area in R&D, but R&D is crucial also for Valmet's competitiveness and growth. Focus areas for Valmet's R&D are defined by customers and include promotion of renewable materials, efficient use of raw material, water and energy, emission reductions, circularity, and productivity.
Valmet's strategy has worked well over the years, and today it is both valid and timely: Our mission is to convert renewable resources into sustainable results. We are committed to moving our customers' performance forward with our unique offering and way to serve. As a major player in its field, Valmet's role is to move the industries forward.
Pasi also presented Valmet's six investment highlights:
1. Unique offering to support a growing market
Valmet's offering is unique and the widest in the market. For producers of pulp, board, tissue, paper and energy, Valmet can supply not only the manufacturing technology, but also the needed services, automation systems and flow control solutions. Our automation businesses serve a variety of other process industries, too.
2. Process Technologies segment benefiting from a growing demand for bio-based products and energy
The Process Technologies segment is driven by the growing demand for bio-based products and energy. Demand for pulp, packaging board and tissue continues to grow, so new pulp and paper capacity is needed. Energy transition creates a growing market for Valmet's energy offering. The large old and inefficient installed base of pulp and paper equipment generates a significant replacement market. Flexible cost base and large prepayments in the equipment business make a strong business model.
3. Services segment's demand driven by large and growing global installed base
The Services and Automation segments are growing and recurring businesses. Valmet has competitive advantage from the widest services offering in the market and strong presence in all market areas covering all key customer corporations. The large old installed base drives services demand.
4. Automation segment with high growth and profitability
Sustainability, digitalization, and targets for operational efficiency drive the market for automation systems. Flow control market for critical valves and valve automation has barriers of entry enabling solid profitability for leading players like Valmet. In Automation, Valmet has opportunities to grow outside the core pulp and paper industry both organically and through M&A. Services and Automation have high margins and resilience to market cycles.
5. Future growth possibilities from new sustainable innovations
Beside the traditional businesses, Valmet is also investing in new potential growth areas, like textile fibres and 3D fibre. See the earlier blog post on Valmet's role in the textile industry here.
6. Building Valmet on positive megatrends and strategy of renewal and continuous development
The sixth investment highlight actually sums up the main messages of the CMD: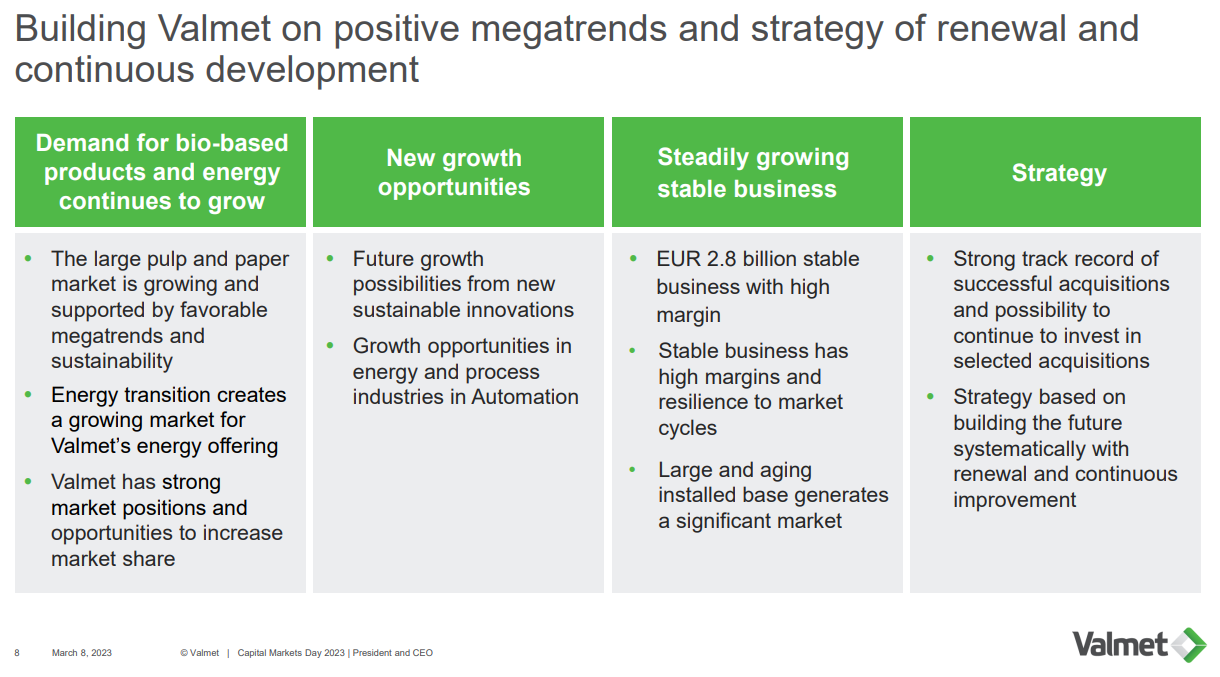 On solid growth track with concrete actions to reach the financial targets
CFO Katri Hokkanen showed in her presentation that Valmet's three segments form a balanced portfolio also from a financial perspective. Of Valmet's comparable EBITA in 2022 (excl. Other), Services made 41%, Automation 33% and Process Technologies 25%. All segments have grown considerably since Valmet was formed in 2013.
Katri presented the action plan for reaching Valmet's Comparable EBITA margin target of 12–14% (see below). All segments have a target to improve their margin.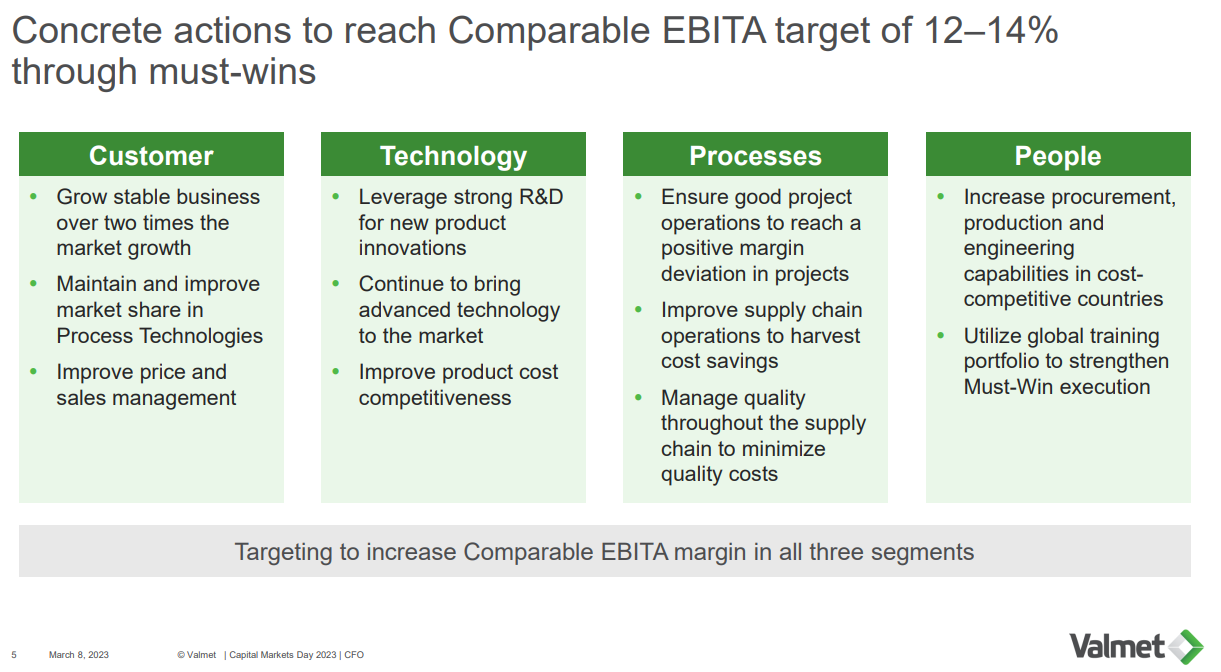 Valmet's strong balance sheet enables solid operations, dividends, and growth also through acquisitions. The dividend payout target is at least 50% of net profit. With selective acquisitions, Valmet has opportunities to strengthen all its segments, Services, Automation and Process Technologies. There must be a clear industrial logic and synergies, and the acquisition needs to support Valmet in reaching the financial targets.
Katri concluded her presentation with quite a stunning piece of information: When looking at the total shareholder return, Valmet has outperformed 90% of European industrial companies since 2014.* While past performance is no guarantee of the future, it is fair to say that Valmet certainly has a strong track record.
The presentation slides and webcast recording can be found here.
* Compared to companies in EURO STOXX Industrial Goods and Services index (composition as of February 28, 2023) during January 2, 2014 to February 28, 2023. Source: Factset.