The amount of Finnish private shareholders owning Valmet shares has recently grown rapidly. On August 31, 2022, Valmet had about 78,800 Finnish private owners. Now, 12 months later, that same figure is over 92,000 – if they all decided to participate in the Annual General Meeting, we would have to book a venue of the size of Wembley Stadium to host the event! Just alone between the end of June and end of August this year Valmet gained more than 3,700 Finnish private shareholders.
Along with the amount of Finnish private shareholders, their ownership percentage of Valmet has increased as well. At the moment they own 16.9% of Valmet, which is 1.7 percentage points more than a year ago. The largest shareholder sector is still Nominee registered and non-Finnish holders with an ownership of 43.5%, and the largest single owner is the Finnish state owned Solidium with an ownership of 10.1% of Valmet. Since the beginning of 2022 Finnish company Oras Invest, owned by the Paasikivi family, has purchased a large amount of Valmet shares and are currently the second largest single owner with an ownership of 6.2% of Valmet.
What could explain Valmet's popularity among Finnish private investors?
According to a survey which measures the company sentiment among Finnish investors, Valmet is seen as one of the highest regarded companies in the Finnish stock market. The survey is made by Inderes.fi, a popular discussion forum and stock analysis site among Finnish investors. The survey measures the company sentiment on five categories, which are:
Long term attractiveness
Competitive advantages
Management's reliability
Clearness of strategy
Near-term growth prospects
As the results stand on September 4th, 2023, among over 100 companies in the survey, Valmet ranks in the top-5 in four of these categories. A particular highlight is the Management's reliability, where Valmet ranks as the best company and receives a score of 100 out of 100.
In addition, Valmet placed 8th in T-Media's annual study, where the reputation of Finnish stock exchange listed companies is measured. This is an increase from last year when Valmet placed 13th on the same study.
During the past 12 months Inderes.fi also selected Valmet in their model stock portfolio. Over 30,000 users subscribe to the stock picks of Inderes' model portfolio, and many of those followers are likely bound to take inspiration from their stock picks.
We at Valmet's IR have also been active in our communication efforts directed to private investors. We have actively created new content to our Instagram page @valmet_sijoituskohteena which is growing nicely in followers. We have participated in private investor events such as Tampereen Sijoitusmessut with couple of more to come during this year.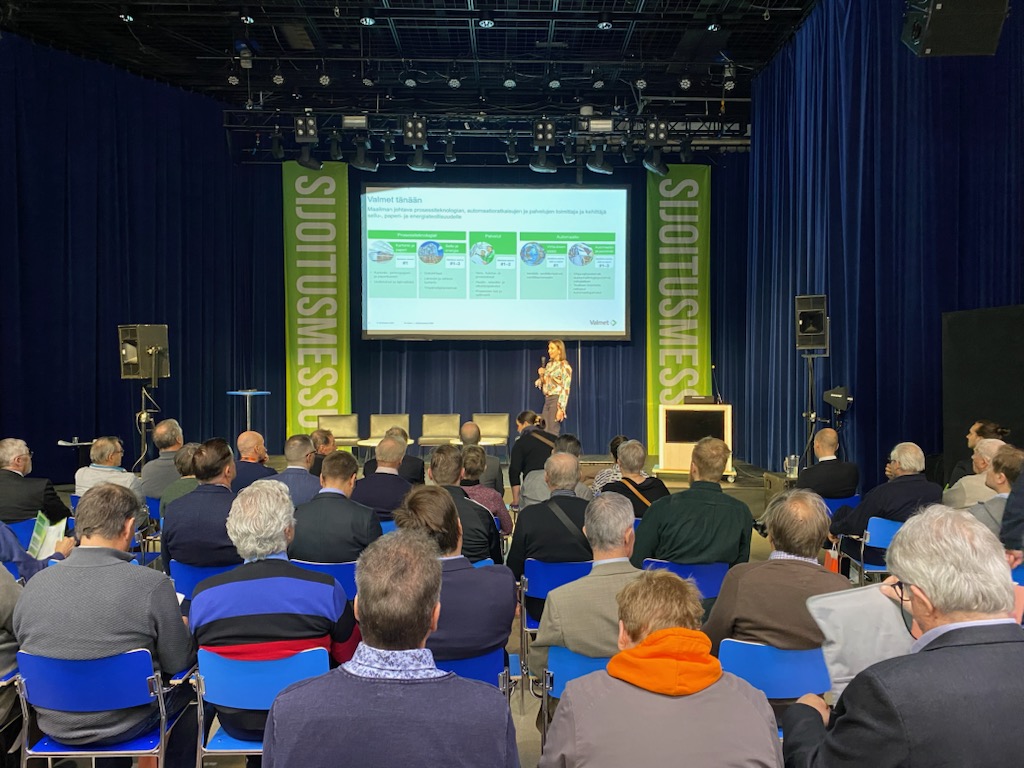 IR Manager Tuuli Oja at Tampereen Sijoitusmessut
The increasing interest from private investors is not showing any signs of slowing down, and communication to private investors will continue to be an important part of our efforts going forward as well.
You can find more information about Valmet's shareholders from our website: Valmet shareholders.