Valmet arranged a site visit to Jyväskylä and Metsä Board's and Metsä Fibre's mills in Äänekoski on June 3–4, 2015. The first stop of the trip was Metsä Fibre's pulp mill in Äänekoski. Esko Turunen, who in September will become the mill manager for Metsä Fibre's existing mill in Äänekoski, hosted the first part of the visit. Many of the visitors had not seen a pulp mill before and therefore the mill, which was originally built in 1985 and produces 530,000 tonnes of pulp annually, was an impressive sight. Metsä Fibre's new bioproduct mill will produce a whopping 1.3 million tonnes of pulp annually. Valmet finalized the order agreement for the new mill's key technology on April 22, and the order, with an estimated value of about EUR 125–150 million, will include recovery boiler, pulp drying line, gasification plant, lime kiln and a mill wide Valmet DNA automation system. The construction of the new mill has already started and it will be built right next to the existing one.
After finishing the tour at the pulp mill the visitor group moved to Metsä Board's facilities located at the same premises, where mill manager Pertti Hietaniemi welcomed the visitors. At first Hietaniemi explained Metsä Board's transformation to become a high-quality paperboard producer. He also showed different board products. The visitors seemed especially astonished by ballpoint pens that look like they are plastic but are in fact made of wood. After the presentation part, it was time to see the actual board machine. Metsä Board's board machine in Äänekoski was rebuilt by Valmet in 2012. The machine has a reel width of 3.7 meters and operates at 800 meters per minute. In total, the machine is some 170 meters long. Some of the visitors found the sheer size of the machine, combined with the speed it operates at, to be an eye-opener.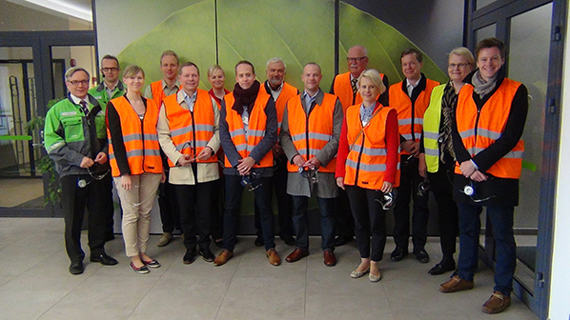 The next morning started with a presentation and discussion session led by Jari Vähäpesola, Business Line President, Paper. In his presentation Vähäpesola covered, among other things, rebuilds and OptiConcept M machines. As both board and paper is made with a similar kind of process and both machines types utilize the same kind of technology, it is possible to rebuild existing paper machines to produce board. As Vähäpesola pointed out, it is often more difficult to do a rebuild than to install a complete new machine. The machine that is being rebuilt can be decades old, so a long experience from different kinds of machines is needed. That is why all equipment providers are not able to do rebuilds, at least larger ones. During the last years, Valmet has had a large, over to 50% in some years, market share in rebuilds. In 2014, the value of the rebuild market was approximately EUR 450 million, of which Valmet's share was some EUR 250 million.
Another topic in Vähäpesola's presentation was OptiConcept M machines - Valmet's modularized solutions for board producers. The modular OptiConcept M machines are built from smaller sections. The sections that are used to make a specific machine are determined by the qualities the customer wants from his or her machine. A customer who wants certain qualities for the final product may need, for example, a certain headbox, while the preferences of another customer may call for a different kind of headbox and a certain press section. The beauty with the OptiConcept M machine is that all the different sections are designed to fit each other perfectly. This means that the frame, wiring, pipes etc. fit into other sections without needing any adjustments or customization. This shortens the delivery time, but is also more cost efficient. In addition, an OptiConcept M board machine consumes up to 30% less energy.
We warmly thank everyone, who participated the Jyväskylä visit. The next site visits will be arranged in September: a visit to Sundsvall, Sweden and a visit to Shanghai, China.