Valmet's results for the second quarter, and thus also for the first half of 2017, have been published. One of the highlights in the result publication is definitely orders received, which increased 15 percent in the second quarter and 21 percent in the first half of the year. Net sales remained at the previous year's level, so the order backlog grew 21 percent to EUR 2.6 billion, which is Valmet's second highest level of all time.
In January-June, orders received increased in Automation, Services as well as in the energy business, but especially the Paper business line's markets were active. In Board and Paper business, Valmet received e.g. an order for two containerboard machines in China (typically valued at EUR 100–120 million) and an order for a paper machine rebuild in the USA (typically valued at EUR 60–70 million). In Tissue, Valmet received orders for new machines to Spain and Russia, and an order for a tissue machine rebuild in El Salvador. In addition, Valmet received among others an order for a fine paper line in the United Arab Emirates (typically valued at around EUR 45–70 million). Thus, the good development in the Paper business line was visible in each of its business units, as well as in several regions.
Comparable EBITA margin remained at the previous year's level at 7.1 percent in the second quarter, and for the last 12 months, the margin was 6.8 percent. There is still some way to go to reach Valmet's long-term profitability target of 8–10 percent.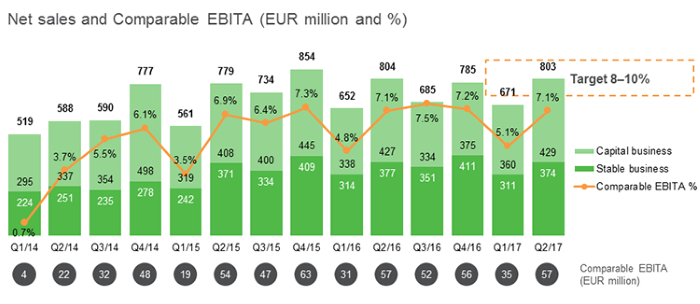 In June, Valmet launched its new Industrial Internet offering. With new reliability and performance services, and by opening a Performance Center for each of our customer industries, Valmet is taking its Industrial Internet services to the next level. Valmet is the leading process technology, automation and services provider for the pulp, paper and energy industries globally, and our Industrial Internet applications and services are built on the experience and know-how we have gained over the years.