Aug 9, 2023
APP is investing in a huge new paper manufacturing complex with the world's highest production capacity, in Rudong, China. The mill aims to realize the benefits of scale by taking advantage of digitalization, future-oriented design and energy-efficient technology.
As China's economy continues to grow, people's living standards are improving and demand for household paper is growing all the time. To meet these needs, Asia Pulp & Paper Co., Ltd., one of the world's leading pulp and paper companies, is investing in Rudong, Jiangsu Province, to establish a massive household paper production complex with the world's highest production capacity. Phase 1 is now complete, and it included the start-up of no fewer than 20 Valmet paper machines.
Top-level design and positioning
Immediately after the project's approval in 2018, APP conducted in-depth market research into how to obtain the benefits from scale and achieve significant and comprehensive industry-leading cost advantages. Jiang Peng, APP's General Manager for global technology and R&D, explains, "The key is the top-level and future-oriented design, as well as our positioning. If we increase the speed of the machine according to the traditional design philosophy, the productivity per unit may be high, but so will the energy consumption. We've ensured the best output per unit per capita, a low energy consumption final product and high quality to meet market demand. We achieved this through a combination of machines with low energy consumption and optimization of the general layout."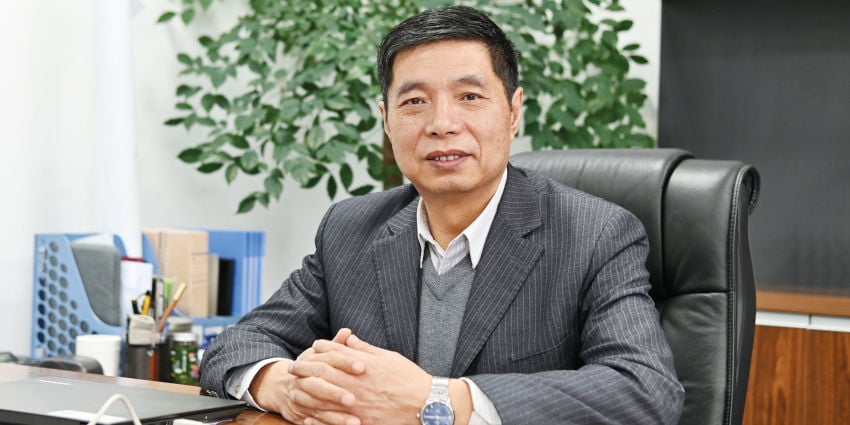 Built green with a digital future
The Rudong complex will be developed over the next ten years and it is at the core of APP's intelligent manufacturing and digitalization strategy. APP has always adhered to the philosophy of developing as an environmentally friendly company and this is true at Rudong, as well. Xia Yinghua, APP's General Manager of the Global Project Group, explains, "Our power plant is not the common ultra-low emission one but was designed and built to implement an ultra-ultra-low emission standard. The nitrogen oxide, sulfide and dust emissions are the lowest in the industry. Our water reuse rate can reach 90 percent or more, far exceeding the national standard. In terms of green energy, Rudong's coastal area is blessed with solar and wind energy, and we also plan to use cold energy recovered from a nearby LNG transfer station."
The key is the top-level and future-oriented design, as well as our positioning.
Using digitalization and intelligent systems, the Rudong complex implemented a continuous production process, from pulp preparation and feeding to storage and transportation. Xia Yinghua says, "We're the first site with full 5G coverage for coordination of AGVs (Automated Guided Vehicles) in our production traffic. We have four automated storage and retrieval systems. The finished paper can be sent to any storage position or any dispatch point accurately and on time. The technology planning is future-oriented and very intelligent, so it will lead the industry for the next 10 years."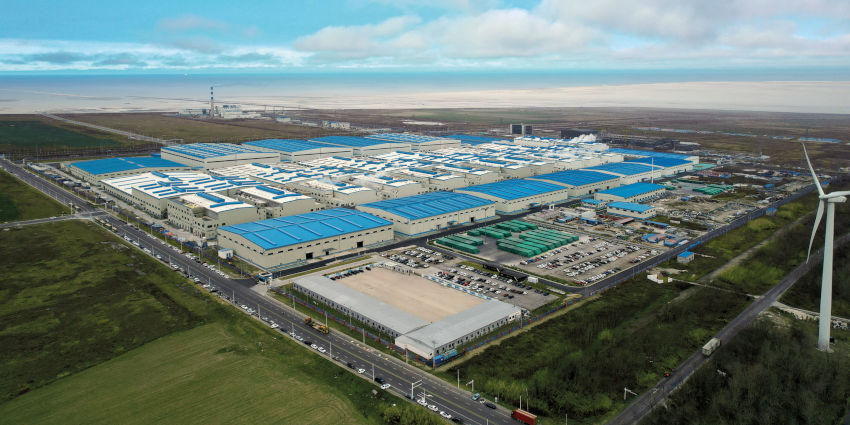 20 Valmet paper machines for energy-efficient operations
Because the Rudong complex uses the most advanced equipment, APP chose Valmet as their partner. Jiang Peng says, "Valmet is good at integration. The paper machine and the post-processing machines are highly integrated, and our production is more than 90 percent automated." Xia Yinghua adds, "Valmet and APP have been working together for a long time. The Rudong complex also perfectly illustrates our cooperation and it has been very successful in terms of both quality and speed." Chen Changming, APP's Chief Operating Officer for household paper (China), adds, "We're pleased that all 20 Valmet paper machines were started successfully as scheduled, and the formation of the final product (evenness and feel) is the best in the company. This has improved the quality of our products. It is particularly worth mentioning that pulp consumption is low, as is the steam consumption per unit."
The Rudong complex perfectly illustrates our cooperation with Valmet, which has been very successful in terms of both quality and speed.
Close cooperation and multiple records
The first paper machine was started on June 26, 2021, and the latest on December 30, 2022. Twenty machines were started successfully over 18 months. During this period, Valmet and the APP team set many records. Bi Yubin, Deputy General Manager of the Gold Hongye Paper Group Co., Ltd.'s Rudong complex, enthuses, "One thing is especially worth mentioning. Five of our machines started at the end of November 2022, when only one person was not infected with Covid-19. Valmet Changzhou and Valmet Shanghai appointed people quickly to form a temporary commissioning team to monitor the project's progress every day and create various emergency response plans for any emergencies. Through our relentless efforts, we've achieved the biggest number of started machines ever in a month."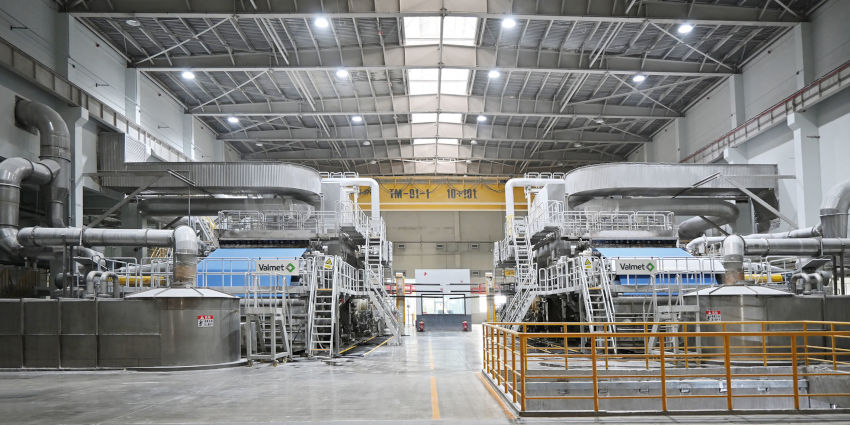 Planning to lead the industry
Overall, APP plans to invests a total of CNY 45 billion in the Rudong facility, which will have a final annual production capacity of 3.96 million tonnes of high-end household paper. In phase 1 of the project, CNY 10 billion was invested. There are now 24 paper machines in operation, with a total production capacity of 780,000 tonnes of high-end household paper or tissues, including 240,000 tonnes of finished large-roll paper per year and 540,000 tonnes of post-processed finished household paper per year. After phase 1, the softness and evenness of the paper products in the three major product brands – "Breeze," "Emporia" and "Virjoy" – are very good. Very little fiber refining is done, and energy consumption is also low.
Twenty machines were started successfully over 18 months.
Now, after the successful start-up of Phase 1, Phase 2 of the project has been approved. It is hoped that with Valmet's help, the Rudong complex will fully realize its scale benefits as the world's largest special household paper complex, and take advantage of digitalization to achieve a comprehensive lead in the industry.
Text Silvia Xi