Aug 5, 2020
The proven success of the bleached chemi-thermo-mechanical pulp (BCTMP) production line of Guangxi Jingui Pulp & Paper Co., Ltd convinced APP to invest in another Valmet BCTMP line for their mill in Xiaogang, Ningbo.
Located in Qinzhou City, Guangxi Province, China, Guangxi Jingui Pulp & Paper Co., Ltd.'s BCTMP line was started in mid-2013 to produce bleached chemi-thermo-mechanical pulp (BCTMP) from eucalyptus as a raw material for integrated cardboard production.
In the past few years of its operation, APP Jingui has constantly developed the production line's great potential and broken the production record, while creating a series of benchmarks for the sector.
A high-efficiency and low-consumption benchmark
Deputy Manager Zhong Yichang has been working at Jingui for more than twelve years. He knows every detail of this production line. "Its designed capacity is 750 BDMT/day, which was achieved only two months after its start-up," Mr. Zhong says in describing the new line's first success.
The designed capacity of the BCTMP production line was achieved only two months after its start-up.
Mr. Zhong and the team have continually worked to develop the production line's huge potential, all the time setting new output targets. He says that the production capacity of this line can be adjusted quickly, flexibly and stably as required. "It's routinely overhauled once a month, with relatively low maintenance costs," says Mr. Zhong.
The team are most proud of the fact that the BCTMP production line has created a series of benchmarks for the sector. Currently, the energy consumption per tonne of pulp is nearly 20 percent lower than competitor production lines at the same site. The refiner segments' service life is double that of its competitors, and the consumption of chemicals has hit a global record low.
"Next, we hope that we can continue to break these records and turn this production line into a worldwide benchmark for mechanical pulp production," adds Mr. Zhong.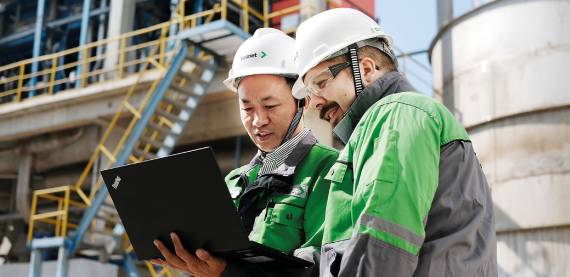 Stable pulp quality
Mr. Zhong is also very proud of the Valmet BCTMP line's pulp quality performance. Stability is high and pulp quality, including fiber strength, bulk and shive content, easily meets the requirements for high-end white cardboard.
"We're among the best in the industry in terms of whiteness and freeness, and we also achieve a notably small fluctuation range and high stability." Mr. Zhong adds that their current quality rate achieves 99.5 percent and says, they are still working hard to improve quality and enhance stability. "As we all know, stable pulp quality positively affects the quality of paper products."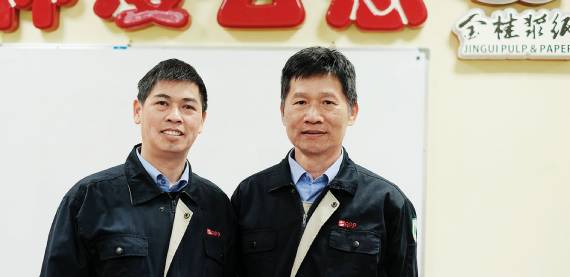 Proven success leads to a second order
Recently, the ground-breaking ceremony for a new Valmet BCTMP production line took place in Xiaogang, Ningbo. The idea behind the investment was to replicate the success seen in the Valmet BCTMP line at Guanxi Jingui.
The idea behind the second investment was to replicate the success.
Wang Lexiang, CEO of APP (China) Paper Division, explains that APP (China) has gained a long-term foothold in the paper industry to improve quality of life with high-quality paper products. To meet consumers' various demands, they have invested heavily in the fields of household, cultural and industrial paper, and have continuously strengthened product research, development and upgrading.
When he explains why they chose Valmet's technology again, Mr. Wang says the first reason was that they were satisfied with the pulp quality and output of the Guangxi Jingui mill's bleached chemi-thermo-mechanical pulp production line. Second, this production line's energy consumption per tonne of pulp was nearly 20 percent lower than other brands' production lines, while the operation was quite stable, and the maintenance cost was relatively low.
HT-CTMP technology further improves quality and reduces consumption
"We've noticed that Valmet has been continuously investing in research and development that focuses on combining market trends and customer feedback. We all know that mechanical pulp production is a high-energy process, so what we most hope to achieve is the production of chemi-mechanical pulp with benchmark low-energy consumption and high quality," says Mr. Wang.
The new pulp production line at Ningbo Xiaogang uses Valmet's latest HT-CTMP technology. A characteristic of the new technology is that it softens the lignin in the wood chips through the simultaneous application of a high temperature and chemicals to achieve easier refining and a more developed fiber, thereby producing pulp with a high bulk and very low shive content – while achieving low energy consumption.
These advantages are exactly what Mr. Wang's team was looking for: "Thanks to this new technology, we can now further reduce the energy consumption per tonne of pulp while meeting raw material needs for the continuous development of high-end cardboard."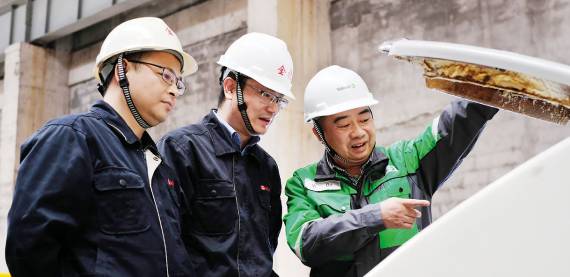 Toward win-win results
Mr. Wang summarizes the cooperation between the two sides and mentions further expectations: "We understand that Valmet adheres to technological innovation and always supports the progress of industrial equipment and process technology, especially in the research, development and application of biomass refining technology. This encourages low-carbon production and the industry's sustainable development." In this respect, Mr. Wang says the two enterprises share the same ideas and responsibilities. APP holds to an open win-win culture, and they hope that both sides will continue to innovate new cooperation models, uphold the concept of win-win cooperation, and promote common development. Mr. Wang promises they will join hands to drive the sustainable development of China's pulp and paper industry.