Jul 3, 2017
In March 2017, Hansol HomeDeco in South Korea installed the Valmet Mechanical steam separator (PeriVapor) directly after the refiner on the mill's line for Core fiber production.
This means that now the mill can return recycled steam to the process, thus reducing the need for fresh steam generated in the incinerator where they burns biomass (waste wood). What's more, the "saved" steam can be used to feed the steam turbine to produce "green" electricity that can be sold to the grid at an advantageous price.
The project
Hansol is very pleased with the installation and commissioning of the machine. In fact, they would like to see Valmet continue to develop new products enabling increased profitability. The mill is currently considering installation of another PeriVapor on its second line for Surface fiber production to further increase competitiveness.
Results
EUR 1600 per day in savings
About 60 tons of steam is recycled per day using the Valmet PeriVapor
The temperature in the dryer has decreased by about 5 degrees.
No changes have been noted in the quality of the final product. Neither has any increase in resin consumption been observed. More than likely it has decreased. An investigation is ongoing at the mill.

Facts
MDF plant started in 1995
2 MDF lines. Core and surface.
Fiber production 15 t/h
350,000 m3t/y Press length 38 m
10% Flooring, 40% Interior, 50% Furniture
2-3 different products per day.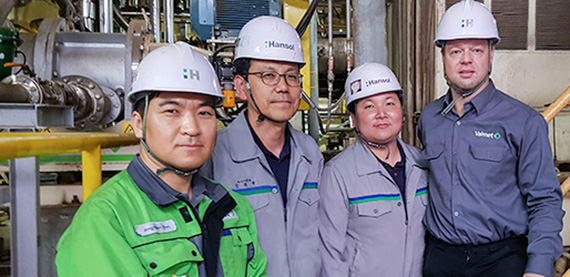 For more information contact:
Mattias Grannas
Product Specialist, Mechanical Fiber
mattias.grannas@valmet.com
+46 70 663 40 49