Jun 17, 2016
With the design process of the Neles™ NDX intelligent valve controller, Valmet took the Lean approach and successfully applied it to R&D, bringing out the new product to market a staggering year and a half faster than projected in a traditional development project.
Valmet has long been a benchmark in the use of Lean processes in production. The company wanted to take what they had learned on the factory floor and implement a similar efficient way of working into the office environment as well.
Know what your customer needs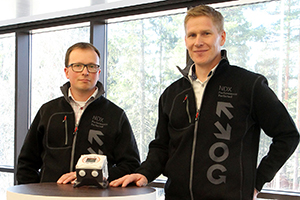 "To successfully apply the Lean approach to an R&D project requires discipline and an open mind towards cooperative working. You need to set clear goals and a steady marching pace," explains Kalle Suurpää, Director, smart products (in 2016). "The idea is not just to have some product out to market faster, but rather to reduce the customers' waiting time for a solution that they have found a need for. Asking the customer about their needs should always be the first step in product development.
The development of the NDX valve controller was the first project to truly adopt the Lean approach in R&D. "Based on input gathered through interviews and feedback brought to the table by our sales force, there was a clear picture of the type of product we wanted to see at the end of the project. In addition to savings, which is something that everyone is looking for, the customer input steered us towards developing solutions that made installation, commissioning and use easier and more intuitive than ever before – Regardless of the type or manufacturer of the valve being used.
Picking up the pace is a team effort
The Lean approach brought along numerous changes in the way the R&D team worked. The active involvement, cooperation and open dialogue between all departments, from mechanics and software to external partners, sales staff and customers, gave a new sense of purpose to everyone. It helped emphasize the big picture and ultimate goal throughout the process. The newly introduced 3-week sprint cycles helped maintain momentum across the board and showcase the progress made in the regular project team meetings. New visual tools for project management also provide a constant and up-to-date overview of the project status.
Changing your approach to the product development process is no easy task. Not only do processes need to be changed. Also attitudes must be adjusted. For people who take pride in their attention to detail and are used to delivering perfection, it was not easy to bring an unfinished work in progress to the table for everyone to see on a regular basis. But the weekly team meetings and stakeholder meetings held after each three-week sprint cycle provided the opportunity to make corrective moves and take fine-tuning actions on the go. Setting a limited number of achievable goals over a shorter time rather than trying to push along tens of different tasks simultaneously also proved to be a motivating way of working for most.
Finding the right tools for the trade
Kalle Suurpää reminds us that making changes in an important function, such as R&D, should not be taken lightly. "Positive change can only be achieved by first knowing what needs to be changed. It's pointless to force a change in the way of working to suit a particular new tool. It should be the exact opposite way around. Only when you know what you need to achieve can you identify or develop the tools to bring about that desired change."
One example of these new tools has been the new highly visual digital project management platforms taken into use. The design team went from post-it notes on the wall, which was working well for them, to something similar with the added benefit of security and remote access. In addition to existing in the digital realm, their project board is still physically present in the project room, on a large touchscreen giving them that same tactile and rewarding feeling of moving tasks from "in-progress" to "finished". Also, everyone in the room still has the opportunity to see the whole project status at a glance.
Kalle Pokki, Chief Engineer, told us that extensive testing was another function that was taking up a lot of time and pushing back completion dates in the past. "We wanted to develop our automatic testing capabilities to allow us to concentrate on more creative problem solving tasks and speed up the product development process," Mr. Pokki explains. "We can now run numerous parallel tests and simulations overnight and start analysing the findings first thing in the morning." These developments in the degree of automation utilized in product testing ended up being one of the major contributors to the reduced time-to-market.
The lean NDX™ project – Performance perfected
The all-new NDX valve controller promises to deliver performance perfected. "It is a bold statement, but one we can proudly stand behind." Kalle Suurpää sums things up by saying, "It is a product that has been designed based on exactly what our customers have asked for combined with over 50 years of in-house experience. We took the customer input, and re-imagined the valve controller to make it easier, safer and more reliable than ever before. We achieved the goals we set in terms of an improved overall user experience that ranges from new easy-to-understand visual installation instructions to advanced functions that not only sound alarms, but also suggest appropriate corrective actions." In the process, the R&D team at Metso has also perfected their design process and made the Lean approach the new standard in R&D.
TEXT: Valmet
PHOTOS: Francois Perthuis
Published in Results flow control customer magazine 1/2016.
Text originally published in 2016, and slightly updated in April 2022, due to the company name change to Valmet.