Nov 11, 2021
CURRENTA is managing and providing services to CHEMPARK in Leverkusen, Germany. All of its hazardous waste incineration plants were using conventional filter presses to separate solids from waste water generated by flue-gas scrubbing. In 2009, CURRENTA started a modernization project to replace the existing filter press installations. Nowadays, Flowrox™ LPP-T peristaltic pumps feed fully automatic filter presses for flue-gas scrubbing process in this German chemical plant.
First, the company decided to use vacuum belt filters. After a few years of trial, it was clear that vacuum belt filter technology was not applicable for this process conditions and requirements.
"Belt filters were able to handle only 95% of the duty. In 2010 we were approached by Aquachem who presented their idea to use fully automatic filter presses instead of belt filters. Fully automatic filter presses could operate at 100% duty and therefore be more efficient, adapt to the continuous process changes through advanced automation and ensure reliable and flexible operations. CURRENTA decided to change belt filters for automatic filter presses. "We tested different filtration technologies to determine which could handle highly corrosive and non-homogeneous inorganic solids. Test campaign was run until 2013 when we decided to go with Aquachem's proposal," explains Michael Schulte, Technical Foreman of incineration plants at CHEMPARK Leverkusen, CURRENTA.
Aquachem started piloting the process with fully automatic filter presses fed by Flowrox LPP-T hose pumps. Pilot lasted from 2013 to 2015 during which Aquachem proved process benefits of filters and pumps. In 2016 CURRENTA placed an order for eight fully automatic filters with eight Flowrox LPP-T65 hose pumps.
Reliable Flowrox pumps paired with automated flexible filtration
Facts

Customer: Aquachem
End customer: CURRENTA GmbH (Chemical plant, CHEMPARK, Germany)
Project name: Isolation of solids from waste water generated by flue-gas scrubbing
Process application: Feeding eight fully automatic filter presses for flue-gas scrubbing process
Solution: Flowrox LPP-T65 peristaltic hose pumps
"We have been using Flowrox LPP-T peristaltic pumps to feed filter presses since 2009. They ensure a steady and reliable feed, which is essential for our unique fully automatic filter solutions. With Flowrox pumps, our high-end equipment operates smoothly. What attracted me to Flowrox was an excellent representation, technical performance and top quality which matches our high-quality standards," states James Babbé, the CEO & Founder of Aquachem GmbH in Senden, Bavaria, Germany.
"Our customer Aquachem builds fully automatic filter presses, which require utmost reliability throughout the process," states Karlheinz Meitinger from WP-ARO, Flowrox product representative in Germany. "Flowrox pumps have proven their superiority in numerous difficult applications. Aquachem has been using different hose pump technologies in their deliveries since 1995 and has worked with several gas tight applications among other pump brands. For this specific case, Aquachem found Flowrox LPP-T hose pump technology most suitable," Meitinger adds.
With Flowrox pumps, our high-end equipment operates smoothly. If needed, we have always received excellent and immediate support.
After completing years of test campaigns and studies, CURRENTA's project moved into the erection phase. "These filters handle entire waste produced at the CHEMPARK site. Application is very abrasive and requires high performance and resilience from the process equipment. As in any startup, we have faced some challenges. However, on rare occasions when a pump has failed, we have always received excellent and immediate support from Neles," Babbé tells.
Time and cost savings
"From the beginning it was clear that process will greatly benefit from the application of Flowrox hose pumps. When LPP-T pumps feed filter presses, they offer reliable operation in feeding the circuit for automatic pressure filters. Longevity of hoses is paramount to our corrosive applications. In similar applications we have experienced Flowrox LPP-T pumps operating in continuous run for one year without a hose change. Design, where only the hose is in contact with the medium, is crucial in such corrosive applications. This saves money on spare parts, as there is no contamination of bearings or seals.
Flowrox hose pump rolling design also allows us to run forward and backwards. Self-priming (standard in all Flowrox hose pumps) enables us to empty the line after every filtration cycle and eliminate risk of clogging in pipes due to settling of the material. Therefore, we do not need an additional system to flush the line, which saves us time and money," Babbé explains.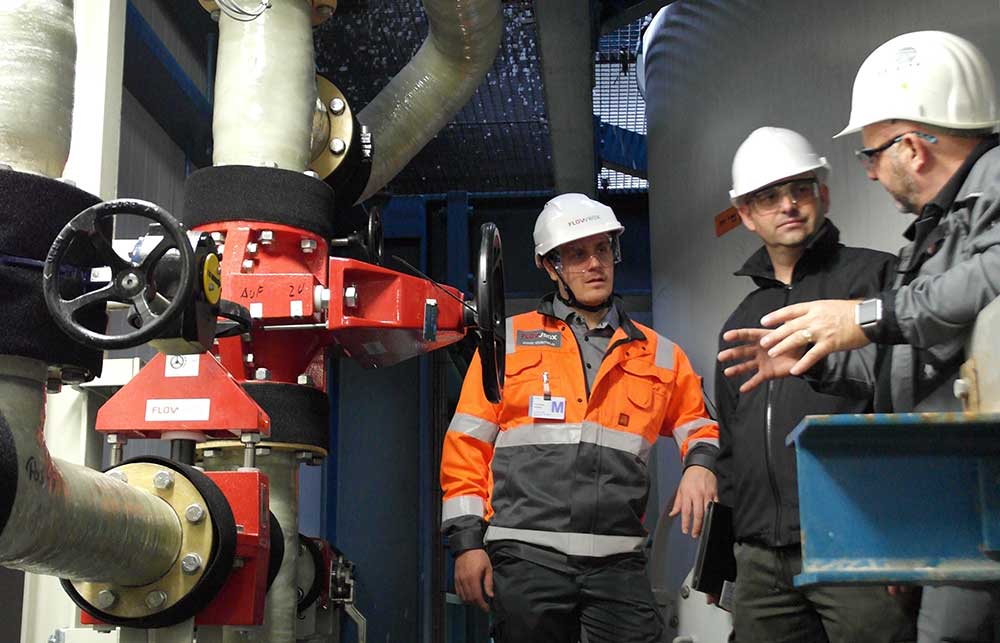 Flowrox enclosed body pinch valves are used for pipeline isolation.
Flexible production through automation
Filters and pumps need to adapt fast to changing process conditions. CHEMPARK is a large area and CURRENTA provides services to various operations and its different demanding applications. "Filtration plant isolates solids from wastewater generated by flue-gas scrubbing. Slurry varies as we have numerous types of waste from multiple producers. Applications vary from diffused lithium batteries to pharmaceutical waste. Filtration plant needs to adapt to continuous process changes receiving non-homogeneous feed from flue-gas scrubbing, yet offer 100% reliable and safe operation. It is a demanding application as the filtrate needs to be clean enough to be released back into the process or the river Rhine," Schulte explains.
Reliability of equipment is the key. If the pump does not work, filtration equipment does not run either. Pump is the heart of the movement. We have been extremely satisfied with operationand reliability of the pumps.
"Reliability of equipment is the key. If the pump does not work, filtration equipment does not run either. Pump is the heart of the movement," Babbé adds. Flowrox LPP-T hose pumps allow continuous monitoring and are easy to incorporate into any control system. "We are familiar with superior performance of Flowrox pumps. In 2008 we have built a new tank farm for fluid waste treatment and we needed reliable pumps for challenging application of inflammable fluids. We needed pumps which could handle extreme duty cycles.
"We first looked for joint membrane pumps which fit our requirements to pump 35 m3/h. However, we ended up ordering Flowrox LPP-T transfer pumps and they have performed to our expectations," Schulte explains. "We have been extremely satisfied with operation and reliability of the pumps. When Aquachem suggested using eight Flowrox LPP-T pumps on their filter feed installation, we had no objections," Schulte adds.
Professional and localized customer service
"I could recommend Flowrox pumps for any filter feed applications. At Aquachem we are impressed by professionality of the company. Beyond product benefits and technical features that are superior to its competitors, especially in this application, I also appreciate the openness when working with Neles. They provide an outstanding representative network, localized customer service and utmost professionalism in everything that is being done," Babbé complements.
Text originally published in 2018, and slightly updated in April 2022, due to the company name change to Valmet. As of the 1st of April 2022, Flowrox brand belongs to Valmet.