When renowned flow control specialists Neles acquired the valve and pump business of Flowrox in November 2021, the successful integration added extra breadth and depth to Neles' offering to the mining and metals industries. In turn, the subsequent merger in April 2022 of Neles with Valmet (a respected name in the pulp, paper, board, tissue, and energy sectors) significantly boosted Valmet's mining and metals capabilities thanks to established product brands as Neles™, Jamesbury™, and Flowrox™.
The portfolio centers around two key pump types, namely peristaltic hose pumps and progressive cavity pumps. These have been specifically designed for demanding processes involving abrasive, corrosive, highly viscous, or crystallizing media with high solids content. Hence Flowrox peristaltic hose pumps can be found worldwide in numerous slurry applications, whilst progressive cavity pumps are a common feature of many paste pumping applications. In such challenging environments, durability is a must, stated Esa Lumme.
"Mention the word Flowrox to a rotating equipment engineer and he or she will tell you about pumps and systems that are efficient, tough, and long-lasting. Equipment that has been designed to do a job reliably and requires minimum maintenance, year in, year out. That is the reputation that our pumps enjoy "The LPP-T range also stands out due to the available flow range, from 0.6 to 100 cubic meters per hour. "Indeed, I believe our largest LPP-T model is possibly the largest single unit peristaltic pump available worldwide, which can reach maximum pressure and flowrate at the same time," he continued.
FXM, the Flowrox metering pump, is ideal for chemical dosing applications which require accurate metering, said Mr. Lavikainen. "To optimize metering performance, we offer the FXM2 and FXM3 series pumps with improved performance. As flow control specialists, we know it is a big advantage to have only one wear-resistant part (tube assembly) in contact with corrosive or abrasive mediums. Flowrox FXM pump has low consumption of spare parts, reduces maintenance and downtime, improves process performance, and also detects safety issues, such as tube failure."
Solutions for demanding applications
To date, the Flowrox pump portfolio encompasses peristaltic pumps, dosing pumps, progressive cavity pumps, and metering pumps. In addition, pulsation dampers and spare parts are also available, see sidebar 'Flowrox pumps'. Within the pump portfolio, Raimo Lavikainen explained that there are two designs that are particularly eye-catching. These are the LPP-T100 peristaltic pump, and the FXM metering pump.
A brief history:
Valmet™, Neles™, and Flowrox™

Tracing its origins back to 1970, Flowrox manufactured a range of pinch valves, knife gate valves, peristaltic pumps, and progressive cavity pumps. The Flowrox product brand was acquired by Neles Group on November 1, 2021.

With the Neles trademark filled in 1956, the company gained a reputation for designing and manufacturing industrial valves and valve automation solutions process industries. As of April 1, 2022 Neles is a Flow Control business line in Valmet.

Looking back on over 220 years of industrial history, Finnish company Valmet is a developer and supplier of technologies, automation systems and services for the
pulp, paper, and energy industries. Valmet's Flow Control business line carries well-established product brands such as Flowrox, Neles, Neles Easyflow, Jamesbury, Stonel and Valvcon. Around 17,000 staff worldwide
generated net sales of EUR 4.5 billion in 2021.
"What makes the Flowrox LPP-T pumps so special is that they incorporate an advanced single roller design which eliminates friction and lowers energy consumption. Preventing friction helps to avoid overheating at high continuous flow rates, meaning the LPP-T models can be run 24/7. Further, the design allows pumping of slurries with up to 60-80% solids content, making them ideal for use with slurries as well as dosing a wide range of abrasive, corrosive, viscous or crystallizing media," stated Mr. Lavikainen.
Flowrox hose pumps were chosen for the LKAB tailings treatment project based on previous experience. "We first learned about Flowrox hose pumps at a Paste Conference in South Africa and were interested in this pumping technology," says Thord Wennberg, Technical Process Development, LKAB. "We used a LPP-T hose pump for our first thickener, but it was not in operation for longer than one month before we shelved it. We took the pump out of duty as the slurry was so thin that pump was not needed. With our second thickener we knew that our slurry would be thicker, so we decided to have a go with the Flowrox hose pump again. We were aware of the benefits of Flowrox pumps compared to centrifugal pumps," Wennberg continues.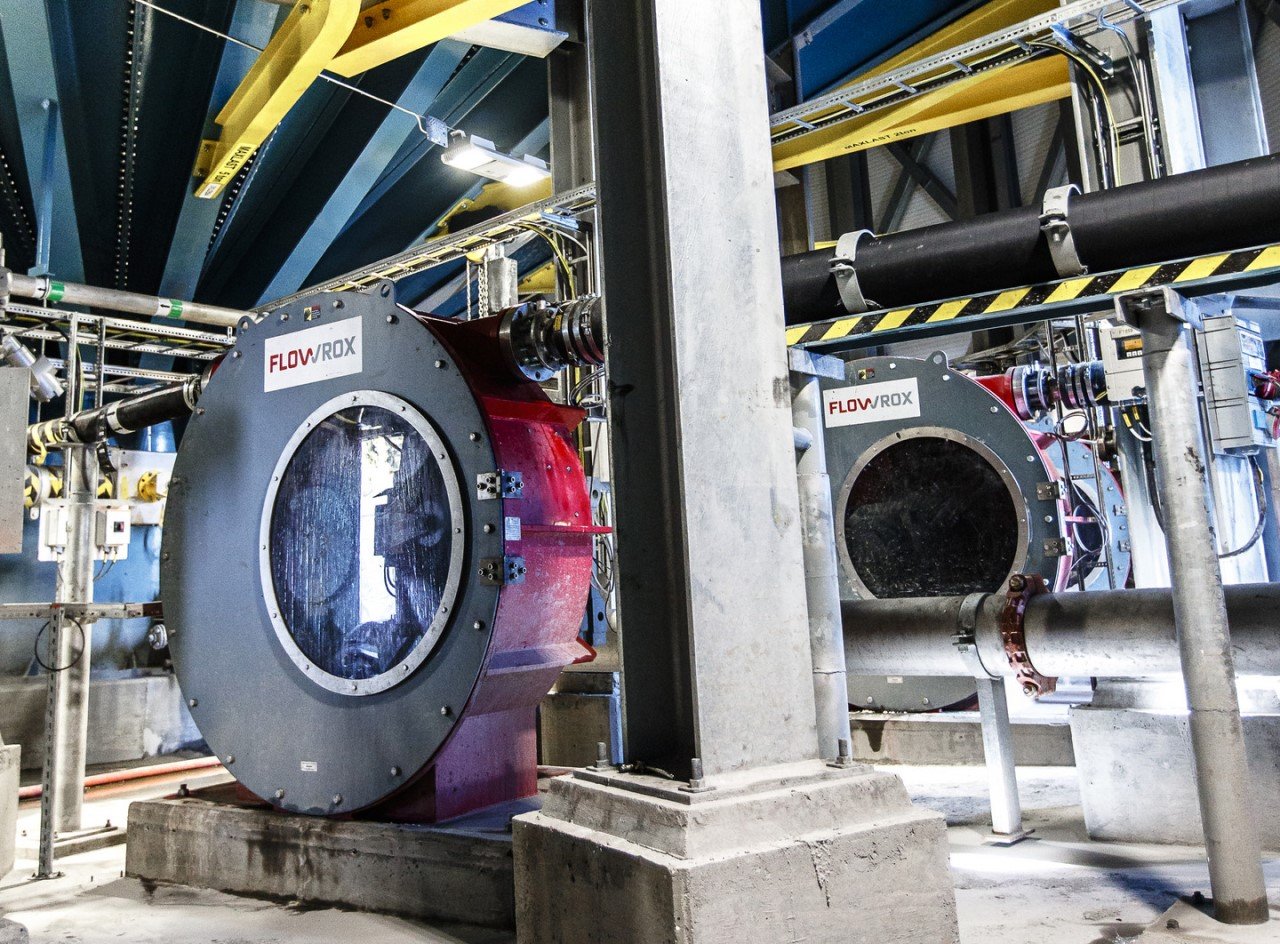 Thickener underflow, tailings. Flowrox LPP-T pumps incorporate advanced single roller design, which eliminates friction and lowers energy consumption.
Synergies in Mining, Metals & Steel The merger with valve and actuator specialists Neles has helped to round out Valmet's offering emphasized Mr. Lumme. "Let us be honest, Valmet's flow control expertise was previously very limited. Therefore, I am delighted to report on the extensive, positive feedback we have received following the merger from throughout our client base."

The liaison has been especially welcomed by parties active in mining, metals, and steel given the clear synergies with the products and services from both companies added Mr. Lumme: "Valmet, a respected name for decades in sectors such as pulp, paper, board, tissue, and energy, is an emerging force in mining, metals, and steel processing around the world. Following the merger, our expanded offering of solutions and services for minerals and metallurgical applications is now more complete than ever. Customers highly appreciate the proven reliability of the Flowrox pumps and Flowrox valves, the sophisticated yet rugged Neles™ and Jamesbury™ valves, the high-quality filter fabrics for demanding filtration conditions, and of course the intelligent Valmet DNA, the integrated automation and information management systems."

Looking forward, Mr. Lumme expects that growth in these markets will be driven by the increasing demand for metals and especially those metals which are essential in lithium-ion batteries. Trends such as electrification of transport, ore depletion, and underlying investments into more efficient processing will also drive growth. "With good long-term fundamentals, service intensity, and a different cyclical nature balancing out cycles of the business line's traditional core industries, mining and metals is an attractive industry for Valmet."

Whilst discussing ongoing trends, Mr. Lumme raised a topic which is at the core of Valmet's business strategy and operations, namely sustainability. "As a company, we have a strong focus on enhancing circularity and environmental efficiency and reducing carbon dioxide emissions through the entire value chain. Valmet aims to enable fully carbon neutral production for its customers by 2030."