Dec 12, 2019
Recovered paper is a valuable raw material for Smurfit Kappa Hoya Mill, which uses recovered paper for container board production. With Valmet Bale Tester, the mill gets an objective and fair view on the raw material content and quality.
Smurfit Kappa is the market leader for recovered paper-based packaging production. Its Hoya Mill in Germany has two production lines: a containerboard machine producing 360,000 tonnes p.a., and a board machine producing barrier board for food packaging. The containerboard machine uses 100 percent recovered paper as raw material.
"We use the new bale tester technology from Valmet to obtain information about the content of plastic, ash, kraft and humidity in the recovered paper. The information on the quality is automatically stored in our SAP system. This information is important for our production department," says Olaf Bietz, Purchasing Manager of Smurfit Kappa.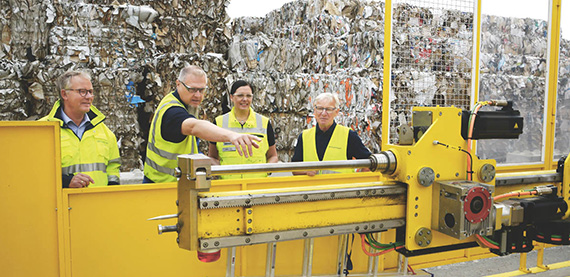 The Valmet Bale Tester has a measuring device with a drill which penetrates the bale on a truck, making a hole in it and extracting the sample from the bale. The measured bale and the drill location are selected randomly. Measuring is based on Near-Infrared Sensor (NIR) technology. This is a reliable and real-time measuring system, providing information for mill operations, resulting in production cost savings and the capability of improving the recycled fiberline itself.
"We know the contents of each bale when it goes to the conveyer and pulp feeding area."
Organized raw material flow
Recovered Paper Yard Manager Nils Oestmann explains the material flow at the mill's recovered paper yard: "We have 80 trucks bringing the recovered paper 5 days a week, plus trains from Denmark and Norway. We test each truck and train load, and do about 160 tests every day. Now that we have a better understanding of the material mix in each load, we can steer the storage and consumption process. We know the contents of each load when it goes into the pulper. Production is planning to get the full benefits of this information in planning and quality optimization – for example, in the use of additives and chemicals."
Remote support from Valmet
Valmet has a remote connection to the Bale Tester at the Hoya Mill and an agreement for remote support. "With the remote connection, we get quick support for technical problems. It's very important for us and has benefited the whole project," says Logistics Manager Volker Wollschläger.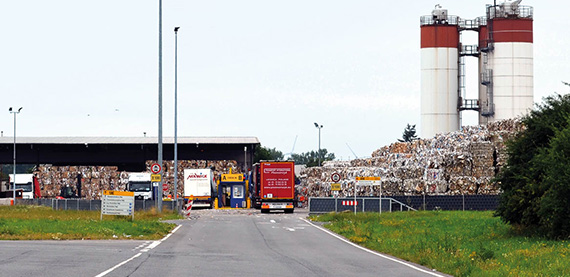 A European standard for the paper and board industry
"By the end of 2019, there will be bale testers at five Smurfit Kappa mills in Europe. Our plan is that this will be the European standard for the quality control of recovered paper. For us, this isn't just about achieving savings – we want quality control at the beginning of the process," says Bietz.
"This bale tester has been further developed in a project with Valmet, and I think Valmet has done a good and defined job. For the future, we will have a maintenance contract with remote support and aftercare, with one annual check by Valmet and a contract to define the level of spare parts."
TEXT Heli Kankare
PHOTOS Rolf Zacher, Heli Kankare
Article published in Forward magazine 3/2019.