"Honestly, this board machine means a really great deal to me. We wanted to build a machine that gives us almost endless freedom to invent new board products. It feels great that we've gone this far," says Markku Hämäläinen, CEO of Kotkamills Oy, describing his feelings about the project and the new board machine.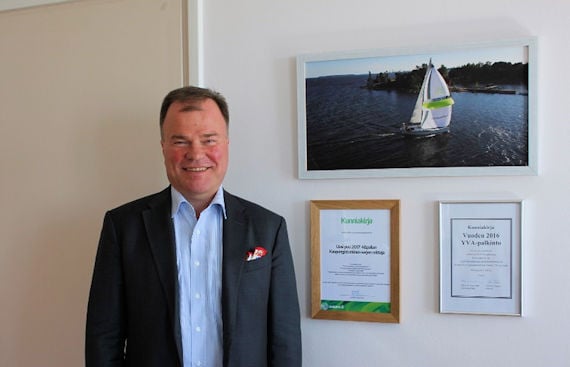 CEO Markku Hämäläinen next to the Finnish New Wood prize certificate.
The project is a resounding success
"It has been a groundbreaking experience for me to be in a project like this," says Stefan Kuni, Research and Development Director of Kotkamills. The rebuild of the paper machine started while it was still producing paper. "There was a huge hole in the floor between the reel and the winder. All the parent rolls were lifted by crane over the missing floor," says Mikko Vaulamaa, Mechanical Supervisor from Kotkamills.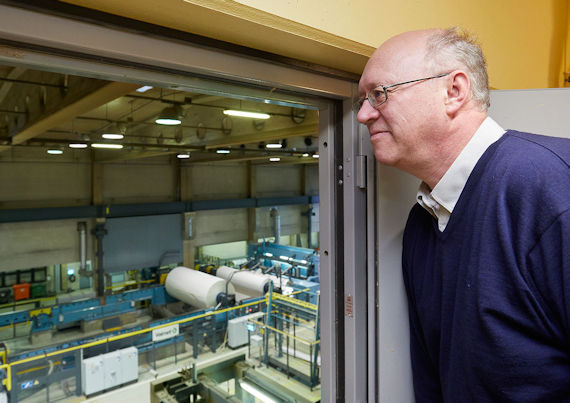 Kotkamills' Stefan Kuni checks the board machine during operation.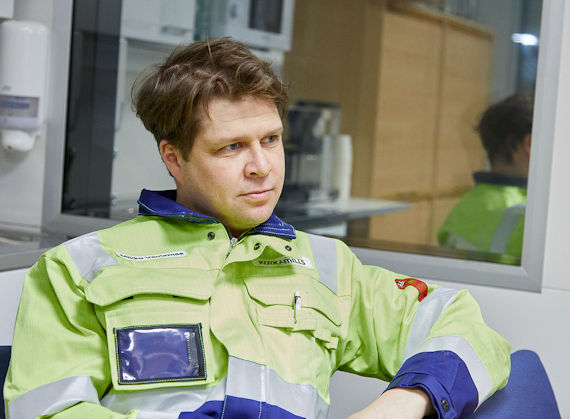 Mechanical Supervisor Mikko Vaulamaa has been involved in the Flying Eagle project from the very start.
"When Valmet's project organization gets going, it moves like a train until the project is finished. The organization is very professional and the personnel are extremely well qualified. Project Manager Petri Aspholm is an excellent example," comments Sundholm. He continues and notes that it is important that changes and challenges are handled fast and efficiently. "There are always unexpected situations in large projects like this one. The success of a project depends how these incidences are dealt with. Valmet has been good at this and we've received plenty of support when needed. Companies do not solve problems, people do. We've had a good and open relationship with all Valmet personnel", adds Kuni.
The rebuilt machine started-up in July 2016 and it barely resembled the previous fine paper machine. The rebuild of the existing machine consisted of small incredible jobs one after another. All the equipment and machinery for the rebuild had to be lifted with gigantic cranes to the second floor. The speed of the project was breathtaking – taking only 16 months from the signing the contract to the start-up of the new board production line. It was a complete makeover. "From a technology, quality and product point of view this project has been a total success," concludes Hämäläinen.
A passion for inventing
Inventing is about thinking out of the box – or in this case seeing consumer packages, boxes and disposable cups and plates from a completely new point of view. The end use applications for Kotkamills' products vary from food and non-food uses, to pharma, cosmetics and confectionery.
Our new dispersion barrier coated cup board is a highly innovative product and has been awarded the Finnish New Wood prize. Sustainability goes strongly hand in hand with our products: unlike other cup boards on the market, it is a fully recyclable, re-pulpable and reusable board. According to Hämäläinen, however, this is not necessarily the most interesting product from Kotkamills. "There will be even more reason for an award when our board replaces the boards with fluorochemicals, which are still in use in some greaseproof packaging application and are potentially causing a health hazard," Hämäläinen explains.
Hämäläinen continues that building this type of board machine was also an innovation: "It was challenging to make the plan work. This puzzle must have had at least a thousand pieces – and to make them work together, that was a challenge. It was extremely innovative how the proven technology and chemicals were merged together to make these novel board grades." Kuni further describes the coating innovations: "The coating section is unusual, nothing like this has ever been built. We can apply up to seven coating layers – even the quite thin ones."
Agile product development with Valmet
Two Valmet-delivered OptiCoat Layer curtain coating stations play an essential role at Kotkamills. "We would not have the barrier board product without curtain coating," states Hämäläinen. Curtain coating gives an even coating layer with good coverage - and without a complete covering barrier, the layer does not function as a barrier at all. It is also important that the thickness of the coating layer can be accurately optimized since layers which are too thick or thin will not function correctly.
Being the first coating machine of its kind, it is important to be able to run pilot trials before the final deal. Kotkamills has used the opportunity to test the technology and chemicals at the Valmet Paper Technology Center several times – both before making the big decision and after the start-up. "Kotkamills does not have a large R&D department and our product development has involved a close partnership with Valmet. It is important that the technology supplier has a thorough and detailed knowledge of the coating process," says Kuni.
"It is certainly less expensive to test new ideas on a pilot scale. However, we have carried out numerous mill scale test runs, too. Valmet has participated in these tests and helped us to achieve our goals. It has been very helpful, points out Hämäläinen. "Quality-wise we are getting really close. We have gotten a huge amount of help from the people from Valmet to develop barrier products. I would especially like to mention Timo Nurmiainen and Mikko Kemppinen who have been very helpful," says Sundholm describing the close partnership in product development.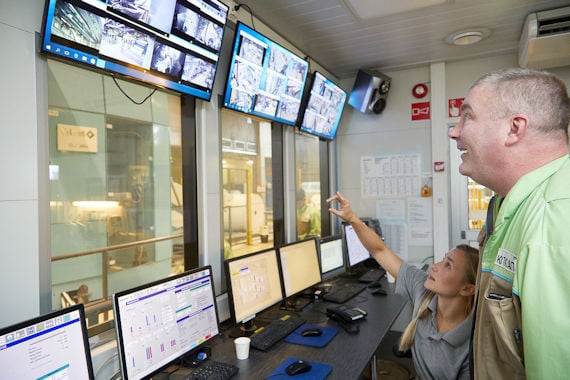 The highly automated board machine is easy to operate. Filip Sundholm and Mirva Wirtanen check how things are working.
Kuni explains the project: "We did not want to buy any new pilot scale technologies. It was enough for us that we were planning to produce new products. It is not good that both the board producer and technology supplier have to learn everything from scratch."
Creating innovative solutions
For Kotkamills, customers are always the priority: "We are a small company and we need to operate differently from our competitors. We want to and must be highly customer-oriented. It was a very brave thing to start a project like this," reveals Technical Director Timo Tallinen of Kotkamills.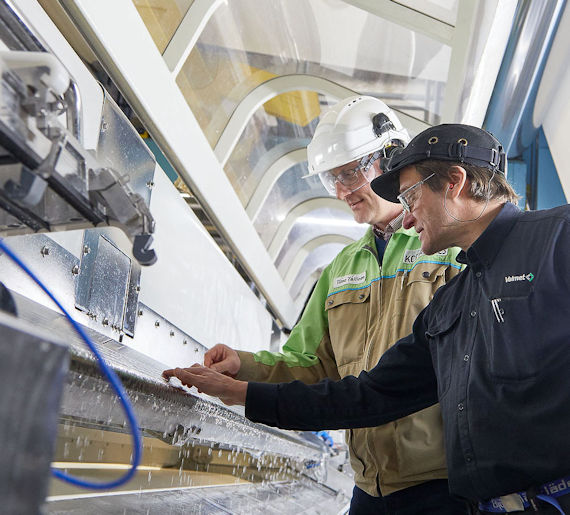 "It has been very helpful to have Seppo working at the mill", says Timo Tallinen from Kotkamills (left) and Seppo Salminen from Valmet who are checking the slide die of the Valmet supplied curtain coating station.
One of the most interesting ways to demonstrate Kotkamills' customer-oriented approach is how a new kind of packaging material for detergentwas developed. "A person from a major international company approached our sales person because they had had problems with detergents flocking because humidity from the air was being absorbed through the package," says Hämäläinen. The idea was tested with Valmet at the Paper Technology Center in Järvenpää and now the board is in production. Hämäläinen continues to describe the straightforward way chosen to meet the customer needs: "We decided we wanted to create a solution for this purpose – and we did. It was that simple."
The sky is the limit for the Eagle
"Now we're making barrier grades, but five years from now we might be doing something completely different," says Kuni and continues: "We have the capability to make products that no-one else can. If we recognize products that bring value to our customers, why wouldn't we make them? We just need to identify those products. R&D is a very interesting area and we've only just started our journey with the new machine."
Sundholm talks about the future: "We do have some surprise products up our sleeves. We encourage Kotkamills personnel to be innovative, which sometimes requires time to be idle and just chat with colleagues."
The grade conversion project at Kotkamills was called the Flying Eagle because, for one reason, the mill is located in the City of Kotka, which translates as Eagle in English. But what could be a better name for a project where the machine sets no limits to inventing new board products? "This has been a fantastic project. The organization of Kotkamills is very agile and the board machine is capable of almost anything. Only the imagination of an engineer is the limit," says Teemu Nikkonen, who works as Production Manager, Consumer Boards at Kotkamills, summing up his views on the project. Perhaps the sky is the only limit for the Flying Eagle?
Text: Pauliina Purola, photos Hannes Frigård, Pauliina Purola, Kotkamills
Valmet delivery in a nut shell