Dec 18, 2018
The new user interface of Valmet Paper Lab was launched in the second quarter of 2018. Valmet Paper Lab is an automated paper and board quality testing laboratory, designed to streamline the end product quality management. Valmet Paper Lab can be placed in the laboratory - or the testing function can also be placed next to the production line. Valmet Paper Lab is suitable for testing all grades of paper and board. The analyzer offers the widest selection of industry standard tests with over 400 reported properties.
The first commercial project for the updated Valmet Paper Lab was successfully finalized at Mondi Bupak site in Czech Republic during the summer of 2018. Mondi Bupak specializes in the production of high quality corrugated boxes, where the paper quality testing for the incoming paper for corrugating was changed from manual laboratory testing to automated with Valmet Paper Lab. In Bupak, Mondi is as well testing raw material paper for other Mondi corrugating plants across Europe, such as sites in Poland, Austria, Germany and Czech Republic.
Mondi's goal was to have a more holistic view of quality; to increase the understanding of the incoming raw material and create savings by improving the runnability, and to secure the quality of their end-product. With automated quality testing, together with the result transfer to the plant statistic software, the customer was able to achieve these goals.
Customer expectations met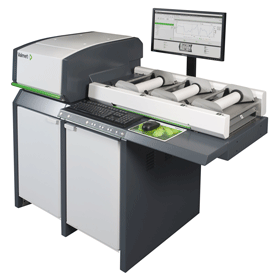 "Compact Valmet Paper Lab is extremely suitable, efficient and a modern device with simple operations and a user-friendly interface. The results are reliable, accurate and comparable, and quickly available after the testing in the plant statistic software", Mondi Bupak quality department comments. "Operation of the Valmet Paper Lab is trouble free, and the time saving is huge compared to the manual testing, result recording and evaluation", they continue.
"In the beginning of the sales process, Mondi Bupak explained their targets for this project very clearly. It was easy for us to understand the customer needs and provide the needed solution. This was one of the cornerstones for a successful project", states Markku Merra, Sales Manager, Central and Eastern Europe.
Sales take off
Valmet Paper Lab orders are peaking on record high levels. Valmet has already received 14 orders for the renewed Valmet Paper Lab. "I'm delighted to see an increased interest for our solution in automated paper and board testing. Clearly, Valmet Paper Lab is becoming more an industry standard than ever before", says Tuomo Kälkäjä, Business Manager for automated paper testing and laboratory analyzers.
Information about the customer Mondi Bupak in České Budějovice, Czech Republic
Mondi Bupak is a plant of Mondi Corrugated Packaging, a business segment of Mondi Group. Mondi Bupak specializes in the production of high quality corrugated boxes. The plant offers a full range of corrugated packaging solutions. It fulfills most of the packaging needs of its customers - from standard folding cartons, die-cut packaging, displays and HQ flexo-printed boxes, packaging with tear-tape or reinforced tape used, corrugated board with moisture or oil protection, water-proof corrugated board.
Please find more information on Valmet Paper Lab by visiting www.valmet.com/paperlab
For further information, please contact:
Markku Merra, Sales Manager, Central and Eastern Europe, Automation, Valmet, tel. +43 664 143 6307
Tuomo Kälkäjä, Business Manager, Automated Paper Testing and Laboratory Analyzers, Valmet, tel. +358 50 317 0803