Aug 23, 2018
SCA Ortviken in Sweden, a producer of coated and uncoated publication papers, needed to modernize the end-of-life slice control on the headbox of its paper machine PM 5. As the existing slice control was a 17-year-old Valmet Jetmatic system, it was natural to look at upgrading it to a Valmet IQ Slice Profiler. The installation and the start-up of the new system wentsmoothly and, since April 2017, PM 5 has a stable and modern system to control the basis weight profile.
Stable solution with minimal maintenance
PM 5 at SCA Ortviken started operating in 1986, producing newsprint. Today, the machine, with a gap former wire section and a trim width of 8.6 meters, produces 42–80 g/m2 paper at approximately 1,300 meters a minute. The main part of the production is high-end uncoated and lightweight coated papers for demanding printing applications. Only a minor part of production is
standard newsprint.
"Over the years, we have of course upgraded PM 5, but the headbox was still the original one," says Stefan Östman, Control System Engineer at SCA Maintenance. "In 2000, we added a Jetmatic slice lip control system from Valmet, which has worked well but was getting old, especially when it comes to the electronics. It was also getting increasingly difficult to get spares, so replacement was the only option. We wanted a stable solution with minimal maintenance requirements that would last for many years."
"We examined the market to see which system would suit us best, and after a thorough evaluation, we chose Valmet's IQ Slice Profiler. Valmet showed that the existing 118 headbox actuators on PM 5 were in such good condition that they only needed calibrating and adjusting. We also did not want a third supplier in addition to Valmet and the quality control system manufacturer," says Östman.
Easy installation and start-up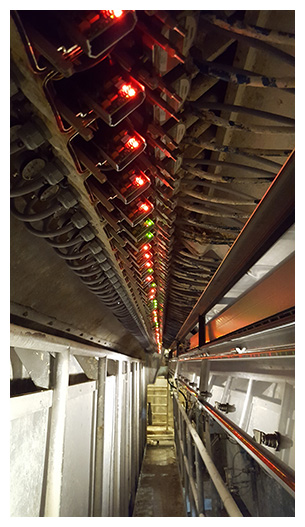 It took four days during a mill maintenance shutdown in 2017 to change the slice lip control system on PM 5 to the Valmet IQ Slice Profiler. For Ortviken, this meant calibrating and adjusting all the existing actuators and giving them new control cards, changing all the field cabling and installing optical fiber cables between the field cabinets, as well as setting up the new interface, new buses and a new process station for the system. The power supply for the field equipment was also changed.
"The installation was easier than expected, and the startup went smoothly," Östman continues. "Our new IQ Slice Profiler gives us a quicker response than before. To be on the safe side, we made sure to have the possibility of a remote connection and service from Valmet, but we haven't needed them, as everything has run without any problems. From our control room, we have full control of all systems and the knowledge that they are working as they should. Proof of this is that we have broken production records several times since installation."
IQ Slice Profiler for better runnability during coating and converting
IQ Slice Profiler is a modern, precision system for controlling the basis weight profile across the web. Each actuator has a powerful microadjuster that changes the position of the slice lip in steps of 0.1 micrometers. The whole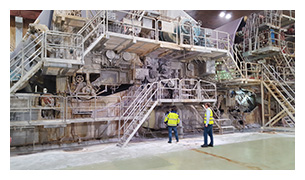 system is very robust, with minimal need for maintenance. Good control of the basis weight profile provides a solid basis foroptimizing all other profiles, which in turn gives better runnability during coating and converting. To date, more than 250 IQ Slice Profiler systems have been delivered to mills all around the world.
Support at all times through service agreement
Valmet's roadmap and service agreement approach to product lifetime planning eases upgrades and planned replacements of customers'
end-of-life equipment. Tailored to individual customers' needs, Valmet's service agreement can cover everything, from periodic and emergency maintenance with guaranteed response times, to complete lifecycle support for customers wanting the latest technology and the opportunity to benefit from new measurement and control methods. Using remote connections, Valmet's specialists are always on hand for advice and support at all times, which, combined with nearby service centers, ensures maximum system availability and uptime.
The system lifecycle roadmap is a key element of a Valmet service agreement that helps users to stay aware of their current system status and assign priorities for possible upgrades or component replacements. The ability to budget well ahead of time and keep systems up to date ensures that the best advantages can be taken of new developments, while cost-effectively maintaining system reliability and performance.
Future projects identified at SCA Ortviken already include a Valmet IQ Slice Profiler for another machine, and other system upgrades, as well as the replacement of break camera systems for two machines.