Nov 25, 2018
Hyogo Pulp Tanigawa mill recently invested in new measurement technology from Valmet, to ensure the highest quality of pulp in addition to improving process efficiency.
Since its inception in 1955, Hyogo Pulp Tanigawa mill, situated in the central region of the Hyogo Prefecture, has responded to changing customer needs as an unbleached kraft pulp (UKP) maker. It has taken aggressive steps toward developing UKP manufacturing technology and with its highly efficient production system has grown to become the largest UKP supplier in Japan, ranking among the world's top suppliers. As part of the effort to ensure the highest quality of pulp in addition to improving process efficiency, the mill recently invested in new measurement technology from Valmet.
High quality pulp
The mill operates a single-line continuous digester and pulp washing system with three high consistency stock storage towers feeding a pulp drying line. The pulp drying line, supplied by Valmet in 2014, resolved the issue of high transportation costs and storage problems with wet lap pulp and has enabled the mill to further expand its sales area to China and other Asian markets. According to Mr. Nakaya, Deputy Manager of the mill's instrumentation department, the need for ISO standard pulp quality measurement results has increased recently and especially for export grade pulp sheets. One of the uses of kraft pulp is as a material for the exterior liner of corrugated cardboard to add strength, a property primarily determined by fiber length. "Our Valmet FS5 Fiber Image Analyzer fulfilled the mill's expectations and provides fiber length classification performance better than other available analyzers." said Hisanori Bando, Sales Manager, Automation, Valmet, Japan.
Delivery, installation and start-up were achieved faster than expected.
Improving laboratory procedures
With FS5, fiber property measurements take 6 to 7 minutes compared to earlier microscope and manual operations which took 3 hours with time-consuming preparation. The increased analysis speed is enhanced by automatic consistency adjustment, allowing samples to be inserted without any special preparation, effectively eliminating operator error. As well as the faster measurement and easier procedure, the measurement accuracy is further improved by the number of fibers measured, 10 times higher. FS5 allows feedback of the measurement results to pulp dryer operation during grade changes to be much faster whereas earlier it could take one whole day to give feedback to the operation. The mill is also finding additional value with possibilities to correlate pulp sheet quality and strength to fiber width and other fiber characteristics.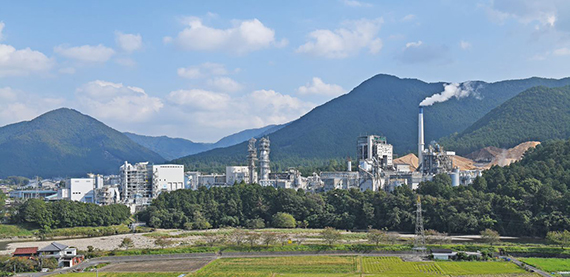 Stabilized causticizing
At the same time as improving quality assurance, the mill took the opportunity to replace their aging Valmet Alkali Analyzer, with the latest technology incorporated in the new Valmet Recovery Liquor Analyzer (Valmet Alkali R). "The old alkali analyzer originally started in 2002, had been providing good service with virtually no problems, but concerns over the mechanical reliability after 15 years in service." commented by Masaru Nakasone, Service Engineer, Automation, Valmet, Japan.
For the mill, the Alkali Analyzer is an essential tool for the causticizing process operation and there was no hesitation to select Valmet again for the replacement. Using fully automatic real-time sampling and standard titration methods, Valmet Alkali R consistently measures the values of Sodium Hydroxide(NaOH), Sodium Sulfide(Na2S), Sodium Carbonate(Na2CO3) and Sodium Sulfateto(Na2SO4) calculate Reduction Degree, Effective Alkali (EA), Active Alkali (AA), Total Titratable Alkali (TTA), Causticizing Degree (CE%), and Sulfidity (S%). Because the analysis is based on the ABC titration procedure, the most widely used in kraft mill laboratories, no calibration is needed.
In addition to the existing 3 sample points, newly installed sample points at the white liquor clarifier outlet and orange liquor tank outlet has made it possible to operate the causticizing process more accurately than before. Using laboratory measurements meant a 5 to 6 hour interval for both white and orange liquor active alkali measurements, but Alkali-R measures liquor chemistry from all liquors in less than one hour intervals. With the stable measurement results from all 5 sample lines the causticizing process operation has been stable as well.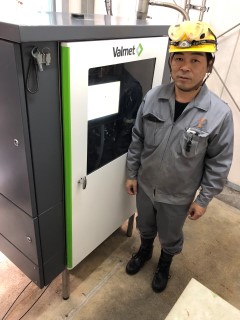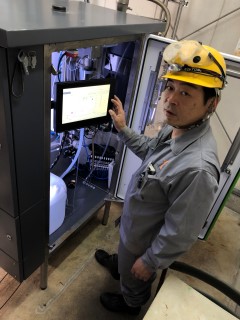 Reliable partner
Delivery, installation and start-up were achieved faster than expected with effective operator and maintenance training by Valmet service. Mr. Nakaya concluded, "Valmet proves to be a very trustworthy partner to work together, its teamwork skill and the relationship with our personnel work very well."
TEXT: Nigel Farrand
Article published in Forward magazine 1/2019.