Apr 27, 2022
It's early spring with cherry blossoms emerging from the buds and nature gradually waking up after being put to rest. However, during these first weeks in April, the atmosphere is everything but calm at the Valmet Tissue Technology Center in Karlstad. The tissue pilot machine is running at full speed as three focus areas have been identified with the main goal to further develop the Valmet Advantage QRT technology.
Although it's quite often that customers are visiting the facilities utilizing the pilot machines, these specific trials happening right now are not in collaboration with a specific tissue producer. Instead, they were initiated by Valmet R&D team in close collaboration with Danilo Marcos, the concept manager for the Advantage QRT Technology, to broaden the internal knowledge.
"During these weeks our primary goal is to further understand and develop the Advantage QRT Technology. By running various fabrics in combination with different machine settings we can increase Valmet knowledge about the concept and what is affecting tissue quality properties", says Viktor Bergström who is the R&D Project Manager and highly involved in the project.
Danilo joins the conversions and explains that another purpose with the trials is to increase the knowledge of how to utilize the QRT technology to produce products at lower basis weight and higher softness for different markets.


We see a high demand of increased quality and sustainable production from several markets around the world and by running these trials we can optimize the tissue process further, demonstrate the opportunities with this technology and prove that the QRT hybrid concept is a strong competitor."


Building knowledge internally
Internal knowledge is the third focus area. Our Valmet trainees and a few selected colleagues from sales and R&D are invited to the trials, with the purpose to gain a deeper understanding but also to contribute with their knowledge from the tissue market. Viktor adds,


Inviting other colleagues to the pilot machine increases collaboration between departments but also between our offices around the world. Additionally, we have the Valmet trainees joining us."

The Valmet International Graduate program consists of a group of trainees rotating between different departments and locations for one year.
Mikael Bergström, who is of the trainees, shares his experience, "It's been extremely valuable to spend time here with the team and go from theory to practice. It's really interesting to see how it's possible to simulate QRT in a smaller scale, but with all the components available and with accurate results on the end-product. What I've learned here is something I will definitely use in my future within Valmet."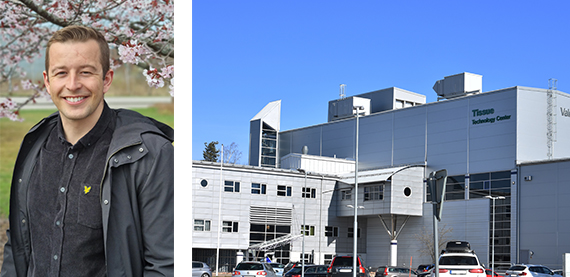 Use of pilot trials to show the results
Danilo is pleased with the results, "So far we have achieved in these trials a very good compromise between softness to tensile ratio, including high caliper. I am excited to continue the work together with the team."
Danilo and Viktor both encourage tissue producers to get in touch if curious about how to develop your current products with the Advantage QRT technology, or other technology offered by Valmet.
Book your pilot trials today!
Valmet Tissue Technology Center is a unique resource for cultivating and realization of ideas, innovations and verifying new technology or machine configurations. Together we can develop a tailor made trial plan according to your specific needs. As travel limitations continue we can offer remote support world wide from our facility in Karlstad, Sweden. Follow the activities in the trials through live streaming cameras broadcasted on a secured web page and take part of data without delay in common software tools.
Welcome to send us a reqest of interest, we are looking forward to working together!