Sep 21, 2020
The ongoing Covid-19 pandemic seemed a showstopper for a planned new tissue line start-up. A new way of working utilizing digital tools and remote assistance made the impossible possible.
During the spring of 2020, supermarket tissue paper shelves were empty, and there was pressure on tissue producers to increase their production. At the same time, a new tissue machine had been installed at one of Valmet's customer mills, and was awaiting commissioning and start-up. So the question was: what should be done?
Exceptional situations demand new perspectives and ways of working. "Postponing the start-up wasn't really an option. We had to find a way for the mill team to act as our eyes and hands, supported by us remotely," says Pyry Hämäläinen, Main Contract Project Manager at Valmet.
Comprehensive planning
The commissioning and start-up of a new tissue machine requires a big effort, which needs careful planning from both the mill and Valmet's team. This became even more evident when Valmet's on-site crew planned to commission and start up the machine remotely.
"We began by identifying what the mill team could do themselves, what we could manage together, and what they needed us to do. Many questions had to be solved, from the infrastructure on site to the number of shifts, collaboration tools, and last but not least, the agreeing of responsibilities," says Hämäläinen.
Best experts gathered together through remote connections
The next step was to prepare for the start-up. Valmet's team included people from four different countries to ensure the mill had all the required competences and were able to offer 24/7 support. The customer's mill team was hand-picked, based on their technical skills. A crucial element was access to the customer's systems, which is the foundation for remote support.
"In this case, we needed access to the DCS system and a set of live cameras complemented by tablets to monitor every action and detail on site. We reviewed the best tools to ensure efficient collaboration and enable customer support. A major benefit was that multiple teams could work on different issues at the same time, which significantly improved efficiency."
Valmet's Performance Center was set up like a control room.
Close to the customer – even from a distance
Instead of spending long days at the mill, Valmet's start-up crew spent all their working hours in remote offices in Europe and North America, closely cooperating with the mill team. The work was coordinated from the collaboration room at Valmet's Performance Center for Tissue in Sweden, which was set up like a control room. From there, they could monitor most of what happened with cameras and controls in real time.
"When we were changing parameters, we could instantly see the results and even stop if anything seemed to be going wrong. That reduced the risk of permanent damage and made it easier for us to be close to the site – even if we were thousands of miles away. One benefit of being 'at home' was the instant access to engineering and automation competence. In a few minutes, the support we needed was in the room."
After the joint team's hard work, the first roll was winded up according to schedule.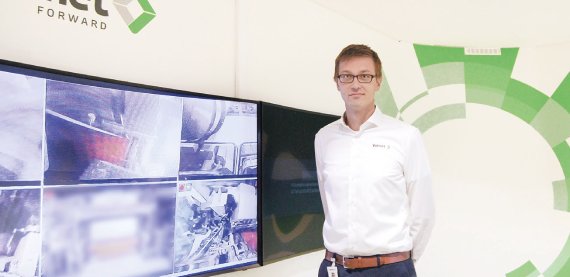 True team work around the clock
"We formed a single strong team with the customer, working together day and night. Whatever the issues, we overcame them jointly. It wasn't a one-company or one-man show – it was a joint effort. I'm very proud of our team – they did a brilliant job and walked the extra mile to get there."
The customer's crew was very skilled, acting as Valmet's hands and eyes when they were doing the actual work. At the same time, they gained a deep understanding of the machine and the process – knowledge that will benefit both companies in the future.
Making the impossible, possible
"We've been forced to think outside the box in this project and look at things from different angles in going from hands-on work to remote support. The pandemic has shed light on the importance of rethinking how we work and challenging old habits. Even if we were doubtful at first, we overcame this as the project progressed. Initially, nobody knew how it would turn out, and we were aware of the potential risks. But we managed to turn the challenges into opportunities in the end."
Valmet's Performance Centers support customers through different Industrial Internet solutions and applications on a daily basis. However, this was the first – but probably not the last – time digital tools and remote work were used to support a start-up. Thanks to the reliable and easy to operate Advantage DCT technology, Industrial Internet connections and most importantly, great teamwork, the machine started up smoothly according to plan.
Text Katarina Åhsberg