Dec 21, 2021
Oulun Energia intends to achieve carbon neutrality in its energy production by 2035, simultaneously boosting the circular economy. Its new Laanila biopower plant in Oulu, Finland, features maximum fuel flexibility and high utilization of various side streams.
Located in the Laanila industrial park in the capital of northern Finland, Oulun Energia's biopower plant started its commercial operation in November 2020 and plays a vital role in the company's goal of going carbon neutral. It also allows the growing energy demand in the region to be met. The plant sustainably produces 75 MW of electricity and 175 MWth of district heat, as well as process steam for nearby industrial sites.
Valmet delivered a multifuel boiler, flue gas treatment plant and plantwide automation system to Laanila. "The project went according to plan, thanks to Valmet's experienced people, who always know what they're doing," says Jukka Salovaara, Project Director at Oulun Energia.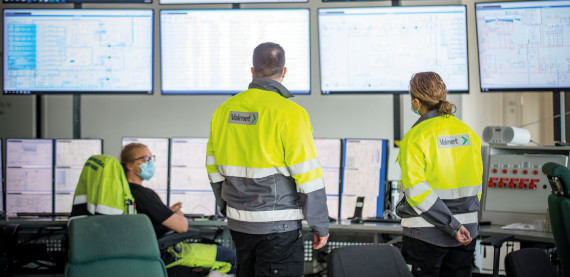 The feeling of successful cooperation is mutual. "It was great to work with the customer's professionals. They have extensive experience in the power plant sector. The project also included new technology, and the customer greatly contributed to its implementation with their views and experiences," points out Harri Limo, Project Manager at Valmet.
Fossil fuels to be removed from the fuel mix
The heart of the plant is a Valmet CFB Boiler, which utilizes circulating fluidized bed technology and is known for its high fuel flexibility. The boiler at Laanila runs mainly on biomass such as wood residuals, wood chips, sawdust and stump chips. Other fuels include peat and solid recovered fuel (SRF) from Oulun Energia's nearby Rusko waste-sorting plant.
The boiler has a steam-generating capacity of 194 MWth at 120 bar, 540 °C. It is possible to increase or decrease the steam parameters, which further adds to flexibility if the fuel mix changes. "Our fuel mix now consists of 70 percent biomass, 15 percent SRF and 15 percent peat. In future, we plan to gradually stop using peat and increase the share of SRF to 30 percent. We're currently conducting a study with Valmet on utilizing SRF more in our process," adds Salovaara.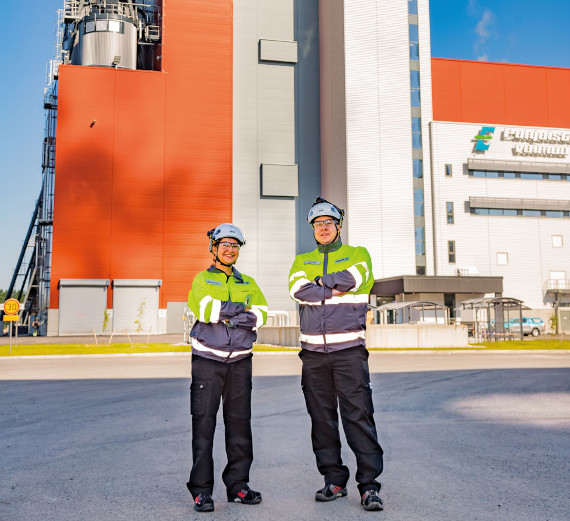 Waste becomes an asset
Oulun Energia's drive for sustainability and the circular economy extends to the process's side streams. For example, there is an ongoing development project with Valmet on the utilization of ash. The aim is to study how to alter ash quality through combustion conditions, additives or post-treatment so that it can be used in forest or agricultural fertilizers or road construction. What used to be a cost may one day become an asset and a new source of revenue.
Flue gas cleaning is another example of the utilization of something that was previously considered waste. Valmet's flue gas cleaning system does a lot more than enabling the plant to fulfill stricter emission requirements. A flue gas condenser included in the system generates an additional 55 MWth of district heat, increasing the plant's energy efficiency and district heating capacity. Even the water condensed from the flue gas moisture is purified and utilized as makeup water for the boiler and district heating system.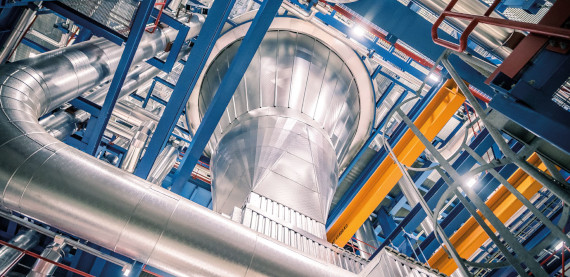 Automation optimizes production efficiency
The entire plant is fully equipped with Valmet's advanced automation to control and support operations. Valmet delivered Valmet DNA automation, safety and information management systems, including applications for emission monitoring and power plant key performance indicator (KPI) calculations. The plant-wide automation system and Valmet Industrial Internet applications make it possible to optimize the use of the entire system in real time.
What used to be a cost may one day become an asset and a new source of revenue.
The Valmet DNA automation solution enables the company to connect its Laanila plant with its Toppila power plant and optimize its energy production efficiency.
Zero unscheduled shutdowns
In addition to high energy efficiency, high availability and reliability were among Oulun Energia's goals in making the investment. Valmet's delivery checked the box. "Since start-up, we've had no unscheduled shutdowns. The availability of both the boiler and the flue gas cleaning system has been very good," concludes Jukka Salovaara.
Text Marjaana Lehtinen
Photos Klaffi Tuotannot Oy