Oct 25, 2018
December 2016 saw the successful start-up of a Valmet IQ quality management system (QMS) at the Paloma tissue mill in Slovenia. Replacing an aging quality control system on PM 6, this repeat QMS delivery followed an earlier start-up of a similar system on Paloma's PM 5 in June 2016. The Valmet delivery included a traversing scanner, Valmet IQ measurements for basis weight and moisture as well as machine direction controls.
Located in Sladki Vrh a rural settlement on banks of the Mura Riverin northeastern Slovenia, the Paloma tissue mill has a more than 140-year tradition in the manufacture and marketing of paper products in Europe, and is now a market leader for tissue in South-East Europe. As part of a major modernization investment in 2016, the purchased a Valmet IQ, quality information system with traversing scanner and machine direction controls for its 2.5 meter wide PM5.
| | | |
| --- | --- | --- |
| | | According to Janez Kocbek, senior technology engineer, operators earlier ran the machine blind with only laboratory measurements to guide them. "This was part of bigger investment, including a new hood, heat recovery system, approach flow changes, new fan pump and pressure screen. We achieved big savings in energy and production speed increase. With Valmet IQ the biggest improvement was with the profiles, especially moisture but the continuous basis weight profile is also essential for the operators to adjust the headbox slice screws." |
Easy decision for a second system
Facing end-of-life with an aging quality information system on PM6 the mill put its experience with Valmet to good use. "When buying for PM5 we had proposals from four suppliers and Valmet was the best. Aside from performance, key concerns were the amount of space for the scanner, where none had been before, and of course money. Our experience with Valmet was very good; the installation was without problems, on schedule and as planned. The decision when we replaced the system on PM6 was then very easy and fast to make. The existing system was 27 years old and maintenance was getting expensive. Additionally, the radioactive source for the basis weight had already decayed to such an extent that measurement accuracy suffered," says Kocbek.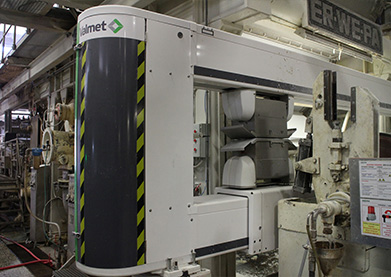 Valmet IQ
The latest delivery included moisture and basis weight measurementswith multi-predictive machine direction controls together with hood temperature and crepe ratio controls. Both machines have zone controlled hoods for moisture profile control with basis weight profile adjustments made manually at the headbox slice. The accurate scan averages and high-resolution profiles measured by the Valmet IQ measurements are supported with intuitive operator displays and reporting functions together with on-line analysis tools are available for operators to find root sources of possible process disturbances. Scanning speed, acceleration and deceleration rates can be adjusted and controlled to suit both CD and MD measurement requirements with edge to edge scanning controlled by precise sheet edge detectors. For upsets including start-ups, paper web breaks or grade changes; scan speed and scan width can be automatically adjusted to suit the situation.
Excellent Valmet support
| | | |
| --- | --- | --- |
| Jože Rošker, maintenance manager, comments that, "With no earlier quality control system on PM5, it was a steep learning curve. Training for PM5 was extensive and we made a special effort. Automation is a tool for us and we need to use it properly. For PM6, it was easier for the operators as they were used to the old system and so the learning curve was shorter. We have never had any complaints about the operation of the system." Installation and startup on the 5.2 meter wide PM6 was completed in December 2016 and both Kocbek and Rošker have nothing but praise for the support from Valmet . "Cooperation was optimal and so far the systems are working well, says Kocbek. "Its early days, but no maintenance problems so far," adds Rošker with a smile. | | |
Quality in real time
| | | |
| --- | --- | --- |
| | | For Nataša Iršič Bedenik, head of supply chain at the mill, Valmet IQ provides the mill with a real competitive advantage, "The biggest advantage is that we now see the quality in real time. This gives us the opportunity for optimization to improve productivity. We have belief in the measurements and with a lot more information we are still learning. We have seen improvement and I think there is room for more. Our quality is more stable, we have less downtime in converting and no complaints. Valmet technology is impressive, both with the machines and automation." |
About Paloma
Paloma, higienski papirji, d.d. is a public limited company with a more than 140-year tradition in the manufacture paper products in Europe, and is the market leader for hygienic paper in South-East Europe. The company has four divisions and is predominantly export-oriented. The annual capacity of 72,000 tonnes of hygienic paper is processed into toilet paper, kitchen towels, napkins, tissues, universal towels, industrial towels, medical towels, folded toilet paper packs and toilet paper packaged in maxi rolls. The product range also includes parent reels and paper dispensers.