Dec 12, 2019
Valmet's first digital automation system was introduced 40 years ago. Over the years, the system has been further developed. The latest developments have been so revolutionary that today we are talking about the new nature of automation.
Valmet DNA is an automation and information platform for process control. In 2018, Valmet was the first on the market to introduce web-based DNA Dashboards that visualized plant key performance indicators, providing users with an opportunity to access the information with mobile devices outside the traditional control room. In 2019, the renewal continued with the introduction of a new web-based Valmet DNA User Interface (DNA UI). The new user interface offers the users personalized information whenever, wherever and however they want it, while extending the use of the automation system to more users and roles.
Peter Hölzl, Valmet's Program Director, has been leading the development project. "DNA UI, the new interface, plays a central role in process automation. First, we have to understand the user's work and then enable the individual to communicate collaboratively. We've worked with our customers to understand their needs and wishes, and plenty of new features have been developed to meet the technical and personnel demands of the future," Hölzl explains.
Right data in the right place
Each process involves a huge amount of data which has to be precisely controlled by the operators. The flow of historical, real-time and predicted data from each process, equipment and other systems can quickly become overwhelming, because more data is available for them to consider and analyze.
Process information is also needed outside the control room. From logistics and the laboratory to the boardroom, the entire site community needs specific information about the process, but the right kind is not always easily available. At the same time, the ways of working are increasingly mobile. With Valmet DNA UI you don't have to stay in the control room to be on top of the situation.
From control room to control space
Since information can also be received outside the traditional control room, we talk about "control space." It moves with the users everywhere they go, and mobile devices can be used to perform the necessary control, monitoring and reporting tasks. Control space empowers users and enables collaboration.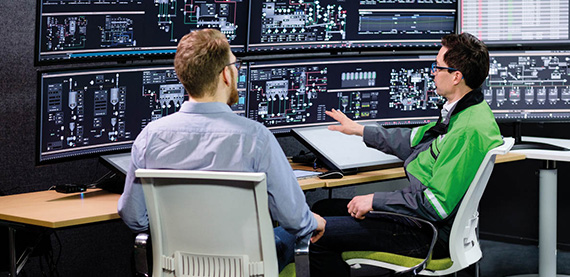 The control room set-up is transformed into a more transparent operation. Displays are arranged according to hierarchy levels, starting with the overview, then showing the operator's primary page during a normal working day. At the next level, details about the process or subprocess are presented. The final level presents detailed information about equipment and controls, interlocking and more.
Unlike a traditional control room, the "control space" moves with users everywhere with their mobile devices.
"All in all, DNA UI makes work more collaborative. Customers can now utilize an innovative interface to make their business more effective. In this renewed user interface, we've really thought about people, their tasks and responsibilities, communication and ergonomics. DNA UI can easily be used in our existing installations, but also at completely new sites," Hölzl says.
Personalized user profiles
"There are several features that make our new user interface attractive. It's web-based, and no installation is required. With the help of web-based technology, you can use the interface wherever you want, whenever you want – and whatever device you want," states Petri Tiihonen, Manager, Automation Product Management.
Personalized user profiles and access control, as well as personalized pages and contents, enable effective work, but also give responsibility to the right people. Information is shared based on their requirements. This also leads to greater security protection. Certain areas are restricted, with user rights based on roles.
The control space presents challenges to cybersecurity, which has therefore been considered during development work. The DNA UI cybersecurity capabilities continue to build on the decades of cybersecurity development within Valmet DNA. Developers trained in security have worked with cybersecurity experts to ensure that security is ingrained in the design process.
Tiihonen says: "Users are provided with personalized information for decision making. As a result, they are better aware of situations and able to make quick decisions. The intuitive UI also enables fluent collaboration with colleagues and customers."
TEXT Soili Städter
PHOTOS Kristian Broholm
Article published in Forward magazine 3/2019.