Dec 16, 2021
PVO-Vesivoima operates its hydropower plants in Finland more efficiently thanks to a Valmet DNA SCADA central control system. A vast amount of data from the process and external sources enables the company to meet future challenges.
With the production of weather-dependent wind and solar power growing, the importance of balancing power will increase. As fluctuations in electricity production will become quicker, more agility is needed from the power producers. Staying in the game requires a dialog with data and the ability to benefit from it.
In Finland, most of balancing power is provided by hydropower. PVO-Vesivoima, part of Pohjolan Voima Group, is one of its largest producers with hydropower plants in the Iijoki, Kemijoki and Kokemäenjoki rivers. The total annual energy production output of the company amounts to approximately 1.7 TWh.
"Our existing central control system was obsolete. We wanted to replace it with a new one that features more than just the basic functions, such as network monitoring and controlling power plants, dams and pumping stations. We looked for a system that provides us with a better overview of the production process, enhances our operations on the electricity markets and enables us to develop both our process and its condition monitoring," says Tommi Hansen-Haug, Operation and Maintenance Specialist at PVO-Vesivoima.
A new system was essential for the commercial use of hydropower and much needed in anticipation of changes in the electricity market regulations. An example of such a change in Finland is the requirement of a 15-minute imbalance settlement period in electricity production as of May 22, 2023.
Wanted: flexibility and reliability
"In supplier selection Valmet showed flexibility and provided fast responses to our needs. After testing the functionality with third-party systems, we were convinced of the Valmet DNA central control system. Additionally, we appreciate Valmet's strong service support close to our key locations," points out Hansen-Haug. "As reliability is very important for us, we wanted the system and connections to be fully redundant. And what's more, base system reliability needs to be top-class to enable hydropower operations."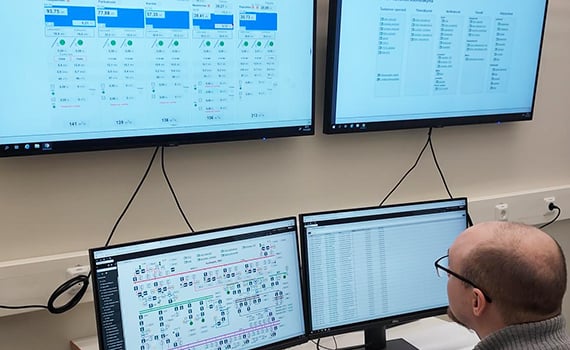 Valmet delivered a Valmet DNA SCADA solution for distributed process control and monitoring to PVO-Vesivoima's Raasakka hydropower plant in northern Finland. To maximize safety, the redundant system was installed in two separate rooms. The company's all hydropower plants are operated from a central control room located in Tampere about 500 kilometers south of Raasakka.
"With this new higher-level control system, its geographical location is irrelevant. Our hydropower plants have their own machine and plant automation systems that are connected to the centralized SCADA system in Raasakka," says Hansen-Haug. Additionally, the virtualized automation system is linked to energy management system and several third-party systems, such as power distributors and the Finnish Environment Institute SYKE.
The new system is operated with Valmet DNA User Interface (DNA UI), a modern web-based user interface that can be integrated with an existing distributed control system. It comes with a secure web-based access that enables the company staff to access relevant information whenever they need it, regardless of their location.
On schedule despite the pandemic
The new system was started up in October 2020. Amid the COVID-19 pandemic, the project – even commissioning – was carried out successfully mostly remotely.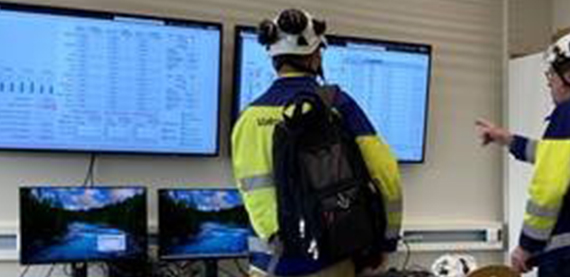 "Everything went as planned and on schedule. Despite the exceptional year, cooperation with Valmet was very smooth. There were some challenges in modeling the network with regard to redundancy and protocols that are seldom used. However, the Valmet team in Tampere is very skilled and complemented by the service team in Oulu. The latter is familiar with third-party programmable logics which is very useful for us," adds Hansen-Haug.
A better overall picture of the process
According to Hansen-Haug, one of the biggest benefits brought by the project is that PVO-Vesivoima's experts as well as maintenance and other partners now share a tool with which they can develop the system and its reports. If needed, new alarms, for example, can be added to make the process safer.
"From the outset, Valmet built the system based on our needs, and I am sure that over the coming years it will be further developed to meet them even better. The good trend tools provide us with a better overall picture of the process, which is very important for our experts. If something occurs, they have to be able to figure out what kind of situation lead to the incident. This system provides good opportunities to do it," he says and continues: "Thanks to advanced controls, we can collect more data from the process and model the process, for example, the flow rates of the Iijoki river. This new system acts as a communicator between the power plants and advanced controls. Yet another benefit is that we can send data from the system to the cloud and present it, for example, on the company website."
Additionally, the system makes it possible to have a better overall picture of hydrological conditions and the electricity market situation, ticking two boxes on the company's wish list.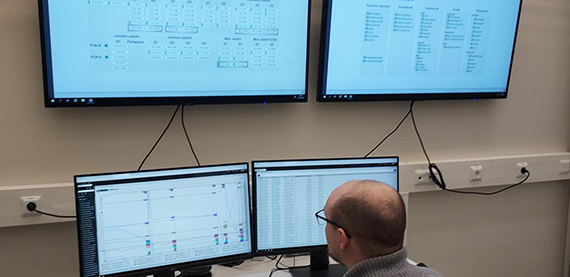 We are happy with the central control system," Hansen-Haug concludes. "Valmet DNA SCADA is extremely reliable and provides us with numerous new development opportunities. It has been designed as a future-proof system on which it is possible to develop new things."

Valmet's Sales Manager Arto Mäkinen shares his views and believes that in addition to good tools for operation, the Valmet DNA SCADA system will provide PVO-Vesivoima with a basis for developing operations. "Incidents that possibly need deeper investigation can be later checked from the history data and analyzed to find the true root causes. The modern user interface offers the latest tools for the operators and increases user friendliness. Our cooperation with PVO-Vesivoima has been fruitful, and we look forward to continuing it long into the future."
For more information, please contact:
arto.makinen(at)valmet.com