Nov 7, 2018
Students at Oulu University of Applied Sciences in Finland can now enjoy a totally new digital learning environment in which a modern Valmet DNA automation system plays a pivotal role.
The more automation and electrical engineering studies are oriented toward working life, the better students are equipped with valuable competencies when they graduate and seek employment. With the ever-growing industrial digitalization, educational establishments need to change their learning environments accordingly.
One recent – and pioneering – example comes from Oulu, Finland, where Oulu University of Applied Sciences (Oamk) is finishing its DigiAuto project that aims at building a new learning environment for automation and electrical engineering studies. An integral part of the digitalization project is a newly installed Valmet DNA automation system.
With a portable process control system, virtual servers and process simulators students can, for example, simulate pulp bleaching, evaporation, mining, power plant, dairy and pulp grinding processes as well as paper machine quality control and mechanical condition monitoring. They can also control real-life containers and pumps in the school lab. All the tools represent the latest advancements in automation solutions, such as multivariable predictive controls.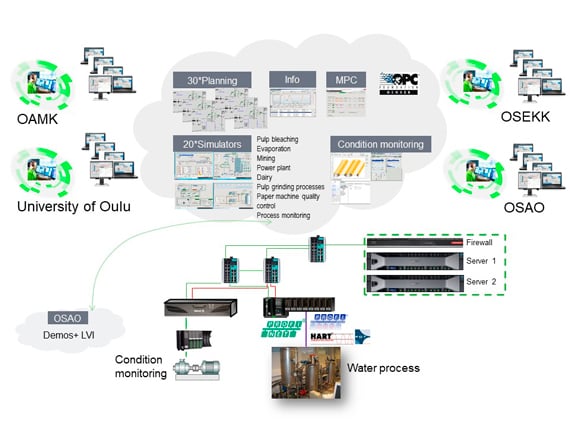 "Additionally, students are able to practice application engineering, testing and configuration in an environment that corresponds to real-life industrial processes but on a smaller scale," explains Manne Tervaskanto, a teacher of automation and electrical engineering technology at Oamk.
The Valmet Information Management application enables students to collect data from external sources, too. For example, they can remotely and securely monitor energy consumption of a heating, ventilation and air conditioning container at Oulu Vocational College via 4G. They can configure data transmission and turn data into reports, using the benefits brought by the Industrial Internet.
Teamwork like in real life
With modern technology and tools, learning is no longer tied to one specific classroom and a limited number of computers. Instead, the students can access the system remotely from their own laptops wherever and whenever they want.
The new learning environment is used by approximately 200 students, including students at University of Oulu and Oulu Vocational College, too. "With the new system, we have been able to expand and pilot cooperation with other local educational establishments. As all the students can use the same engineering environment through a remote connection, they can work on joint projects although they are physically located apart," says Tero Hietanen, another Oamk teacher.
This takes teamwork between future automation engineers, technicians and experts onto a new level and adds realism to study programs in an unprecedented way. Just like in real life, they can now work together in projects instead of just practicing the competencies in their own specific field.
"We have high expectations for the new learning environment as it offers us versatile opportunities to do things and have courses and concepts that have not been possible earlier. Also, it well corresponds to the environment that our students will face when they finish their studies. The target is to enable our students to develop into high-quality experts," Tervaskanto adds.
Automation system supplier benefits, too
Cooperation between Valmet and Oamk dates back about three decades, and Oamk has earlier experience in using Valmet's systems in its automation studies. Moreover, numerous students have worked as trainees in Valmet and have found their employment there after graduation.
The system supplier is now equally excited about the new learning environment and the many opportunities it offers.
"We see high potential in getting even more capable automation professionals for our future needs. The more students are able to get hands-on training with real-life tools and systems during their studies, the better they are prepared to enter working life," says Kimmo Mehtomaa, Director, Services, Northern Finland, Valmet.