Remote pilot trials
Every day we develop our offering and services to best match paper and board makers' needs. Piloting is one of our core assets when developing solutions together with customers. A vital part of a fluent collaboration with customers is to maintain the research and development work even in uncertain times. Our pilot facilities for board and paper making and finishing are equipped with online video monitoring systems, making trials available also remotely – no matter, where you are located.
I was really impressed and happy about Valmet's remote pilot trials. Especially a camera located inside a curtain coater gave a good view about the trial.
Services included in remote pilot trials
Live monitoring

of pilot trials remotely via online video connection

Pilot samples delivered to customer after trials

Comprehensive report of trial results delivered to customer after trials
Our best experts are available for you through the remote trials. Our specialists have a deep understanding of machinery, processes, and automation and with remote connections and tools, we can offer the pilot trials without delay – and more efficiently than before.
Remote piloting is a great opportunity for our customers to effectively proceed with their investment projects during restricted traveling conditions. Through a video connection, we can demonstrate the most essential pilot trial elements to our customers. Daily online meetings keep customers up to date about trials progress.
Visit Valmet pilot trials
web site
s
to find out more about
your
piloting possibilities
At the Paper Technology Center in Jyväskylä, Finland, you can pilot and test latest paper machine technologies. Your R&D team is warmly welcome to join our experts to develop the optimal configuration to support your papermaking demands.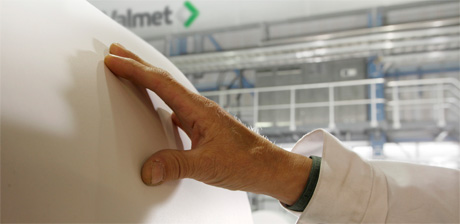 Valmet Paper Technology Center in Järvenpää provides pilot trial facilities for finishing technologies: sizing, coating, calendering, reeling and winding. We join forces with customer's R&D team to meet their targets in light-weighting, bulk or printability, for example.
Ready to transform your process?
At Valmet, we help paper and board makers to reach their targets, whether it is more cost-efficient production or improved end product convertibility or printability. Check the brochure and contact us by filling the form below!