Valmet extends roll service agreement with SCG Packaging in Southeast Asia region
Valmet Oyj's trade press release on August 29, 2019 at 11:00 a.m. EET

Valmet and SCG Packaging have signed a two-year roll recovering service agreement to serve SCG's all subsidiaries in Southeast Asia region, which include Siam Kraft Industry Co., Ltd., Thai Cane Paper Public Co., Ltd., Thai Paper Co., Ltd., Phoenix Pulp & Paper Public Co., Ltd., and Vina Kraft Paper Co., Ltd.
The value of the agreement will not be disclosed. The agreement has been effective as of May 1, 2019.
Continuation of good cooperation
Valmet has already been providing roll services to SCG's two subsidiaries in Thailand since 2000. In addition, Valmet has also been serving SCG Packaging's subsidiary United Pulp & Paper Public Co., Ltd. in Philippines' mill since 2018.
The new roll service agreement will extend the roll recovering service to SCG's all paper mills including packaging paper and fine paper in Thailand and Vietnam. With this new agreement, Valmet will be responsible for all the roll recovering services consisting of rubber, polyurethane and composite covering for all rolls.
"Valmet's Service Center in Laem Chabang, Thailand, has the world class technology to serve our customers in the region. We just expanded our service operations on the roll composite covering facilities and it's definitely supporting us to help our customers to achieve their targets," says Pornpracha Wattanakijsiri, Director, SEA region, Valmet.
About SCG Packaging
SCG Packaging underwent a name change from SCG Paper in 2015 to reflect the company's focus on packaging and expanding their business in ASEAN. Moreover, having positioned itself as a Total Packaging Solutions Provider, SCG Packaging is committed to developing and providing a full range of excellent quality packaging products and services to customers in an ongoing and sustainable manner.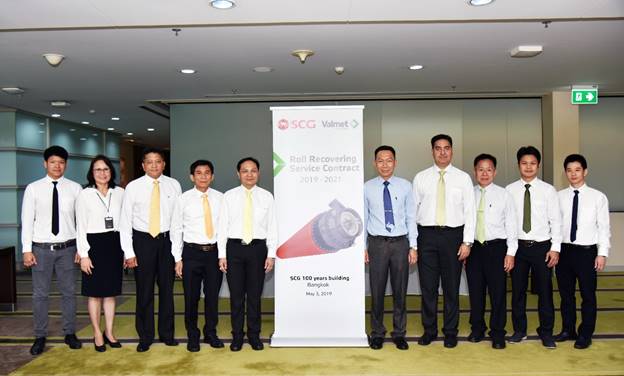 From left: Mahisorn Sornjaroon (Siam Kraft Industry), Sumana Techaphatikun, Ekaraj Niroj (both from SCG Packaging PCL), Wiwat Walaipachara, Sangchai Wiriyaumpaiwong (both from Siam Kraft Industry), Pornpracha Wattanakijsiri, Ravinder Sachdev, Polchai Jungsawat, Kengkarn Jangsatiansuk (all from Valmet) and Ekapod Chuwiwat (Siam Kraft Industry)
For further information, please contact:
Pornpracha Wattanakijsiri, Director, Southeast Asia, Valmet, tel. +66 81825 1578
Yutong Feng, Vice President, Services, Asia Pacific, Valmet, tel. +62 (811) 9303697
VALMET
Corporate Communications
Valmet is the leading global developer and supplier of process technologies, automation and services for the pulp, paper and energy industries. We aim to become the global champion in serving our customers.
Valmet's strong technology offering includes pulp mills, tissue, board and paper production lines, as well as power plants for bioenergy production. Our advanced services and automation solutions improve the reliability and performance of our customers' processes and enhance the effective utilization of raw materials and energy.
Valmet's net sales in 2018 were approximately EUR 3.3 billion. Our more than 13,000 professionals around the world work close to our customers and are committed to moving our customers' performance forward - every day. Valmet's head office is in Espoo, Finland and its shares are listed on the Nasdaq Helsinki.
Read more www.valmet.com, www.twitter.com/valmetglobal
Attachment