Mar 22, 2022
With the introduction of the all new Valmet THRU-AIR Bonder nonwoven web producers now have an opportunity to invest in cost competitive equipment without compromising production quality.
The trusted high performance thru-air bonding process is derived from decades of collected expertise. In fact, Valmet has been supplying high-performance bonders since 1968 and is the leader in Thru-Air Technology; manufacturing rotary and flatbed Thru-Air systems for a full range of products. Thanks to our air flow and temperature distribution system designs, Thru-Air systems from Valmet provide the highest thermal efficiency and the best control of temperature and air velocity in the industry. Machine speed, temperature, and air speed through the sheet are easily regulated, optimizing the bonding process for superior quality of the final product.
Our traditional Bonder using a HONEYCOMB® roll has the highest performance in the industry, but not all customers require the operational performance and mechanical capacity the HONEYCOMB® Bonder offers. Therefore, we saw the need to develop a product at a lower cost and with a more compact design but could still approach the performance levels of the traditional bonder," says Lynn Violette, Manager, Product Management.
With Valmet's long experience in Thru-Air Technology and wide expertise in product development we are proud to introduce to the market the all-new Valmet THRU-AIR Bonder. With this invention, we can now offer the opportunity to make premium grade products at a competitive cost, which in turn can lead to an increased market value for you as a nonwoven web producer.

Producers no longer need to compromise on quality. The new THRU-AIR Bonder is really optimized to reach high performance standards at lower total cost, including capital costs, operating costs, installation, maintenance, runnability and reliability," says Eric Johnson, Sales Manager Nonwovens equipment.
The thru-air process delivers a uniform, consistently bonded web due to exceptional temperature control and air flow profiles. Important end-product properties such as tensile, elongation, modulus, caliper, softness, and other surface properties can be optimized and controlled. Additionally, good bonding performance improves uptime, reduces waste, and improves the reliability of downstream processes such as converting.
While similar high-performance bonders are normally very big and require large facilities, Valmet's new THRU-AIR Bonder has a compact size which enables efficient space utilization. The roll-out design allows for easy and accessible maintenance as safety is always a priority.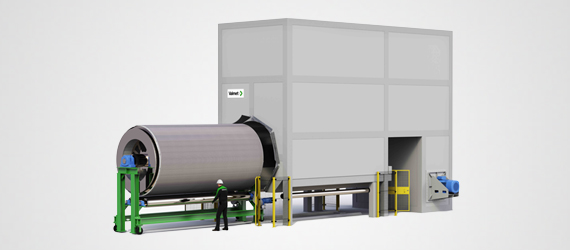 Sustainability is at the core of Valmet's business strategy and operations. We are committed to applying the highest health, safety and environmental standards in product design and manufacturing. The THRU-AIR Bonder accepts alternative heat sources to support carbon neutral operation for a better future.
Interested in learning more?
About Valmet's nonwovens offering
Valmet's nonwovens offering includes a full end-of-line scope of machinery solutions all the way from drying, bonding, winding to packaging, automation, quality control and machine vision systems. Producers now have a state-of-the-art equipment option to carefully and confidently protect their nonwovens web. Tight control of product attributes, consistent protection of caliper and quality of the final product is the result of choosing Valmet as your partner.