Recently, Valmet presented representatives from Make-A-Wish Georgia with a check in support of children battling critical illnesses.
The event was hosted at the Valmet office located in Atlanta, Georgia. Make-A-Wish has been granting life-changing wishes for children diagnosed with critical illnesses for over 40 years.
This localized donation is part of Valmet's global social responsibility program. Valmet's social responsibility program supports selected local projects around the world for the well-being of society and the environment.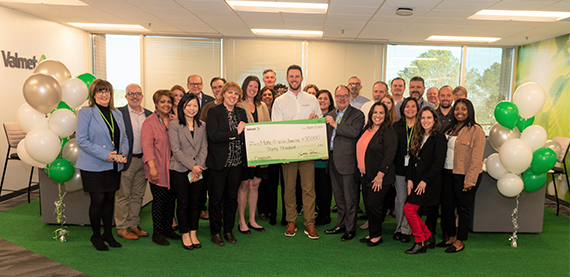 "We are honored to give back to such a truly wonderful organization, knowing that our support of Make-A-Wish will be making a difference in the lives of children who need it the most," says Jukka Tiitinen, Area President, Valmet North America.
Every 20 minutes, a family hears the news that their child is diagnosed with a critical illness. Eighty percent of them will experience traumatic stress. Make-A-Wish shines a light of hope in these dark times. In fact, many wish kids say their wish was a turning point in their fight to get better.
"The promise of a wish can be transformative for a wish child and their families," said LuAnn Bott, Vice President of Revenue Partnerships and Services at Make-A-Wish America. "We are very grateful to Valmet for their financial support to help us further our mission and continue to give hope to wish families nationwide."
An example of how the donation is making an impact
Proceeds raised through donor support like Valmet's made it possible for wish kids like 6-year-old Keegan to experience the long-lasting impact of a wish. When he was four years old, Keegan received a devastating cancer diagnosis that turned life as he knew it upside down – and he was forced to stop playing hockey, a sport he loved. After entering remission, he was finally ready to pursue his goal of becoming a hockey player again. He was granted his wish after being surprised with a backyard ice skating rink.


About Make-A-Wish®
Make-A-Wish creates life-changing wishes for children with critical illnesses. Founded in Phoenix, Arizona, Make-A-Wish is the #1 most trusted nonprofit operating locally in all 50 states throughout the U.S. Together with generous donors, supporters, staff and more than 24,000 volunteers across the country, Make-A-Wish delivers hope and joy to children and their families when they need it most. Make-A-Wish aims to bring the power of wishing to every child with a critical illness because wish experiences can help improve emotional and physical health. Since 1980, Make-A-Wish has granted more than 550,000 wishes in 50 countries worldwide; more than 360,000 wishes in the U.S. and its territories alone. For more information about Make-A-Wish America, visit wish.org.