The SEKA Balikesir plant, which Albayrak Group of Companies took over in 2003 to produce newsprint paper for its affiliated media companies, has started to run again. The name of the factory has been changed to Varaka Kagit, and the optimization works have been going on since April 2019. The first Valmet Paper Lab in Turkey started to run along with the first machine with 1000 tons/day capacity commissioned in the first stage of the investment planned in two stages.
Time is the most valuable resource that can be saved in production under increasing competition conditions. Varaka Kagit intends to gain time in production, which it has lost for some legal reasons since the year it took over the plant. Varaka aims to do this by making its quality a global brand. The fact that one of the most remarkable areas in the new factory, which was installed in the huge land, is the quality laboratory is a good symbol of these plans of Varaka. Valmet Paper Lab has been the favorite of the laboratory, which has provided reliable, accurate analysis and rapid intervention to production starting from the first months. Valmet Paper Lab is an automated paper and board quality testing laboratory, designed to simplify end product quality management, which made it easier for paper manufacturers to work with a new interface launched in the second half of 2018. Suitable for testing all types of paper and board, the analyzer offers the widest range of industry-standard testing options with over 400 specifications reported.
Improved version is the best solution for quality
After the acquisition of the plant located in Balikesir, which is one of Turkey's first paper sector investments, the laboratory of the paper machine imported from Spain was determined to have an older version of Valmet Paper Lab installed. However, even the Spaniards described the system, which we call the old system, as satisfactory. The satisfaction of the Spaniards was an important indicator of the choice for Varaka Kagit. However, Mursit Tetik, Deputy General Manager of Varaka Kagit says that this is not the only factor: "First of all, we investigated whether we could run the current system. In this process, we met with different companies with similar systems. As a result, thanks to the supervision of the Valmet Turkey team, we decided that acquiring a new Valmet Paper Lab is most optimal solution for us." Thus, Valmet Paper Lab installed at Varaka Kagit, as it befits the history of the factory is now the first Valmet Paper Lab introduced in Turkey.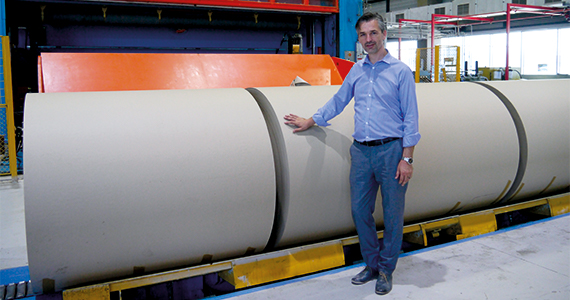 Bringing the laboratory next to the paper machine
Valmet Paper Lab's tools offered to the paper manufacturers to manage the quality and optimize the paper production process, can work as close as possible to the machine thanks to its modular and scalable structure. In the process we have witnessed as a sample, it takes about 3-4 minutes for the operators to take a representative sample from the roll, and for Valmet Paper Lab it takes only a few minutes to analyze the sample according to the desired parameters. The analysis is completed in 5 minutes according to 13 different measurements determined by Varaka Kagit. Tetik says, "We will focus on the paper type with little or no production in Turkey. At this point, we have built a machine capable of producing almost all types of newsprint and packaging paper in the range of 40-175 grams." The testing capability required by Varaka at this stage is between 40-175 gr/m2; Valmet Paper Lab has a test range of 15 - 650 g/m2 and even 800 g/m2.
With Valmet Paper Lab, operators get fast, reliable test results and quickly can make adjustment to meet the quality requirement in the paper production.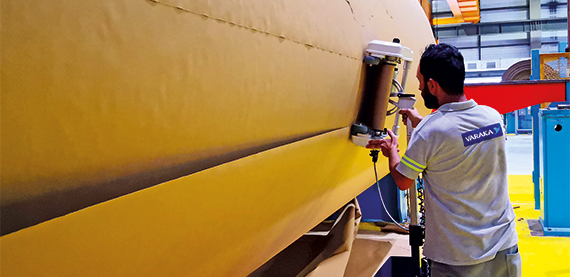 Gold standard in quality measurement
After seeing Valmet Paper Lab at work, it is not that difficult to be aware of the costs imposed on businesses due to manual sampling and of manually running the analysis process. Tetik assesses Valmet Paper Lab as Valmet Turkey team's contribution in an important investment for the country of Turkey. "There are 13 modules in this device that we tested. You can also add additional modules. Being able to perform 13 separate tests on a single paper sample, above all, gives a great speed to the processes in the quality laboratory. Therefore, we ensure standardization, which means that by taking all measurements in one unit, we remove the process from human errors. This is so important for us."
Ferhat Cevik, Laboratory and Quality Officer is the most important witness of Valmet Paper Lab's contribution to the production process. The quality unit performs the control of the entire product process from raw material input to finished product. Cevik says that if they take a sample from each roll individually to perform 13 tests or a sample for 3 tests identified, it may take up to 1 hour to test a 7-meter sample. Saying that the lost time is very high in this sense, Cevik adds, "When we get into full activity, there will be testing for 23 rolls per day. Thanks to Valmet Paper Lab, it's not hard to calculate the time we save." Cevik finds it indispensable when it comes to the impact of being able to test and measure with a single sample for basis weight, burst, tear, tensile, porosity, color, etc.
Referring to the questioning of the reliability of manual measurements, Cevik said, "For example, the conditioning or moisture content of the sample at the time of first sampling will not be the same as the first test and the last test. But since this machine performs all tests at the same time, you can see all the conditions at the same time. Moreover, there is always the chance to add modules for additional measurements."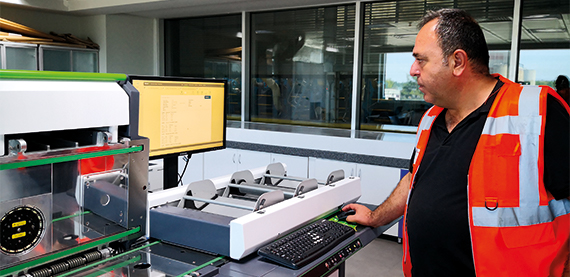 User friendly member of the young laboratory team
One of the reasons why paper manufacturers choose Valmet Paper Lab is that it is user-friendly. This successful automatic paper testing equipment from Valmet makes more accessible, faster and easier to use equipment with minimal training.
Varaka Kagit has formed a young and dynamic staff in the quality laboratory. With the installation and training of the device, this team has become the most educated unit of the factory in about two weeks. Mursit Tetik says that user-friendliness of Valmet Paper Lab plays a major role in this: "This is a compact device, an easy to use equipment. The young team we assigned in the laboratory did not only learn to use the device with Valmet Paper Lab, but also realized how important they are in the quality of the produced paper."
Valmet Paper Lab's revamped interface makes sample data entry quick and easy with an integrated barcode reader for simplified sample identification. In addition, graphical and dynamic display pages that guide the user through every step of the test process. Commissioning is simplified with faster customized configuration and requires little training to take advantage of Valmet Paper Lab's extensive testing capabilities.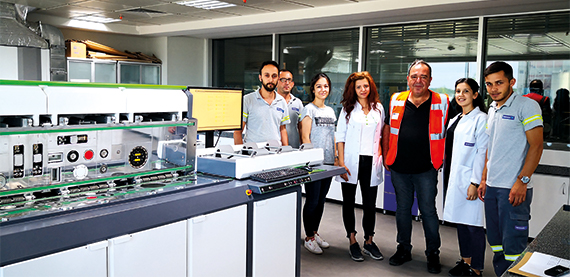 Cooperation with the expert on the job
Stating that they have previously collaborated with Valmet in accordance with various needs, Mursit Tetik mentions in particular Valmet Turkey team's approach to Valmet Paper Lab: "It doesn't matter how well you know the paper, no matter how long your experience is with paper, you have to love your job and you should be sharing. If you choose the right partner, describe your needs correctly and your partner responds in the same way, your project will proceed in long success. In this sense, we think that Valmet is the right partner for us."
Also the best partner for consistency measurement
The consistency measurement is critical in paper production lines. Varaka Kagit also relies on Valmet for its consistency measurement; blade sensors (Valmet SP), rotating sensors (Valmet Rotary), online optical sensors (Valmet LC) and inline optical sensors (Valmet OCR) developed by Valmet. Kemal Gungor, Chief Engineer of Electronic and Automation Department says, "The paper machine we brought from Spain already had Valmet's blade consistency transmitters installed on it. Although it had been in use for years, it was pleasing for us to see it running following proper maintenance as if it is on its first day installed. We believe that the new products supplied by Valmet will not let us down for years like the other products we already have." Gungor says that the issue they pay attention to is the after sales support provided by the manufacturer company as much as the product itself, and thinks that Valmet significantly differentiates itself in this regard.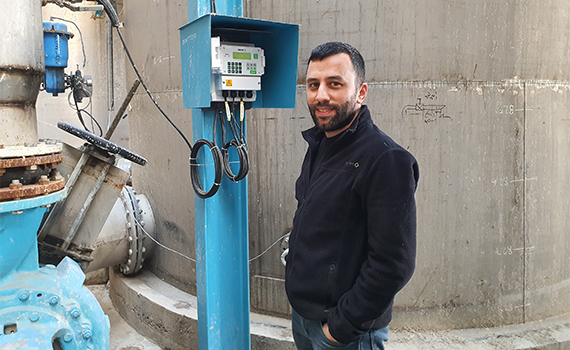 Hamit Demir, Valmet Turkey Automation Sales Director says "In Varaka Kagit's decision to work with Valmet, it was important both for us to understand each other and also Mr. Tetik's approach to us. Thanks to Mr. Tetik's sharing and leading attitude, Varaka Kagit acquired a quality system while we, as Valmet Turkey, have developed a good cooperation on the basis of trust with them. In this way, we have managed to carry our previous collaboration which we have accomplished with Varaka Kagit on the consistency transmitters and web monitoring systems, to a higher level cooperation that is trust-based. Besides, as Valmet Paper Lab provides our customer with reliable and standardized measurements, for the first time participates in the production of a large investment in Turkey such as Varaka Kagit and that makes us proud."
Valmet Paper Lab test system is based on the automated paper test experience of more than 30 years and its 300 units delivered to paper and cardboard mills worldwide. Thanks to Valmet Industrial Internet remote support, this automated laboratory moves paper manufacturers to a new level of performance. Valmet Paper Lab provides businesses with great advantage both in optimal raw material and energy consumption, as well as its minimized environmental impact.