Services business line

In this section you can find more information on the Services business line, such as key figures and market drivers. See also the Services at a glance -video.
The Services business line provides services and solutions to the pulp, paper, energy and certain other process industries. Services and solutions provided include spare, wear and replacement parts and equipment, paper machine clothing, filter fabrics, paper machine roll services, plant improvements, upgrades and technical modifications and expert services to improve plant efficiency and operational effectiveness, as well as plant maintenance outsourcing.
Services business line's customers are mainly companies in the pulp, paper and energy industries. The top 20 customer corporations represent approximately 50 percent of its net sales volume. The most important geographic markets are EMEA and North America. Business is handled primarily on a transactional basis, but also increasingly through long-term corporate or mill agreements.
Key figures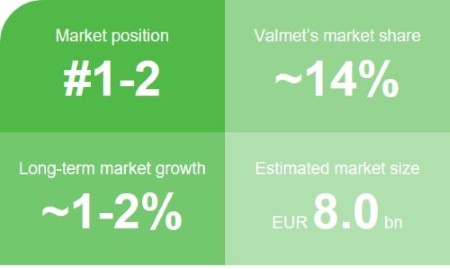 Service market drivers
Increasing production of pulp, board, paper, tissue and energy
Demand for more efficient processes
Outsourcing of non-core operations
Aging installed base
Capacity increases in China, South America and
Asia-Pacific
Machine and mill closures in EMEA and North America
Source: Valmet Capital Markets Day 2016
Updated; May 15, 2019