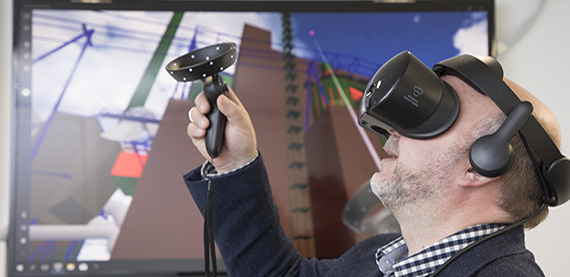 How to train people for hazardous work conditions? How to practice skills during risky situations hands-on? Combining game style training in the virtual reality environment can boost learning to new heights. We at Valmet have piloted training in virtual reality (VR) with some of our customers, and the results are promising. I now want to share our three key learnings from the pilots.
1) Hands-on feel brings higher motivation
It has been proven that virtual reality stimulates the learning process and makes it faster. The VR games can introduce goals, interaction, feedback, problem-solving skills, competition, narrative, and fun to the traditional learning environments. The hands-on feel brings in a higher motivation to learn. In virtual reality, you can immerse yourself in simulated situations and this way learn the correct procedures. Also, more people can be trained simultaneously and even globally, which saves time and expenses.
2) Make it as real as possible
The best results in training are reached when the VR environment has been designed to match the real mill or plant environment as detailed as possible. Named teleport points can assist people in the environment, when they recognize hazardous points and safe routes accordingly. For example, the black and yellow stickers and tapes must be attached as they exist. Also, safety gates must operate properly in a way that they do not let anybody in without valid safety keys.
VR exercises are better to start with the normal, real life procedures. For example, working outfits and accessories are inspected before proceeding is possible. Those small details should be considered every time the virtual working environment is customized according to a customer's specifications. There are slight differences in layouts, occupational safety measures, and training measures every time a VR/AR is implemented. Our customers can expand the ambience with their own 360-videos and transfer the service data of their own devices along, e.g. by using their own web servers with device specific url.
3) Make critical locations virtual, elsewhere 360-video is enough
For training purposes, it is sufficient to model all the critical locations while the aisles and less critical spaces and rooms can be seen as a 360-video format. Some AR items, like instructions and warnings, can be implemented as separate layers/objects.