Arctech Helsinki Shipyard has once again built a high-technology vessel for demanding ice conditions. To enable the vessel to operate powerfully sideways, astern and ahead, the vessel BALTIKA has an asymmetric hull form, which is patented, and three 360° rotating thrusters. The innovations also include new state-of-the-art technology for combatting oil spills. The vessel, which will be used in Gulf of Finland, was launched in December 2013.
Esko Mustamäki, Managing Director of Arctech Helsinki Shipyard, is proud of the work. At the launching ceremony, he commented: "It has been great to build the first-ever sideways operating ice-capable vessel. I believe this vessel will be the benchmark when developing and building other innovative Arctic vessels. The icebreaking multipurpose emergency and rescue vessel is technically advanced, and building it has required special knowledge."
The vessel will perform icebreaking operations in harbors, in adjacent water, as well as tow distressed vessels and facilities. By moving sideways, the vessel can break a 50-meter-wide channel in up to 60 cm thick ice. The emergency and rescue vessel can also be used for many other operations, such as oil and petroleum spill response functions, fire fighting, environmental monitoring and rescue assistance.
Many professionals have been involved in the ship building project. The blocks of the vessel have been built by Shipyard Yantar, which is one of the shipyards belonging to United Shipbuilding Corporation, the Russian part owner of Arctech. The hull assembly, outfitting and finalizing of the vessel has been done by Arctech in Helsinki. The automation system was delivered by Valmet.
Alexander Davydenko, Head of the Federal Agency for Sea and River Transport, is happy with the cooperation. He says: "This project is very important for the Russian Federation. The building of this vessel and its future operation in the Gulf of Finland is a significant step in the cooperation between Finland and Russia."
Operation with Valmet's automation
The new innovative vessel needs a high quality control and monitoring system to take care of all the challenging operating functionalities. Thus, Valmet DNA was selected. The comprehensive automation system controls machinery alarm and monitoring, controller loops, and tank level monitoring, as well as takes care of the control of pumps, valves and the electric power management system.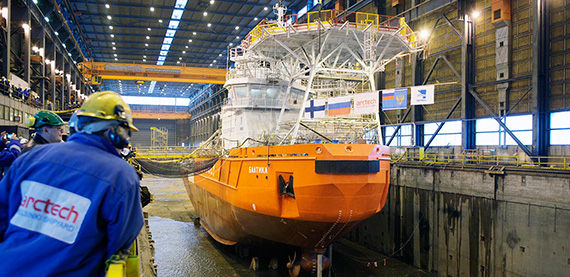 In a vessel that performs icebreaking operations, a reliable functioning of the power management system is critical. Valmet's power management system includes a mode change program with an automatic configuration of machinery and switchboards for fast and secure transition between sailing modes. The Valmet DNA process controllers are redundant with main and reserve units in different locations to secure maximum system availability. Increased efficiency requirements led to the continuous development of the control functions, explains Igor Smirnov, Valmet's marine automation Business Development Manager for Russia.
In advanced vessels, there is an increasing demand for a flexible and efficient arrangement of the power system. This places higher demands on developing software to suit the new, modern requirements. Valmet's power management system is a fully integrated concept that covers functional needs from basic to advanced plants and for all types of engine, generator, motor and switchboard arrangements. According to Smirnov, Valmet DNA includes extensive analyzing and reporting tools to optimize machinery performance and fuel consumption.
For Valmet, it is an honor to be involved in the project with this new type of vessel, the first-ever built that moves ahead, astern and sideways in heavy ice. There is no doubt that BALTIKA will become the benchmark for similar vessels in the future.
For more information:
Per Syvertsen, per.syvertsen @ valmet.com