Valmet Consistency Sampler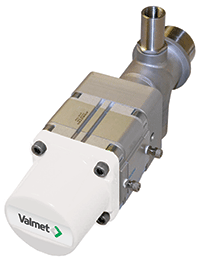 Valmet Consistency Sampler (Valmet Nove) and Valmet High Consistency Sampler (Valmet Nove H) are the "de facto" standard samplers in numerous pulp and paper mills around the world.
Valmet Consistency Sampler
Valmet Nove is the most used pulp sampler type on the market. This sampler can be used for screened pulp from 0 to 8% consistency. It's available in manual and pneumatic versions. With different process couplings and in different materials it can be easily installed in different processes. The flow of sample is easily adjustable.
Valmet High Consistency Sampler
Valmet Nove H is sampler for high consistency in screened as well as unscreened pulp applications. It is suitable up to 18% consistency.
Benefits
High repeatability.Valmet Nove is insensitive to flow variations and reduces variations caused by operator skill and sampling practice.
Guarantees representative sample from process.Performance is not be affected by variations in the process. The ideal construction of the Valmet Nove sampler and its backflushing feature ensures representative sampling year after year.
Eliminates safety risks in sampling from processes with high temperature and pressure. Stroke of the piston is adjustable, providing exactly the required flow rate for each application.
Piston design ensures blockage free operation.
Suitable for all pulp grades and sampler material can be chosen according process media.
Possibility for Automatic synchronization of the sampling operation. Samplers can be equipped with an open/close detector which: the transmitter reads when a sample is taken, and stores the measurement result for later analysis or calibration. This unction contributes to superior consistency management and process control.