The first industrial-scale bio-oil production plant has been commissioned in Joensuu, eastern Finland. Finnish Member of Parliament and Chair of the Commerce Committee Mauri Pekkarinen and Fortum's Chief Financial Officer Markus Rauramo inaugurated the bio-oil plant on Friday, November 29, 2013.
"The Joensuu project is strongly in line with the current national energy strategy. This is also about promoting clean technology in the real sense of the word," noted Mr. Pekkarinen in his inaugural speech.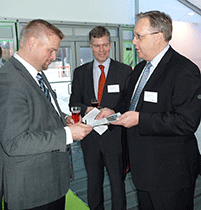 The employment impact of the bio-oil production plant project in the Joensuu region has been estimated at around 60–70 person-years. New jobs will be created in raw material procurement, at the production plant and in logistics.
Photo: Mr. Jyrki Holmala, Head of Pulp and Energy business line, Valmet, greeting Mr. Timo Partanen, Fortum's power plant manager. Mr. Markus Rauramo, CFO of Fortum, in the middle.
The plant, which has been integrated with Fortum's Joensuu combined heat and power plant (CHP), will annually produce 50,000 tons of bio-oil from wood-based fuels, in addition to electricity and district heat. This annual production corresponds to the heating needs of around 10,000 households. This bio-oil plant, integrated with an existing heat and power plant, is unique in the world.
Valmet*) supplied the plant to Joensuu as a turnkey delivery, including the foundations and buildings, the feedstock reception and pre-treatment, pyrolysis system, bio-oil storage tanks, loading equipment, as well as a Metso DNA automation system and electrification. The delivery also included installation, testing and training.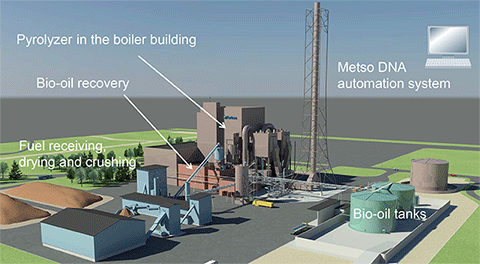 "We are proud to showcase our expertise in this one-of-a-kind project. The Joensuu plant is the first step in commercializing the new technology, and we are excited about the future," said Valmet's Product Manager, Joakim Autio.
Since 2007 Valmet has been researching integrated pyrolysis technology to enable the conversion of the fluidized bed boilers used in power plants into biorefineries. The forest products company UPM, energy company Fortum and VTT Technical Research Centre of Finland have also been involved in the project, which has received financing from Tekes, the Finnish Funding Agency for Technology and Innovation.
The integrated pyrolysis solution features a reactor constructed in connection with a fluidized bed, where wood is vaporized and condensed into bio-oil. The process is based on fast pyrolysis, whereby wood is decomposed in an oxygen-free atmosphere at high temperatures. The resulting vapors are condensed and the end product, bio-oil, looks and smells like tar. Even though bio-oil is not actually oil, it can be used to replace heavy fuel oil, for example, in power plants. In the future, it could potentially be further processed into transportation fuels and raw material for the chemicals industry.
*) Metso until December 31, 2013