Jun 23, 2016
Onsan mill removes product quality limitations and saves EUR 50,000 in annual energy costs.
With the global contraction of the printing paper market, Hankuk Paper Onsan mill in South Korea decided to put extra focus on its specialty release paper by improving its internal bonding strength and dimensional stability. However, their machinery had some product quality limitations, and any future modernizations would need to support the mill's social and environmental goals of reducing energy costs.
Hankuk Paper carefully studied and compared equipment, references and cost competitiveness of different suppliers, and landed on Valmet. "We saw that Valmet's process knowledge is both broad and reliable. Valmet also gave us a quality guarantee for the equipment," says Cheounghawn Rha, Mill Manager, from Hankuk Paper.
| | | |
| --- | --- | --- |
| | | Hankuk Paper has reached their goals for the investment in less than a year. "We are satisfied, not only due to the great product quality that we expected, but also thanks to the electricity cost savings", says Cheounghawn Rha, Mill Manager at Hankuk Paper. |
Valmet Breast Roll Shaker* solves quality issues
The mill opted for a Valmet Breast Roll Shaker to improve the quality and printability of their specialty paper. "When we installed the breast roll shaker in May 2015, its reliability had already been proved with references from inside and outside the country," says Byeong-Gyu Hwang, Vice Mill Manager. "We set the dimensional stability target at 1.8, which is around 2.0% of the wet expansion rate, and we were able to achieve these drying shrinkage levels. We have been satisfied ever since."
Valmet breast roll shaker has an axial shaking force of 60 kN, which allows longer strokes and optimized formation. The self-balancing breast roll shaker improves the visual appearance of the final product and achieves the same strength properties with a lower basis weight – and less raw material. The breast roll shaker has allowed Hankuk Paper to keep optimal conditions for the dimensional stability-sensitive grades at a 25 mm stroke and a frequency of 420 rpm. It has improved the formation of not just specialty paper, but even their base paper and wood-free paper. The maintenance of the breast roll shaker has also proved trouble-free.
OptiFiner Pro reduces annual energy costs by EUR 50,000
When producing specialty paper, a controlled refining process is essential. "Our product was in need of internal bonding strength, and we also wanted to see an increase in refining capacity. Valmet's OptiFiner Pro refiner had the potential to solve both of our problems."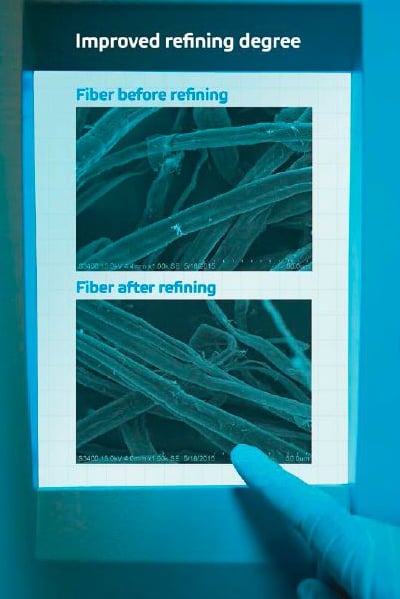 The OptiFiner concept aims to produce the desired fiber properties through accurate control of the refiner gap. This high-efficiency refiner optimizes the refining process by using less energy while producing better-refined fiber. At Hankuk Paper, OptiFiner Pro replaced two conical refiners in the PM 1 refining line. Now, with the newly equipped OptiFiner Pro, the line is run with two refiners instead of four. Ever since the installation, the mill has been producing 124 bone dry tonnes a day on all grades except the specialty paper while still saving on electricity costs.
On release paper, the internal bonding strength could be improved from 140 to 170~200 ft-lbf/in2. Without making any changes to the flow amount, consistency or refining degree of the paper machine, the mill has achieved an annual energy reduction of 114 kWh, equivalent to savings of EUR 50,000 per year.
In addition to energy savings, the mill has also been able reduce raw material costs by switching from 100% bleached kraft pulp to a mix of bleached kraft pulp and CTMP.
An easy-to-operate refining process
Operating the new refiner has turned out to make Hankuk Paper's life easier. "The display functions on the local panel, like worn out bar status and refiner utility condition, are very useful to us and have made maintenance easier," Seung-Back Lee, Part Leader of Production Team 1, notes. "We've been able to extend the lifetime of the segments from six months to eight months."
*earlier known as FormMaster