Nov 25, 2021
Nine Valmet Continuous Cooking digester and ImpBin components were transported to the Kemi bioproduct mill site though downtown Kemi in late October – early November, 2021.
November is generally quite dark time in Finland, and it has been even darker in the city center of Kemi. The street lighting had to be temporarily removed because all space was needed for transporting nine huge cooking digester and ImpBin components from inland harbor to the Kemi bioproduct mill project site. Each component was transported separately and during the evening to cause minimum inconvenience to other traffic.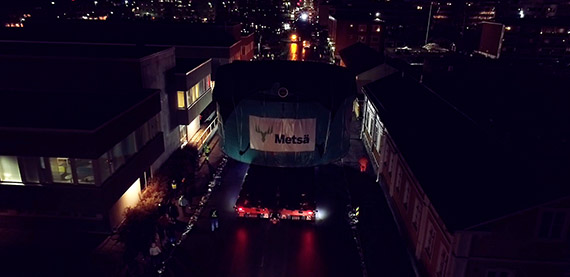 A large number of people witnessed the first component being transported through downtown Kemi on October 29. It proceeded at walking speed along the four-kilometer route, taking around four hours. In total, it took about two weeks for all nine components to be at the site.
The longest component was 35 meters long, the widest 14 meters wide and the heaviest one weighted 275 tonnes. They arrived in Kemi from China by a charter vessel. In Kemi they were transported by barge from the deep-water port of Ajos to Kemi's inland port, from which they were transported to the site by truck.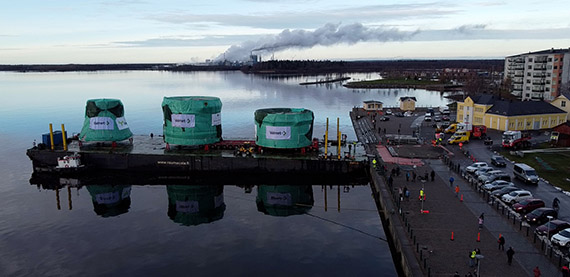 "Components are normally transported directly from the Ajos harbor to the site by truck, weight limitations meant this route was not possible for these components. A detailed two-year planning ensured everything went smoothly in the transportation," tells Janne Lehtomäki, Valmet's Site Logistics Supervisor.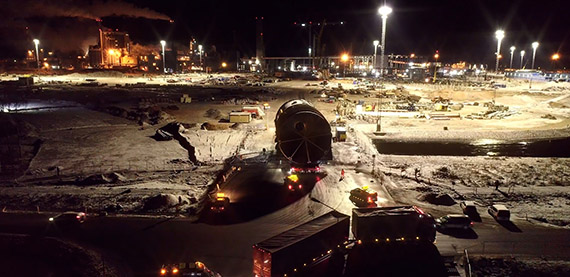 Project well on track
"The project is on track for a start-up in the third quarter of 2023. Engineering and procurement are almost finalized, and manufacturing is going ahead at full speed. Civil works continue at the site. We have also started erection works, and deliveries to the site are ongoing," says Risto Hokajärvi, Valmet's Project Director.
"Pulp tower preassembly has been ongoing at the site since July and now that the digester and ImpBin components are hauled to the site the lifting has started. We have currently over a dozen Valmet employees at the site and our activities at site will start ramping up fast at the beginning of 2022, when the remaining six process areas will initiate their site mobilization," Valmet's Site Manager Antti Ahola summarizes the project's current status.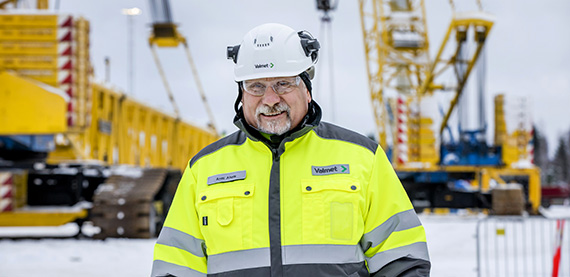 Antti Ahola at the Kemi project site (Photo: Metsä, photographer: Nina Susi)