The world's best paper machine: UWF speed record of 1,808 m/min
On September 1, 2011, the world's largest and fastest woodfree-producing paper machine was started-up at the Zhanjiang Chenming mill in China. During its first operational year, it achieved on several occasions a new world speed record. In November 2012, the recorded speed was 1,808 m/min. During a 24-hour run, the 11.15-meter-wide PM 1 produced high quality printing paper at a basis weight of 70 g/m2.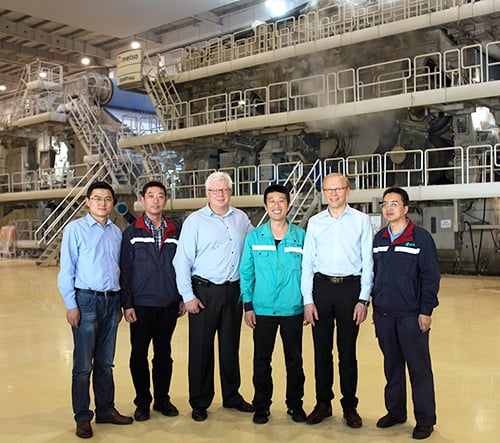 OptiDry Twin is the pearl of the machine
Jia Huadong, PM Deputy General Manager of Zhanjiang Chenming says: "We are very proud to have this world-class paper machine—the fastest in the world. We have a lot of Valmet's new technology adapted in this new paper machine and with new technology we get more and better profit from the machine. The OptiDry impingement dryer is the pearl of the machine. Without OptiDry the new world record speed would have not been possible."
Revolutionary OptiDry Twin impingement drying technology offers the possibility to radically reduce machine length, leading to savings in construction work; however, it can also be used to increase bulk, save raw materials, and reduce paper grammage.
Mechanical Mill Manager Wang Zongzhou also comments on the new technology: "Implementation of new technologies is challenging for both parties and requires good cooperation. With the key Valmet persons, the communication was good and now we have this superior paper machine as proof of that cooperation."
With all its featured high technology, environmental care, and exceptional production capacity, it is safe to say that Zhanjiang Chenming PM 1 is the best paper machine in the world.