Sep 3, 2018
Like so many things today, corrugated board is judged by its appearance, too. In addition being durable, corrugated boxes need to look good in order to sell their contents. Valmet's innovative quality management concept for corrugators dives deep into the production process.
Demand for corrugated boxes is growing in line with the popularity of online shopping. On the other hand, supermarkets and retailers are increasingly using shelf-ready packaging and thus want boxes to look attractive.
At the same time, things are changing in corrugated board production processes. Boxes are being made out of lighter-weight board, and their construction is more complicated. Delivery times to customers are shorter, production batches are smaller, and there are more grade changes. Cost pressures are immense.
All the above-mentioned trends and challenges increase the need to raise the level of automation in corrugated board production.
"When it comes to quality management, corrugators are about 30 years behind paper machines. They feature a high amount of manual control and no online measurements at all. There is a definite need for a quality management system similar to one used in paper machines," says Mikko Talonen, Business Manager, Converting Solutions, Valmet.
Valmet has more than 50 years' experience from thousands of quality control system deliveries for pulp, paper, board and tissue production. The new Valmet IQ for Corrugators is based on this strong know-how.
"We are now utilizing our automation, measurement and quality control know-how in converting. Since corrugators are smaller, simpler and narrower than paper machines, we have modified our existing products as well as developed new compact and cost-efficient measuring techniques especially for corrugated board production," Talonen continues.
Moisture management in the lead role
Traditionally, the quality of corrugated board has been controlled by measuring sheet temperature and adjusting the process accordingly. However, this is challenging as there can be up to over 10 drying and re-wetting cycles in the process, not to mention speed and raw material variations.
"By monitoring the moisture trend and stabilizing moisture variation with a multivariable control system, it is possible to significantly improve both product quality and plant productivity. Moisture measurement has been critical in paper machines for a long time, and its importance does not lessen in converting", Talonen emphasizes.
By controlling the moisture content and temperature of corrugated board online, it is possible to ensure bonding and avoid both the washboard effect and cracking. Furthermore, the QCS helps eliminate warping caused by moisture. Comprehensive moisture management improves plant efficiency and productivity, too.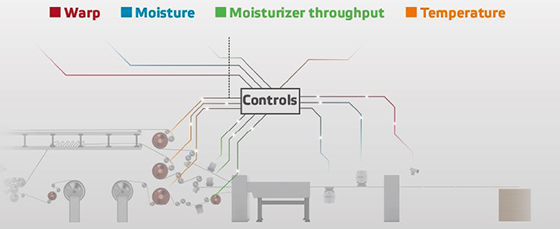 "In converting, warped board does not run smoothly on an automatic conveyor after the corrugator. Instead it needs to be manually fed which is slow and presents a safety risk. Additionally, warping causes waste both during corrugated board production and later during storage before converting," Talonen continues.
Multipoint moisture measurement in several locations
The most important element in the new control concept is the compact and cost-efficient Valmet IQ Multipoint Moisture Measurement.
"The measurement is based on infrared (IR) technology. IR radiation produced with a halogen lamp is led onto the moving sheet with optical fibers through sensor heads. Moisture is measured by analyzing the reflection spectrum with a detector unit in a field cabinet. It is possible to measure the moisture content in nine positions with one device. Sensor heads can thus be installed in each drying and re-wetting cycle of the process. This measurement enables moisture control of corrugated board in a totally unprecedented way," explains Mikko Viitamäki, Product Manager, Valmet.
The compact sensor head fits into the tight confines of the corrugator and contains no electrical parts. Its structure has been designed for harsh environments. Purge-air ensures that no dust or water collects inside the sensor head or on the optical surfaces.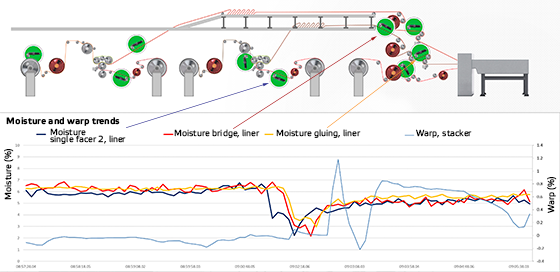 Goodbye to warping
The camera-based Valmet IQ Warp Measurement measures the sheet profile and warping on the stacker with a laser. The data is transferred to the control system to make calculations and analyses.
"From there the data proceeds to the QCS where set-point changes for moisturizers or the wrap arms of heating cylinders are made if necessary. The measurement offers the fastest possible feedback to the corrugator," Viitamäki continues.
The line laser makes it possible to measure the entire sheet profile with one measurement contrary to a point measurement.

Controls optimize quality
An integral part in controlling the quality of corrugated board during production is made up by Valmet's advanced control algorithms. They are the tool to optimize the end product quality right from the very beginning of the process. The multipredictive control utilizes all online measurements to eliminate warping, improve bonding and avoid the washboard effect.
Customers report good results
Valmet IQ is used by dozens of corrugators in various parts of Europe. The experience gained has been very positive.
"Our customers have reported good results. Warping after the corrugator has significantly decreased, and sheets run better on the printing machines, enabling higher speeds. Also the speed of the corrugator has been increased up to 20%. There is less waste from the corrugator and converting. All these factors have helped plants lower their production costs and improve productivity," Mikko Talonen summarizes.