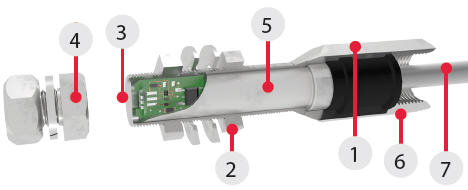 1. 316 stainless steel enclosure is extremely durable and corrosion resistant.
2. Stainless steel washers and fasteners included with HX enable secure vibration resistant mounting.
3. Solid state magnetic sensor detects trigger at distances up to 6 mm (extended sensing range also available).
4. Magnetic trigger is embedded in the included stainless steel bolt.
5. Sensor is urethane sealed in a module which is additionally sealed within the stainless steel 6. enclosure assuring high tolerance to shock and vibration.
6. Common Conduit/connector options (½" NPT, M20 and cable gland) are available with standard 6-foot cord lengths allowing flexible wiring options.
7. No seal offs are required with explosionproof conduit systems reducing installation costs.
8. Suitable for most hazardous locations explosionproof, flame proof Div 1/Zone 1; intrinsically safe Div 1/Zone 0; nonincendive Div 2/Zone 2.